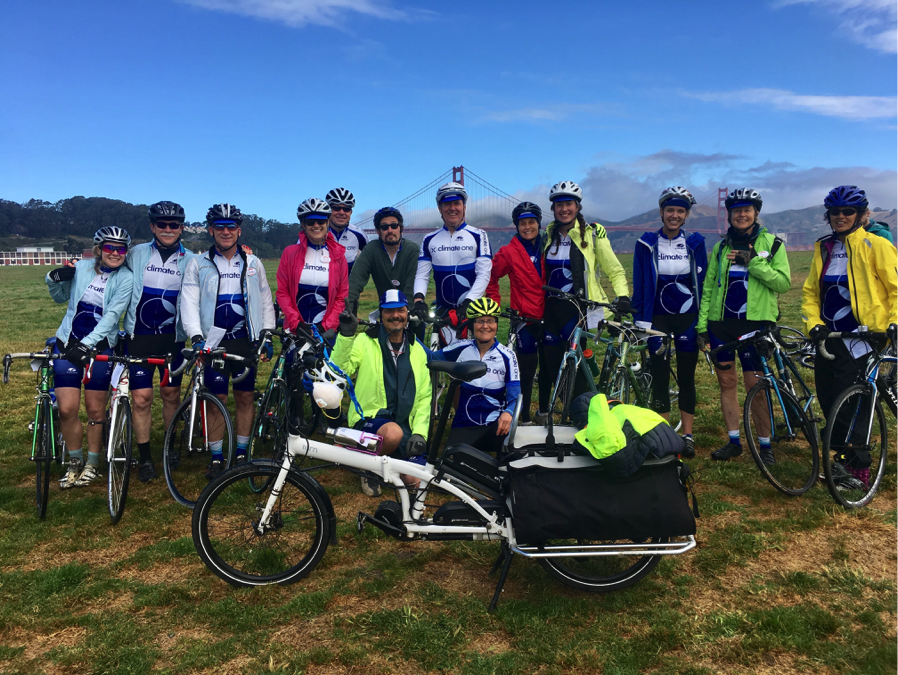 Photo provided by Talia Schmitt '18
Imagine an experience where you are surrounded by a group of people who care passionately about preserving the great outdoors and are equally excited to get out in it and bike 300 miles. For the past five days, I had that experience with 150 of those extraordinary people. We rode 300 miles from San Francisco to San Luis Obispo, California through the organization Climate Ride to raise money for environmental non-profits. Traveling from Virginia for the trip, my mom and I had little experience biking up the mountains of California, and found it pretty challenging dodging the cars while whizzing down the twisty hills. Yet a benefit of being from another state is that we were even more star-struck by the glorious views of the Santa Cruz blue waters and Templeton vineyards. Even after a brutal day of biking, a breath of fresh air underneath a patch of eucalyptus trees made it all worth it.
Throughout the trip, I was presented with challenges and sources of inspiration. I learned that assembling a seemingly impossible tent needs to be treated like an exciting challenge. And, I was constantly inspired — by the retired Vermonter who doesn't own a car and who participated on her seventh Climate Ride to the young Latino teen who started a bilingual outdoors school. I was inspired by the Rainbow Trout team that are friends in their thirties who reunite annually for the Ride, and those who went from barely riding a bike to riding 100 plus miles the third day of the trip.
Also, when you travel by bike, you notice things that you wouldn't by car. You see the bright red strawberries of Swanton Berry Farm, and smell the rows of lavender leading to Mesa Del Sol; you ponder the different bike path possibilities as cars speed by 80 mph, just inches away from you. Your body doesn't let you forget how far you have gone, as your knees ache and your thighs tighten until they feel like bricks. Your cell phone doesn't receive reception, but even if it did you wouldn't have time to check it, and you learn to live in the moment. I learned to live in the moment. Every moment. The moments when I was sitting next to someone new at dinner or looking up the stars one evening as our trusted SAG wagon driver played the banjo. When we were riding on the bus back to San Francisco, I tried to keep up this attitude. I turned my phone off and spoke with some of the incredible people sitting near me. I learned about the history of the natural gas industry from a former Exxon Mobile employee, and listened to my friend Sarah's adventures in Peru.
Leaving the trip, I will try to continue some of these habits of living in the moment and of course, cycling. Although, I might not get to the latter until a few weeks from now when I start feeling my legs again.