Achieving the American Dream: A Powerful Story about Giving
This article originally appeared in the February For the Bold campaign e-newsletter to highlight Nancy Burgess Gofus '75 and her husband, Joe Gofus' unwavering commitment to scholarships at William & Mary. Nancy Gofus passed away on Oct. 17. Her obituary appears here.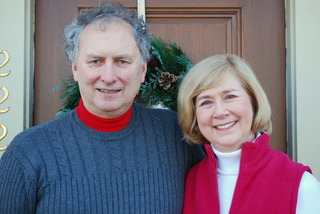 Nancy Burgess Gofus '75 and her husband, Joe Gofus, were both raised by parents who grew up during an era when a college education wasn't easy to come by for working-class families. It was expensive and, for so many Americans, what often followed their childhood was a life spent raising a family on the farm, working in a factory or heading off to war.
When Nancy and Joe went off to college, it was a new step for each of their families. Both first-generation college graduates, the Gofuses' college education represented more than a degree hanging on a wall, but was evidence of the American Dream.
The Gofuses don't take the gift of education for granted and have made it their mission to continually give back to others. Their generous giving supports a variety of initiatives across the university, including scholarships, science equipment, the Fund for William & Mary, faculty support and most recently the Oral History Project at Swem Library for the 100th anniversary of coeducation at W&M.
"William & Mary is a very unique educational experience with its focus on great research, undergraduate involvement, phenomenal teachers and small classes — that experience simply can't happen without private support anymore," Nancy said. "For the Bold is a great opportunity to fundamentally move the needle on private giving so that we can assure that faculty get the support they need and students can afford to come to the university."
Nancy and Joe's giving started with scholarships. The couple has endowed the Spirit Scholarship and the First Generation Scholarship. They have also funded an endowment for the Arts & Sciences Dean's Innovation Fund.
"We started with scholarships because we felt so strongly that every student who is admitted to William & Mary and has the capacity to thrive, should be able to attend regardless of their financial circumstances," Nancy said. "We are both first-generation college graduates and that has been transformational for us. We wanted to make sure that other first-generation students get to experience William & Mary."
Nancy's parents grew up in rural North Carolina on farms. College wasn't in the equation. Her mother was a bookkeeper and her dad joined the Navy. Joe's mother took care of the family while his father went off to war.
"When I was in high school it really was a dream of my parents for me to go to college," Nancy said.
She received a national merit scholarship to attend William & Mary, but was also aided by her mother, who went back to work to help support her financially throughout school. Joe also received a scholarship to attend Pennsylvania State University.
Nancy says attending William & Mary changed her perspective and led to a great career of doing work on a global scale.
Nancy's career spans more than 30 years in the business world. She previously worked as the chief operating officer at Public Interest Registry, senior vice president of global business products for Verizon Communications and senior vice president of product marketing at MCI. Nancy is chair of the William & Mary Foundation, serves on the Greater Washington D.C. Regional Campaign Committee and has served on her 35th and 40th reunion committees. Joe is a retired meteorologist who worked for the National Atmospheric Oceanic Administration.
The Gofuses have also given to the Cabell Challenge, which provided essential funding for new science equipment inside the recently completed ISC 3 building. The new equipment will support research in molecular biology, neuroscience and environmental sciences.
"I'm well aware if you're going to study science, state-of-the-art equipment is needed if you want to attract the best professors and students," Joe said. "It's wonderful to get support for the ISC building, but if we don't have the right tools inside that space, it's a promise unfulfilled."
The Gofuses have also given to the Oral History Project at Swem Library for the 100th anniversary of coeducation at W&M. The couple funded a position for an oral historian to capture stories of women who have attended the university.
"There are just so many amazing stories and I'm so grateful that William & Mary has taken the time to capture them," Nancy said. "Hearing them talk about what William & Mary meant in their lives is really important."
The Gofuses believe it's important to spread the message of giving back to William & Mary in order for the cycle of giving to continue for all time coming.
"When we get a chance to interact with the students, we always try to make them aware of the fact that they are getting a great education and with that comes somewhat of a duty or responsibility to give back when they are able to in the future," Joe said.