Matt Long '98 is one of 2017's Most Traveled Bloggers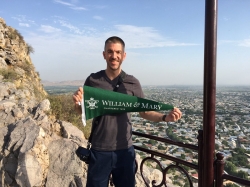 Hometogo.com, one of the world's largest vacation rental search engines, has named Matt Long '98 as the seventh most traveled blogger of 2017. Long specializes in experiential luxury travel and writes about his adventures on his blog, www.landlopers.com. In addition to the blog, Matt's website also features travel tips, including recommendations for hotels, food options and more. His Instagram feed has nearly 44,000 followers, who check his feed to see color-saturated snaps of the far-flung locales he has visited.
According to Hometogo, Matt has traveled 97,000 miles in 2017, going to destinations as far away as Bangkok. Click here to view Matt's Instagram feed and click here for more information on Hometogo's Most-Traveled Bloggers.