2017 W&M Graduation Series: Hannah Mawyer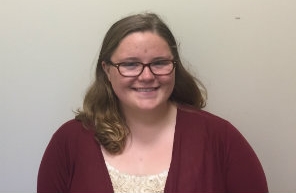 Hannah Mawyer '17 is one of several William & Mary seniors who will be featured in a scholarships series on our blog, The Gale, leading up to Commencement.
Hometown: Gordonsville, Va.
Major: Biology
What type of impact do you want to make on the world and how do you plan to do it?
I am excited to go into the world as a teacher and a community advocate. I think the biggest impact I can make on my students will be loving them and showing them the big, weird world and teaching them to question everything.
What are your plans for the future, or in your career?
Next year, I will be attending William & Mary's School of Education for a Master's of Education and conducting research as a Social Justice and Diversity Research Fellow. Then, I plan to teach high school biology in a rural, high-needs school.
What skills have you gained while attending W&M, and/or, how has William & Mary prepared you for the future?
William & Mary has taught me how to be a better active citizen and how to love more deeply.
Looking back, what is the best thing you will take with you from your experience at William & Mary? (A favorite memory or tradition, times with your closest friends, your favorite professors, or life lessons, etc.)
I have gained so many mentors at William & Mary that it is hard to keep track of sometimes, but I will carry those relationships with me forever. Randy Drake (adventure games professor), Drew Lamar (biostatistics professor), Elizabeth Miller and Melody Porter (Office of Community Engagement directors), Drew Stelljes (professor/former boss), Randy Chambers (biology professor), and Tyler Montgomery (Canterbury Chaplain) have all had profound impacts on me and served to direct my life in a positive direction. I am so thankful to the College for connecting us and I am thrilled to continue those relationships (and others) as I graduate and continue life outside of college.
How did scholarships impact your William & Mary experience?
I could not have attended William & Mary without the Gateway Scholarship. Having access to this school and the tremendous people and opportunities here has given me an entirely different life than I could have gotten anywhere else.
How has a scholarship changed your trajectory in life? Would you have come to W&M without a scholarship?
My entire life would be different if I had not gotten my scholarship and been able to attend W&M. The people, more than anything else, have changed me permanently, and all is owed to William & Mary for bringing such phenomenal people to one special place.
Note to donors:
Scholarships are the only reason I am here and the only thing keeping more brilliant, yet financially burdened, students from attending. Thank you so much for all you do to help make the student body stronger.