Women's Leadership Summit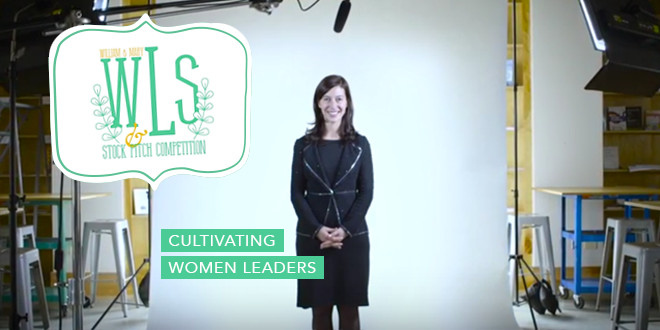 It was standing room only the morning of Saturday, March 19, at William & Mary's inaugural woman's stock pitch competition. The challenge, which included 12 teams of two to four students from nine schools, was part of the first-annual William & Mary Women's Leadership Summit and Stock Pitch Competition (WLS).
The summit brought 200 undergraduate women and professionals (almost all female) together in Alan B. Miller Hall for a day of personal growth, exploration and engagement in an environment designed to ignite passions and explore potential.
"The energy in the building was remarkable. As a finance professor, I found it especially thrilling to see all-female teams competing from across the country given that collegiate competitions typically are dominated by male competitors," said Julie Agnew, Director of the Boehly Center for Excellence in Finance, co-founder of WLS and co-advisor to William & Mary's chapter of Smart Woman Securities (SWS), which organized the morning's pitch sessions. "The students' professional stock analyses and presentations made it hard to understand why women are underrepresented in the finance field or often underperform on financial literacy tests."
After a private first round followed by a large public competition round, the four finalist teams included New York University, University of Chicago, University of Virginia and William & Mary. In the end, NYU took home the $1,000 prize and first-place trophy.
"An important goal of SWS is to increase financial literacy among women, and stock competitions are an excellent vehicle to teach financial skills," said Agnew. "In addition, we hope it will help to build these women's professional networks with peers from others schools and professionals from industry."
When the stock competition ended, the Women's Leadership Summit began.
"If I were to sum up the summit in one word, it would be connection," said Kristyn Allred, co-director of the Women's Leadership Summit. "Watching eager students tell their stories to interested, professional women is energizing and empowering. You walk away from an event like this feeling privileged that you were a part of it and wishing you had more time to hear each and every person's story. Without the vision and energy of a talented team of people, in addition to the generous support of our sponsors, the summit would not have been possible."
Abbey Doski, post-baccalaureate fellow at William & Mary's Boehly Center for Excellence in Finance, was the co-director of WLS alongside Allred. "Our goal in creating WLS was to give students an environment in which they could come together and grow both personally and professionally," said Doski. "Throughout the entire day, the excitement, energy, and eagerness to both learn and share were profound."
During lunch, keynote speaker Janice Min, co-president and chief creative officer of the Hollywood Reporter-Billboard Media Group, two of the most powerful and prestigious news brands in entertainment media, shared her top ten tips as a woman in business. Pulling from lessons learned throughout her career, Min's advice stressed the importance of being a good listener, having courage, and giving generous praise without an agenda.
"Perhaps the most important thing to remember is to work on your personal life as hard as your professional one," said Min, who lives in Los Angeles with her husband and three children. "There can be an expectation that your personal life will just happen and you make your career happen. That is not true." Min also advised the group not to worry all the time about being female and not to apologize for being ambitious.
"Be the unicorn," said Min as her final tip. "Most successful people grew up feeling weird. Great ideas are not always planned. We are hardwired to be safe but take that step that slightly scares you."
After lunch, Priscilla Shumway, co-author of Real Women, Real Leaders, led the attendees through the opening panel titled Discovering Your Strengths, which featured the DISC self-assessment and a guided discussion on understanding and leveraging your behavioral style.
"It's exciting to give young woman the opportunity to think about their future as leaders," said Shumway, president and principal of New Learning Presentation Systems, a consulting company specializing in learning and development. "The fact that William & Mary is involved doesn't surprise me. The College is always at the forefront of new and innovative programs."
Dr. Katherine Guthrie, WLS co-founder and advisor for William & Mary's Women in Business Club and Smart Woman Securities, agrees. "The summit reflected the aims of Women in Business, to promote confidence, exploration, and drive in all women at the College. The importance of this topic was reflected in the eagerness of all those present. We must continue to spearhead events that enable women to engage with dedicated professionals in order to gain a broader understanding of their interests and the business world."
After the first panel discussion, the students chose from four concurrent panel presentations. Topics ranged from exploring strategies for work-life balance and defining your personal brand to negotiating skills and learning to overcome obstacles in the workplace. A concluding panel led by Laura Keehner Rigas '01 focused on communicating your personal brand through managing your online presence and developing an elevator pitch. Above all, Rigas stressed the importance of having a plan.
"Don't leave your personal brand to chance," said Rigas, communications director for the Massachusetts Secretary of Education. "Know your strengths and weaknesses, do your research, dress to impress and think before you post." Rigas shared examples of good and bad elevator pitches then shared a worksheet with the group to develop their own pitch. "I'm honored and excited to be here to help these young women improve their communication skills."
To close out the lively and engaging day, Karen Griffith Gryga '87, managing partner and chief investment officer for DreamIt, offered a second keynote address focused on encouraging the students to build their own story. Gryga urged the attendees to always have a game plan, to be proactive and to be ok with feeling uncomfortable as that is how you learn and grow. She also talked about women's confidence gap.
"Woman tend to over-prepare," said Gryga. "I use a 60 percent rule, if you have 60 percent, go for it. Get some data points, not a formal plan. Tie some metrics to it and test the idea. Listen to customers, be persistent and keep moving. Bumps and curves will happen, but you need to put yourself out there and take risks."
Feedback on the summit was overwhelmingly positive from both the professionals and the students.
"I loved hearing honest perspectives about the challenges that women face, as well as the strategies that they have used to overcome them," said Audrey Kriva '17. "It felt like a barrier was being broken down when panelists spoke about their families, about times that they felt vulnerable or unsure of their decisions, or about difficult choices they had to make. It helped us understand that professional women, successful though they may be, are human too. I walked away with my mind full of ideas, brimming with motivation. I can't wait to attend next year!"
And that feeling was certainly mutual.
"This is the inaugural event and I already love it," said Mason School Dean Larry Pulley. "Ours is a personalized, business-based approach. I am profoundly grateful to the sponsors and to the students of other schools who honor us by being here."