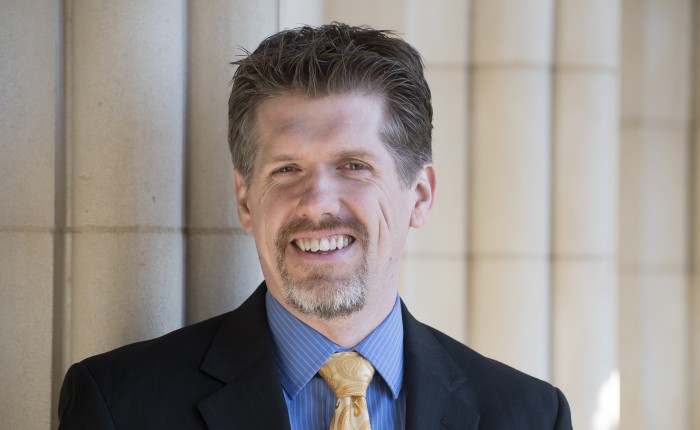 Charles Fulcher '99 will help lead a behind-the-scenes tour of the Washington National Cathedral over W&M Weekend.
Climb to the dizzying heights of Washington National Cathedral on a behind-the-scenes tour over W&M Weekend (June 2-5), as Charles Fulcher '99 and Andrew Martin '95 lead you through – and on top of – the sixth-largest cathedral in the world. During the tour, be on the lookout for a connection that the Cathedral has with Colonial Williamsburg.
Below, Fulcher talks about how William & Mary impacted his path to become director of Visitor Programs at the National Cathedral.
My path to working at the National Cathedral passed directly through the halls of the Sir Christopher Wren Building. As a member of the Spotswood Society, and also a building proctor, I had the privilege of sharing our beloved Wren with visitors from around the world. I found great joy walking alongside visitors, helping them experience something of that living, breathing building. My goal was always to help them feel welcomed, to better understand the College and to find something in the building that surprised them. That was where William & Mary showed me the potential of a lifelong journey — the joy of helping connect the public with historic, cultural sites.
I'm on that journey still, now surrounded by limestone and gothic, pointed arches rather than Georgian red brick. As director of Visitor Programs, I aim to find unique ways for visitors to experience the Cathedral, to find something surprising, and to see their world a little differently afterward. Now in my 11th year at the world's sixth-largest cathedral, I have the chance each day to walk alongside someone finding their first "wow" moment, when jaws drop and a hushed silence falls — or when phones rise from pockets for that first photo inside the cavernous space!
There's something energizing about that; nothing compares to helping take a visitor's breath away by the surprise of such a grand experience. One of the ways I've pursued this is by crafting our slate of small-group, intimate tower climbs. Scaling limestone steps to reach stunning views of gothic architecture or of our nation's capital is just plain fun — and it leaves visitors with indelible memories of this special place.
It's this very experience that I'm glad to offer during the W&M Weekend. Assisted by Andrew M artin '95, one of our docents, we'll be presenting two Gargoyle Tower climbs, which provide an opportunity for up-close views of stone gargoyles and grotesques, absolutely unmatched views of the city, and a 360-degree vista atop the Cathedral's northwest tower. While visitors can schedule this tour for a private group almost anytime, the chance to climb with fellow members of the Tribe to the city's highest point will no doubt make the experience even more special.
If you're like me, your time in Williamsburg left an enduring impression on your senses. When I consider my time in the Wren Building, I can still smell the wood, hear the jangle of the giant ring of keys, and see those great wooden doors. I'm lucky today to help visitors form their own memories of the National Cathedral, as they marvel at the power of this place. Like the Wren Building, the Cathedral is alive, both buildings fulfilling their original intent, while also welcoming first-time visitors every single day. It will be my and Andrew's honor to share the Cathedral with you … and a lot of fun, too.
Fulcher was also interviewed for the spring 2012 edition of the W&M Alumni Magazine, along with a former colleague, about earthquake damage at the Cathedral. Read more.
For more information about W&M Weekend, visit weekend.wm.edu.