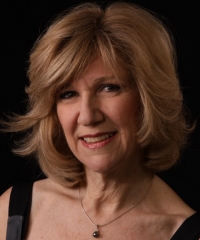 Ginny Carr '75 will be a part of W&M Weekend in Washington, D.C., leading a VIP tour of the Library of Congress and performing at the Alumni Auction.
Have you ever wondered what it's like to visit the Library of Congress as a member of Congress? Join certified docent and W&M alumna Ginny Carr '75 over W&M Weekend (June 2-5) to experience the largest library in the world and the nation's first established cultural institution as only a VIP can.
Below, Carr talks about her involvement in the Alumni Association's newest signature event.
What a thrill to be part of the accomplished alumni ensemble showcasing our treasure-rich nation's capital to W&M alumni. I am honored to share with my fellow alums our beloved city of Washington, D.C., and in particular, the jaw-droppingly beautiful, historic Library of Congress, which is the largest repository and record of knowledge and creativity in the world. Actually, I will be wearing two oddly juxtaposed and distinctly different hats (and perfecting my quick-change skills) for the W&M Weekend. First, I will be giving tours of the Library of Congress, where I have been an employee for the last eight years. And on Saturday night, my internationally acclaimed vocal ensemble, Uptown Vocal Jazz Quartet, will be providing the live musical soundtrack to the auction. I guarantee it will be festive and fun, and not your father's jazz! Although I did not major in music at W&M, I was active in choir, Sinfonicron, and W&M Theatre in multiple capacities, which helped me develop my ear and skills as an arranger, composer/lyricist, pianist, vocalist and bandleader, which I now exercise on the world stage.
I'm a senior instructional specialist at the Library of Congress, so my work is related to staff training and performance. I earned a psychology degree at W&M and an education degree and programming credentials in subsequent programs elsewhere, which led me into a career as a designer/developer of online training for the government. I enjoy analyzing how the human mind processes and learns information, which is key to designing training, and I have a flair for developing graphics and coding logic, which they say is a common attribute of musical minds! I develop online training courses, design and teach classes, assess training needs, mentor and advise other training teams throughout the library, and more.
All W&M alumni know what a unique experience it is to have been educated at a college so important to our nation's history. The older we get, the more we reflect with pride on having been part of a community of such high learning standards and achievement, so central to the founding fathers' aspirations for our nation. I became a lifelong history geek just by being immersed in that culture! W&M instilled in me a passion for learning, and it makes sense that I ended up at the federal institution that represents the pinnacle of lifelong learning: the Library of Congress. It is the nation's oldest federal cultural institution (established 1800), filled with historic, vast collections (including the largest music collection in the world!) and stunning art and architecture. Thomas Jefferson, our fellow W&M alumnus, class of 1762, founded the Library of Congress and is ever-present there (we have his original book collection, which I will show you). Jefferson was a fierce proponent of the connection between knowledge and democracy, which became the foundation of the library's mission and expansive collections. I'm walking the hallowed halls of history again, and I am passionate about sharing this national treasure with my fellow alumni.
Read more about Carr and the Uptown Vocal Jazz Quartet in the fall 2015 issue of the W&M Alumni Magazine.