W&M Weekend: Panel talks about new initiatives at the university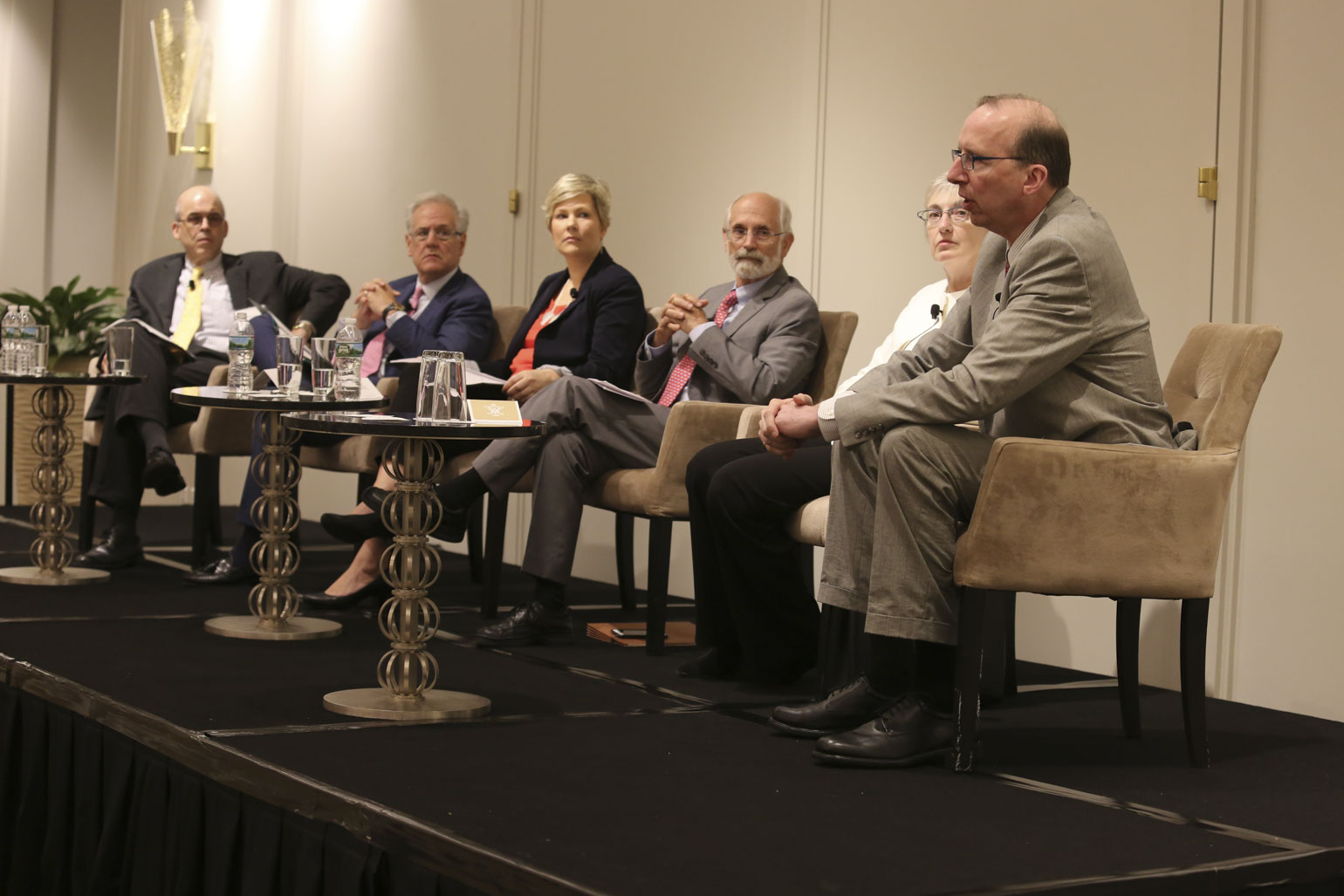 Each panelist emphasized the importance of innovation in higher education.
Photo by Skip Rowland '83
Making sure William & Mary students are getting a world-class education that prepares them for any career requires innovation, several university officials said during a panel discussion at William & Mary Weekend.
William & Mary Provost Michael Halleran led the discussion last week on innovation and new initiatives at the university.
"Our success is predicated, in part, on our success to innovate," Halleran said. "We will not succeed if we do not innovate."
One of the main examples of innovation on the undergraduate level is the College Curriculum (COLL). COLL is a set of specially designed core courses taken over four years by all students. The curriculum is a fresh and unique approach because it puts liberal arts at the center of every students education as they matriculate through the university.
"We want it to be a William & Mary experience," said Virginia Torczon, dean of graduate studies and research for Arts & Sciences. "We want all of our students to walk away feeling they had a common core experience at William & Mary."
Davison Douglas, the dean of William & Mary Law School said a number of factors including the recession hit the legal world hard. He said it resulted in law firms across the country cutting back on hiring law graduates, which trickled down to the number of students applying to law schools across the nation.
"In legal education, it's innovate or die," Douglas said. "The innovation in legal education is to provide more practical training so that students are ready as soon as they graduate law school to be as effective as they can in the legal market."
When talking about innovation at William & Mary's Virginia Institute of Marine Science (VIMS), John Wells, dean and director of VIMS, highlighted a new one-stop shop website that will provide key information to support local, regional, and state efforts to adapt to sea-level rise. VIMS is collaborating with William & Mary Law School and Old Dominion University on the website.
At William & Mary's Raymond A. Mason School of Business, a new online MBA program was launched last August. The program is more popular than projected, said Lawrence Pulley'74, dean and T.C. and Elizabeth Clarke professor of the School of Business. They expected 75 students, but 130 are currently enrolled in the program.
"It's a beautiful program that fits together marvelously," Pulley said. "It's been very successful."
Lindy Johnson, assistant professor of education, mentioned The Pathways Project at Warhill as an example of innovation. William & Mary's School of Education and Williamsburg-James City County Public Schools have partnered to develop curricular and structural innovations at Warhill High School. The goal of the partnership is to promote self-directed learning projects, flexible pacing and student autonomy. The partnership is the result of a $50,000 Innovation Planning Grant from the Virginia Department of Education.
"This is really an opportunity to be involved in something cutting edge," Johnson said.