W&M Weekend: Leadership luncheon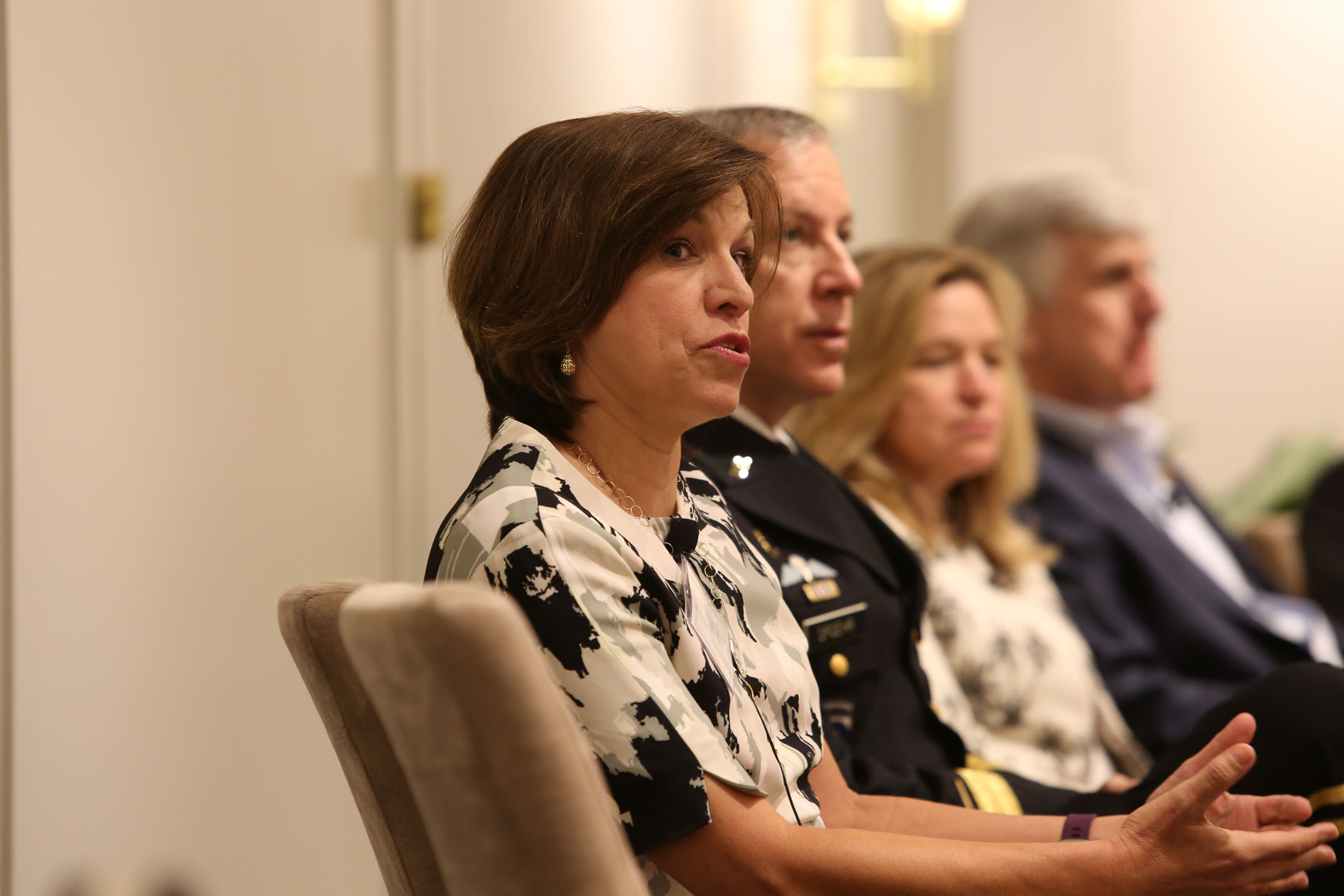 A leadership luncheon was held during the inaugural W&M Weekend at the Fairmont Washington, D.C. Georgetown.
Photo by Skip Rowland '83
While some leaders are born, most are made through hard work and drive. Preparing William & Mary students to lead was the topic addressed by a panel of distinguished William & Mary alumni during a luncheon over William & Mary Weekend, held June 2-5.
Creating leaders of tomorrow is an important priority for the university, and the panelists shared personal experiences to inspire and motivate those in attendance to blaze their own leadership paths.
"William & Mary produces an extraordinary cohort of contemporary leaders," William & Mary President Taylor Reveley said. "I think we're beginning to think more and more about how to do a better job at preparing students to lead. How can we do that better?"
The panelists included: Diane Murray '82, principal with Deloitte Consulting LLP; Michael K. Powell '85, D.P.S. '02, president and CEO of the National Cable & Telecommunications Association; Lieutenant General Thomas W. Spoehr '80, director, Office of Business Transformation, U.S. Army; Ellen Stofan '83, D.Sc. '16, chief scientist of NASA; and, Todd Stottlemyer '85, rector of W&M and CEO of the Inova Center for Personalized Health.
The panel discussion was moderated by Drew Stelljes Ph.D.'07, W&M assistant vice president for Student Engagement and Leadership.
Each panelist's journey has been weaved with obstacles and challenges they had to overcome to become successful in their current leadership roles.
Murray talked about the importance of giving back as a leader, regardless of how high-profile one's career or how busy their life becomes.
"I love my job — it's a very rewarding career," Murray said. "I also feel that I have a responsibility to give back to the community. I tell myself, if I'm too busy at work to give back, then that means I'm too busy."
Powell discussed having to fight through adversity to become a leader even when giving up seems easier. Powell said at the age of 25, his dream of having a career in the military was crushed when he was in a serious accident that nearly claimed his life .
"I was told I would never walk again," Powell said. "I was told I would never father children. I was told the career you wanted is over. That's when you will find yourself. When you have everything you've ever wanted ripped from you — you have to decide if you will get up again."
It was also a life experience also impacted W&M Rector Stottlemyer's leadership path. Three of his friends were killed in the Sept. 11 terrorist attacks. Stottlemyer co-founded Apogen Technologies, an information technology services company focused on the security of the country.
"The incident was such an incredible reminder of how precious life is," Stottlemyer said. "It was somewhat of an awakening."
Spoehr, who has served in the military for 36 years, discussed how the examples set by superior officers early in his career shaped him as a leader. He learned from the good and bad examples.
"There were great leaders that inspired me and some that showed me what failed leaders look like," Spoehr said.
Stofan who is a leader in a field heavily dominated by men, talked about the importance of being inclusive as a leader to a diverse pool of professionals.
"We all carry bias and we need to recognize that," Stofan said. "When we form a team, when we hire someone we need to ask ourselves, am I being fair? Am I looking at everyone the same? That's the way we move toward meritocracy."