W&M Weekend: Art in the gardens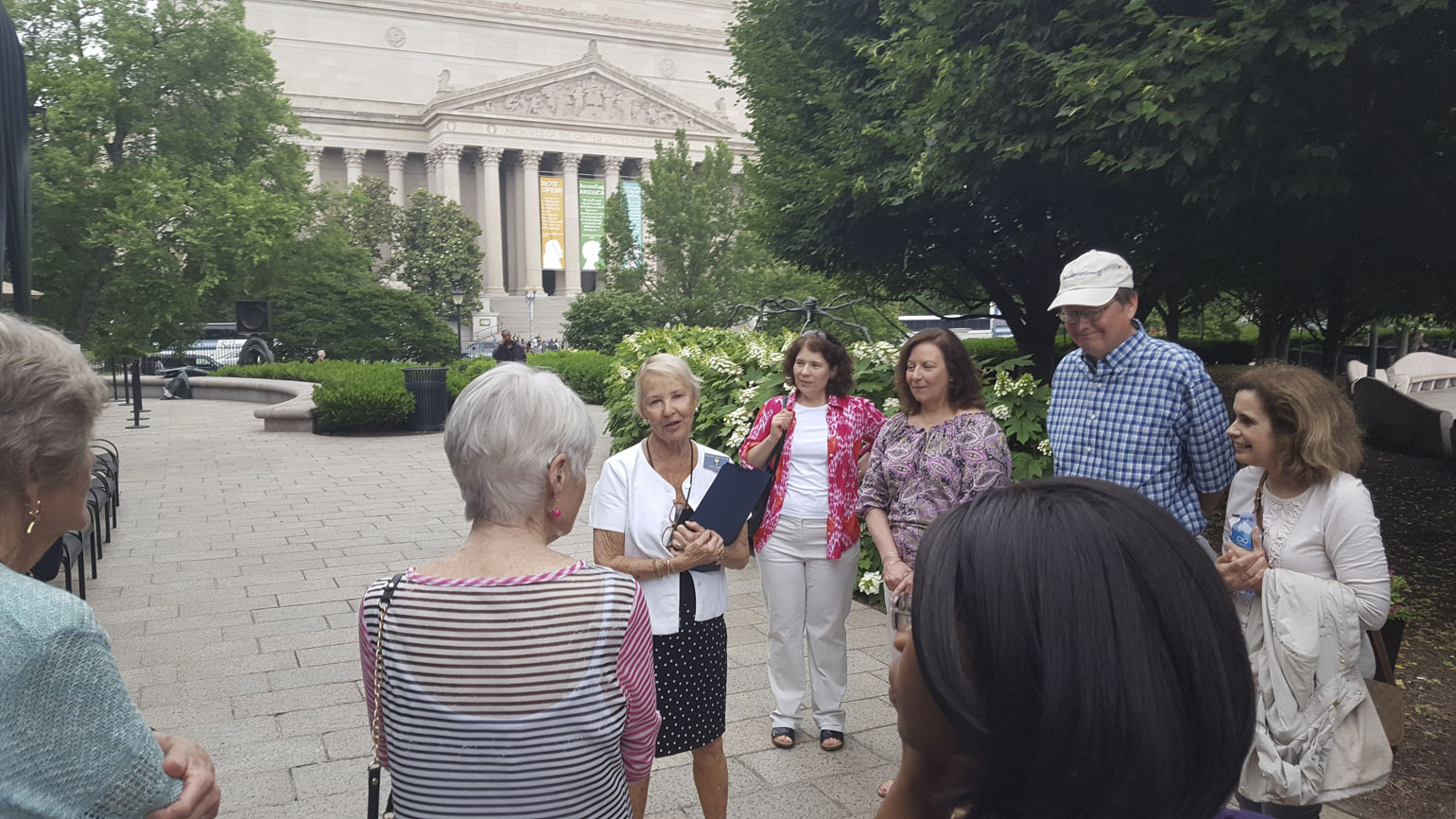 Patty Owens '62 led a tour of the National Gallery of Art Sculpture Garden during William & Mary Weekend.
Photo by Ashley K. Speed
It was about getting the story behind the art at the National Gallery of Art Sculpture Garden tour Friday during the inaugural William & Mary Weekend.
Several William & Mary alumni took a tour of the 6-acre sculpture garden led by Patty Owens '62.
"This is such a beautiful space," said Rainette Struve Bannon '61. "I've never heard anyone explain all the sculptures. I love the electric mix. Some of the art is modern, some is childlike and some is pretty sophisticated."
The tour included 20th Century modern art from artists such as Marc Chagall and Louise Bourgeois. Most of the sculptures were composed of bronze, aluminum and steel. The life-sized sculptures popped in the gardens against the backdrop of roses and hydrangeas.
One of the sculptures on the tour was a huge red and blue typewriter eraser.
Owens noted it was cleverly positioned facing the National Archives building across the street. The sculpture, by Claes Oldenburg, was inspired by memories he had playing with his father's typewriter eraser as a child.
"Part of the fun part of art is seeing it in a different way," Owens said. "People bring different experiences to it."
Another sculpture, Stele II by Ellsworth Kelly, was a steel structure that resembled a sideways table. Owens said the inspiration for the idea was the artist seeing kilometer signs while riding in the car with his father.
"This was very educational," said Steve Larson '68. "We were able to get insight we may not have picked up on our own."