W&M makes history on One Tribe One day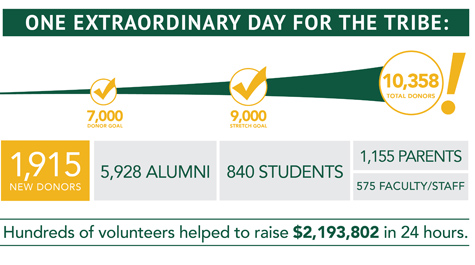 One week ago today, William & Mary made history. The university's official day of giving back and paying it forward – One Tribe One Day – was a smashing success, with 10,358 members of the Tribe making a gift, bringing in nearly $2.2 million in a single day. These numbers shattered last year's turnout of 6,078 donors who contributed a total of $1.3 million.
"One Tribe One Day was victorious for many reasons but what really stood out was the fact that the Tribe community rallied together like never before," said Matthew T. Lambert '99, vice president for university advancement. "Thanks to the remarkable outpouring of support and the dedication of all our loyal volunteers and donors, our iconic institution can continue to raise its level of excellence in the classroom and on the field."
"We truly are a university For the Bold," added Lambert.
Other impressive results include a total of 1,915 donors who made their first-ever gift and 575 faculty and staff contributed to the university on One Tribe One Day.
Throughout the day, progress toward the university's original goal of 7,000 donors was tracked live on the One Tribe One Day website. Alumni, students, parents, faculty and staff helped to unlock seven challenges —? backed by many generous and loyal William & Mary supporters — as the number of donors increased.
Tribe members in all 50 states and in several countries around the world made gifts, and the 7,000-goal was reached at about 7 p.m. in Williamsburg. Well into the night, that number rose to levels never seen in Tribe history.
"One Tribe One Day really energized the entire William & Mary community," said Dan Frezza, assistant vice president for lifetime philanthropic engagement and annual giving. "It was wonderful to follow our progress online throughout the day, to experience the excitement and to see so many people participate from afar by posting on social media, which was truly instrumental in helping us achieve such outstanding results."
On social media, there were nearly 2,000 tweets about One Tribe One Day and more than 10,000 shares, likes and comments on Facebook. There were also more than 16,800 views of the videos that were shared on Facebook that day.
Alumni and friends gathered together at locations in 36 cities around the globe, from New York City to San Francisco to Hong Kong. On campus, there were a variety of activities on the Sunken Garden and Students for University Advancement had a table and photo booth at the Sadler Center Terrace for anyone on campus to ask questions, make donations and take fun photos with classmates or colleagues.
Frezza added, "William & Mary continues to be a national leader in all of its fundraising endeavors, including its annual day of giving. We are breaking records year after year and have a competitive edge over many other larger schools — both public and private."
More than 700 class ambassadors were mobilized to reach out to 10 of their classmates each and encourage them to give — a model only utilized by a small handful of top-tier universities. This had a tremendous impact on total giving on One Tribe One Day and we will continue to build on this model moving forward, said Frezza.
William & Mary's giving day also featured a series ofvideos starring President Taylor Reveley and the Griffin searching for missing house dressing from the Cheese Shop. As the day's fundraising efforts hit specific goals, videos became unlocked on the website.
For the first time this year, William & Mary's schools and units competed against each other for the most donors by the end of the day through the Gerdelman School & Unit Competition. This was only possible because a generous donation from Sue Hanna Gerdelman '76 and John Gerdelman '75. Sue currently serves as the For the Bold campaign chair. The three units with the most donors were Arts & Sciences, Athletics and Student Affairs. They received $25,000, $15,000 and $10,000 respectively.
Although William & Mary is a public university, state funding represents less than 13 percent of its operating budget. Gifts like those given during One Tribe One Day support a range of initiatives across the university — from scholarships to student-faculty research to Tribe Athletics and facilities.
"I designated my gift to Swem Library because I was a part of a spring break trip to Cuba sponsored by Swem that wouldn't have been made possible without the help from donors," said Cindy Centeno '16. "The school has given me so much, so I feel compelled to give back even if it is in a small way."
Many other students on campus last Tuesday spoke up about the importance of One Tribe One Day and its impact on the William & Mary community for generations to come.
"I have had an amazing four years here and I believe if you start a culture of philanthropy now while still in school, then it will hopefully continue in the future," said Kailyn Hornbeck '16. "That is the kind of legacy I want to foster when I leave."
Centeno and Hornbeck joined a total of 840 students who gave back on One Tribe One Day this year. ?