Volunteer celebration: Women in leadership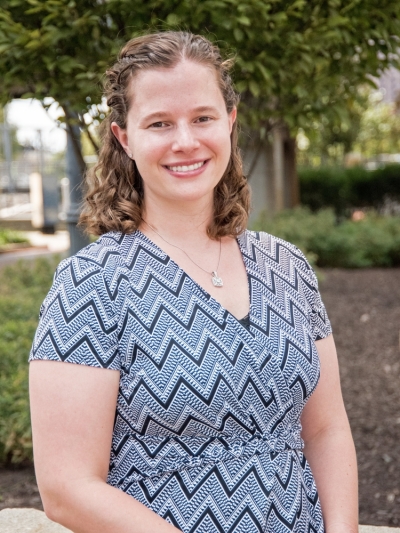 This week, The Gale is celebrating William & Mary volunteers - those that have given their time to connect with students or engage alumni. Today Laura Markley '07, M.Acc. '08 talks about how she has been a leader in helping alumnae and female W&M students interested in business.
As a double major in accounting and English, I found W&M to be an environment of thriving opposites. Precision and creativity, colonial history and modern thinking, ensconced in nature but connected to major industries. The campus brings together so many perspectives that it forces you to evaluate, discern and determine what those viewpoints mean and what you personally plan to do with them. That process of intentional analysis and self-determination has been a great foundation with which to go out into the world.
I'm the director of investments for NRV, which makes investments in start-ups. We bring capital, counsel and connections to young companies to enable them to grow and tackle big problems. We're a fairly small firm in terms of headcount, so I wear a variety of hats, including fundraising, negotiating deal terms, due diligence (ie making recommendations on how to invest money), and services for the companies we invest in, including often sitting on their boards.
I think of a W&M education as two things: first, a foundation in how to think, and secondly a finishing in technical knowledge. I still use both. I remember starting in New York City as a young accounting associate, and having a senior partner in the firm bringing a $20-million client proposal memo to me for help with storytelling and grammar. It was not the ability to bean count that made me stand out, but rather an ability to understand, explain and convince an audience. That kind of classical training from W&M has held with me as an invaluable asset in many different forms since then. The technical training side was certainly important as well, though in my opinion that is a lifelong process of building expertise in a given space. I learn more about industries and business best practices every day in my current work, using technical basics learned at W&M to unlock more complex professional learning through on the job experience.
Living in New York City for the first five years of my career made on-campus volunteering difficult, but since we've moved back to Virginia, I've been honored to participate more regularly on campus. Recently a colleague at NRV and myself hosted a Breakfast and Business Card session for Richmond-area women in business alumnae to meet; we're hoping to grow the meeting into a series of topical and networking meetings for area female alumnae. I also participated as a judge for the Women's Leadership Summit, which brought together best-in-class schools from across the nation for students to do in-depth financial analyses as well as networking and panel-based learning. While there are a myriad of very worthy volunteer areas at W&M, women in business engagement has been of special interest to me, particularly given my industry. In the top 100 Venture Capital firms globally, only 7 percent of partners are female.
Personally, I love the student connection that volunteering gives me. I was fortunate to have a few fabulous mentors when I was a student (including a couple of professors who came to my wedding!), and they indelibly shaped how I thought about not only my immediate plans after college, but also more broadly about what I wanted to get out of life. If I can provide even a small slice of that back to current students, I'd consider it a success.
W&M is not a static institution, but a breathing organism made up of students, faculty, staff and alumni who are constantly changing. Staying involved allows us alumni to not only continue learning but also to give our two cents on shaping the college's future.
The verse "to whom much has been given, much will be required" often echoes in my head. We have been given much as W&M alumni - an education, a community and resources. We can use those talents and resources in a million different ways - family, career, friends, non-profits - but by helping the college and impacting students' lives, we indirectly also help shape all the lives those students come into contact with down the road. It's an exponential impact in a very cool way.
Whether you're looking to get engaged with fellow alumni or connect with students, there is an opportunity for you to get involved today. For more information on volunteer opportunities and to sign up, visit wmalumni.com/volunteer.