Volunteer celebration: Chapters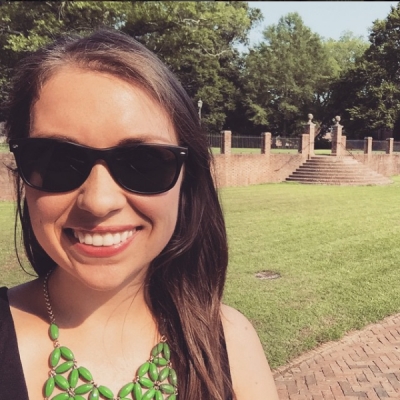 Regional volunteers help bring the best of William & Mary to their local community, planning social, service and networking events, and coordinating with the Alumni Association to better serve the alumni in their area. Read how Angela Casolaro '06 is bringing Tribe pride to the New York City Chapter.
If you had asked me when I was at William & Mary if I would be this involved today, I would never have believed you. I wanted a liberal arts college with a strong sense of community and academic excellence, and I definitely found that. But as a sarcastic, straight-talking New Yorker, W&M was an adjustment for me and I had some tough times during college. But the positivity of my alumni experience has all but erased them from my mind.
I eventually carved out my niche on campus through music groups, the Writing Resources Center, the Dining Services Advisory Committee (that's a real thing and it was so fun!) and friends I made studying abroad at Oxford. I had great relationships with professors in multiple departments. The people I connected with were genuine, humble, clever, curious, driven, caring, funny and kind. Those people remain in my life and I'm grateful for it.
Coming up on my ten-year class reunion, I'm surprised yet delighted to say I've been the president of the New York City Alumni Chapter for more than half of my time as an alumna. Alumni engagement has been a great outlet for me to be involved in something outside of work, which is not always easy in New York.
Speaking of, I work for global brand strategy and experience firm Siegel+Gale. In many ways, my job has shaped how I approach my involvement with W&M. I'm essentially shaping the W&M brand in New York City. Along with the NYC Chapter Board and my partners in Alumni Engagement, I decide what venues and event ideas suit the W&M sensibility, how we position and talk about our events and initiatives, what's important to convey to those who attend, and what we prioritize and invest in when planning our calendar for the year. Combined with the additional resources the College has been putting in the Northeast region, we've been able to accomplish a tremendous amount with a lean crew, ultimately shaping the perception of W&M in NYC in a way just wasn't possible five or 10 years ago.
And it shows. The W&M NYC Alumni Chapter has won several awards during my tenure, and I personally received a Young Alumni Service Award in 2014. That's a lot of pewter goblets for one chapter! It reflects a dedication to serving the community that is at the heart of what the College is all about, and a considered effort to nurture this market.
So exactly what do I do as a volunteer for W&M?
I lead monthly NYC Chapter Board meetings and oversee local activities year-round. If you've been to a W&M event in NYC during the past 5 years, I probably had something to do with it.
I attend as many Chapter events as possible to make sure things go smoothly, alums mix and mingle naturally and bills get paid at the end of the night.
I serve on the Chapter Presidents Council and served a term on the W&M Alumni Association Board of Directors.
I act as a sounding board for the Engagement team on campus as they develop programming in the tri-state area. I'm keenly aware of what works and doesn't work for the sensibilities and expectations of NYC alums. We try to cater to that while still being true to the bold, generous, inclusive W&M spirit.
I answer and re-direct a lot of emails related to W&M NYC. A LOT.
Most importantly, I get to meet alums of all ages, backgrounds and interests and try to facilitate a great experience for them as they share in the traditions of the thousands of College alumni all over the world.
Staying connected to your alma mater is important for social and professional reasons, for sure. But staying connected to W&M feels like more than that. A world-class education at an affordable price is a noble mission, and being part of that ethos and community of volunteers has a halo effect that is intangible but ever present.
I've learned that there is no one way to volunteer, and the benefit is just as much to the volunteer as to the organization. The enjoyment I've gotten out of planning events, brainstorming how to engage alums, reflecting on my own alumni experience to improve the quality of our outputs, leading other NYC Board members to create and execute great experiences has been beyond my expectations. I'd encourage alums who want to get involved to think creatively about what they're already doing in their lives, their professions and their hobbies and they'll inevitably find an outlet to share that in a meaningful way.
To see more of what Angela and the W&M New York City Chapter is up to, visit: https://www.facebook.com/WMAlumniNYC/.
Whether you're looking to get engaged with fellow alumni or connect with students, there is an opportunity for you to get involved today. For more information on volunteer opportunities and to sign up, visit wmalumni.com/volunteer.