Volunteer celebration: Chapters
Regional volunteers help bring the best of William & Mary to their local community, planning social, service and networking events, and coordinating with the Alumni Association to better serve the alumni in their area. Read how Ben DeMaria '05 is bringing Tribe pride to the Washington, D.C. Chapter.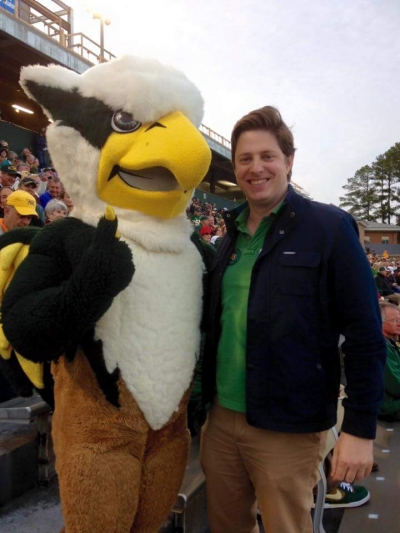 Describe your W&M experience.
My W&M experience was fantastic and I have nothing but good memories of my time as an undergrad at the College. It was a big adjustment moving from Ohio to Nicholson Hall to live with a bunch of strangers, but it was the best decision of my life. I joined a fraternity and was a member of the Student Alumni Council, which allowed me to form bonds that have lasted long after graduation. My time at the College made me a better person by helping me come out of my shell and giving me the opportunity to meet people with backgrounds very different from my own. For me, William & Mary was my chance to attend the exactly right type of school with the exactly right type of students, and I am still unbelievably proud of having graduated from the College.
What do you do for a living?
I am an attorney for the Commodity Futures Trading Commission, which is a federal financial regulator responsible for the futures and swaps markets. I specialize in the regulation of swaps exchanges and data warehouses, which includes writing regulations, registering new entities, and monitoring registrants and market participants for compliance.
How do you still use your W&M education today?
My W&M education is still very relevant today. My classes at W&M demanded that we show real understanding of the material, not just memorize facts, and included a lot of simulations and exams that demanded we apply what we'd learned to specific scenarios. While more difficult than just memorizing and repeating, this was very helpful in law school, because legal education uses the same teaching method. Learning in this way also helps with my career, because in the real world one has to take the available facts and make decisions based on the circumstances, usually with much stricter time constraints than on an exam.
What is your volunteer role for W&M and what are your responsibilities?
More than just the academics, the skills I built during my time at W&M have also been extremely important in my life after graduation. Interacting with the caliber of people who attend W&M taught me how to work as part of a group and how to advocate a position to people who usually know as much or more about a topic, and these skills are essential in most professions.
I am currently the president of the Alumni Association's Washington, D.C. Chapter. I'm responsible for leading our chapter's board of alumni volunteers as we plan activities for the roughly 18,000 alumni who live in the D.C., area. We also interact regularly with the Alumni Association and University Advancement to coordinate our efforts to better serve our alumni in the area. The D.C. Chapter usually plans around two events a month, including social events, community service events and networking events. Our events range in complexity and size from simple happy hours with a few alumni to major receptions with hundreds of guests. Some of our major events during the year include our Charter Day celebration, our One Tribe One Day party, our annual fall reception and our annual Yule Log.
Why did you decide to become a regional volunteer?
I started volunteering with the D.C. Chapter in 2009 because one of my good friends was on the chapter board at the time and she peer-pressured me into it. I was just out of law school at the time and I wanted to get to know the D.C. community and meet more alumni in the D.C. area. I also liked the idea of helping to grow the school's presence in the area, which ultimately benefits the College and all alumni.
I like being on the chapter board and being president in particular because I get to interact with many alumni whom I would not know were it not for volunteering with the chapter. Our board is very social and many of us have now been good friends for years, but I've also been able to get to know more alumni than I can count just from people regularly attend our events. I'm also thrilled to see how much our chapter and the College's professional alumni engagement has improved over the years. The skill and organization of University Advancement and of our chapter has improved dramatically since 2009, and we can see the results in the enthusiasm for our events and in the records the College is setting every year, such as the wildly successful One Tribe One Day in April. It makes me incredibly proud to be a part of this growth.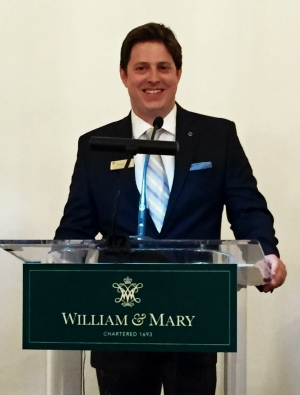 Why do you think staying connected to your alma mater is important?
Staying connected to our beloved alma mater is important for many reasons. First, being a part of a local alumni group is a great way to be involved with your local community. I've learned of countless things to do and other organizations to support around D.C. through our chapter and I know many other alumni who've had similar experiences.
Second, staying connected to the College is an extremely effective way to expand your social circle. We have chapters around the country and the world (see them all here), all of which are full of alumni looking to connect with people with our shared background. Our alumni are also fiercely loyal to each other and are happy to help with networking, job searches, and in other ways, regardless of their professions or seniority in their fields.
Third, staying connected to W&M helps us strengthen the College. The phrase being used lately is "time, treasure and talent." When we give one, two or all three of those things to help the College in any way, we improve the W&M experience for current and future students, we help the College maintain the rigorous standards that have created its sterling reputation, and we support our fellow alumni.
I strongly encourage everyone to stay connected to W&M in any way they can. One of the easiest ways to do this is to keep your contact information current with the Alumni Association. (You can update your information here.) Updating your information will also let your local alumni chapter tell you about upcoming events. You can also like your local chapter's Facebook page to see all upcoming events when they are announced. The Facebook page for the D.C. Chapter, for example, is "William & Mary Washington D.C. Alumni Chapter."
Why would you recommend volunteering for the College to other alumni?
I would recommend volunteering for the College to every alumnus because of all of the reasons I mentioned before: volunteering is a great way to meet other alumni, to make new friends (especially if you move to a new city), to network and grow your career, and to help strengthen the College. There are opportunities to volunteer that will fit for every skill, style and availability, so I invite everyone to contact their local alumni chapter or the Alumni Association to find out how they can help. Volunteering for the D.C. Chapter and for the College has been one of my most successful and rewarding experiences, and I want to encourage every alumnus to also give back in any way they can.
Whether you're looking to get engaged with fellow alumni or connect with students, there is an opportunity for you to get involved today. For more information on volunteer opportunities and to sign up, visit wmalumni.com/volunteer.