Volunteer celebration: Alumni boards
The Gale continues its celebration of W&M volunteers with Cindy Satterwhite Jarboe '77, president of the William & Mary Alumni Association Board of Directors, and John Windt '89, who serves on the Annual Giving Board of Directors (and as a Class Ambassador!)
Cindy Satterwhite Jarboe '77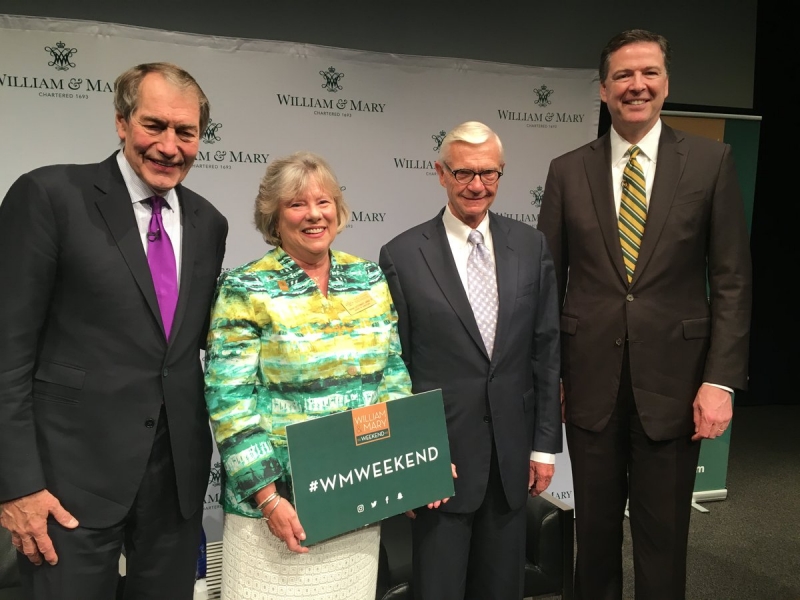 My W&M experience was wonderful - from meeting my future husband (Class of '75) while working on The Flat Hat to joining Kappa Kappa Gamma to studying accounting. The accounting program was so strong that I passed the CPA exam the first time and had several job offers.
After working for the firm of Coopers & Lybrand (now PWC) for almost 20 years (which included becoming one of the first female audit partners in the Mid-Atlantic region, I left to do consulting for private equity firms. I have served as CFO and COO of several companies in a wide variety of industries. This would never have been possible without the education I received from W&M. Many of these job opportunities came to me from fellow W&M alumni.
I knew that I owed W&M so much, so I started volunteering as soon as I graduated. I served as my class reporter and always participated in alumni activities. My roles expanded as I joined the Business Partners Board for the Mason School of Business and then the Mason School of Business Foundation Board. I served on the W&M Foundation Board as treasurer. I also served on the Muscarelle Museum of Art Foundation Board. With each board role, I made more friends, and my passion and love for the College grew.
When I moved to Florida, some alumni I had served with on the W&M Foundation Board asked me to lunch, and the next thing I knew I was serving on the Southwest Florida Alumni Chapter Board, helping them to get organized and eventually serving as their president. It was a great way to meet fellow alumni in a new locale.
Currently, I serve as the chair of the Board of the W&M Alumni Association. We represent the 95,000 alumni and friends of the College and serve as key influencers for alumni engagement. W&M Weekend was a very successful new initiative that brought the best of W&M to Washington, D.C., with once-in-a-lifetime experiences for our fellow tribe members to participate in. I still can't believe I got to hear a Supreme Court justice share his experience as we sat in the Supreme Court and got to hear CBS News Host Charlie Rose interview FBI Director James Comey '82, LL.D. '08. I am so proud of the efforts of the staff, board and volunteers in creating such a quality event for alumni and friends.
In staying connected and volunteering for the College, you get so much more than you give. You expand your connections and network. Your tribe family grows and welcomes you wherever you are. In times of tragedy such as I have experienced having been widowed twice before the age of 60, it was my W&M family that gathered around me and gave me so much support and love. We are always here for each other.
John Windt '89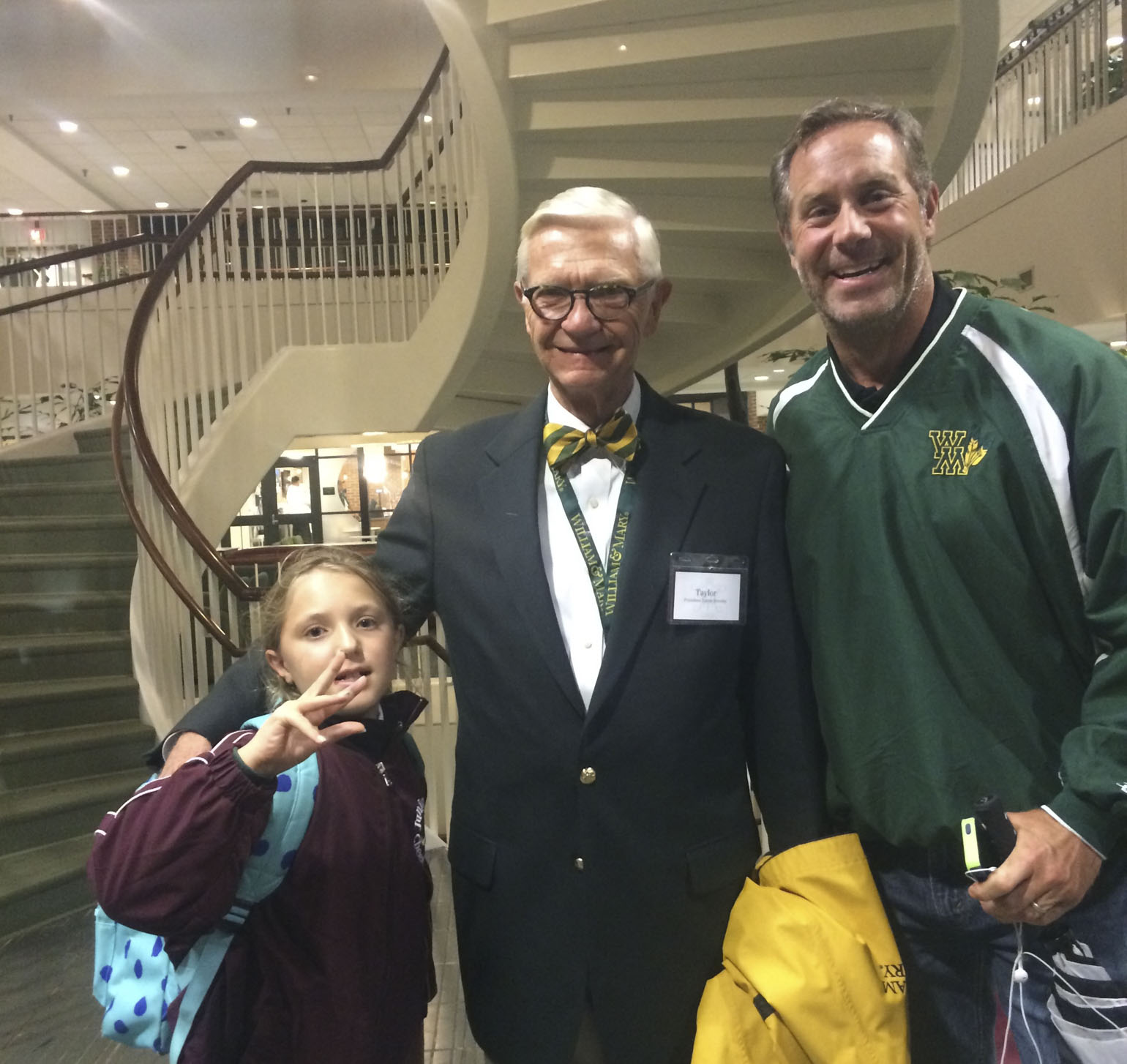 In one word, my W&M experience was fantastic. There were so many great memories that it's hard to sum it up, but I'll try. It's where I met my best friends (through one of whom I met my wife). It's where I was challenged academically on a daily basis. It's where I learned so many valuable life skills. And I got to do it all on such a beautiful campus.
After working for 24 years in the pharma/biotech field, I was fortunate enough to retire three years ago. Now I spend my time volunteering in different capacities, providing financing and advice (when asked) to start up/entrepreneurial ventures, coach multiple sports teams, play golf, basketball and tennis, and of course there is always something that needs to be done around the house.
I use the analytical skills I learned on a daily basis - whether it's determining whether or not to invest in a company, making decisions in my volunteer work or even dealing with my kids. I feel that W&M gave me a great base that allows me to quickly analyze situations, think on my feet and make well-informed decisions. I feel like my interactions with my professors and fellow students helped prepare me well for both business and everyday life.
I'm currently in my final year on the Annual Giving Board of Directors (AGB), and I'm also a Class Ambassador. The main objectives in both roles are similar - engage with our alumni base, educate them on what is happening at W&M and ask for support (both financial and as volunteers). The college has set an aggressive goal of having 40 percent undergraduate alumni participation by the year 2020. The Class Ambassador program is likely the most important initiative in achieving this goal. I encourage anyone reading this to become a Class Ambassador.
When I was asked to join the AGB it was a no-brainer for me. I had gotten so much from the College that I felt like it was my duty to give back. It was also quite flattering that they wanted my opinions on how to grow our annual giving program. Prior to retiring, I had worked for 17 years at a company that grew from 200 employees to 7,000, and from zero revenue to $12 billion annually. Despite the fact that W&M was 317 years old when I joined the board, our annual giving program was still in its infancy - similar to state universities all over the country. It's been incredible to see the growth in undergraduate participation over the last six years from about 23 percent to approaching 30 percent annually. With the funds from the state only accounting for about 12 percent of our annual budget, private giving has become extremely important to keeping our alma mater in great shape.
William & Mary is such a wonderful place, I couldn't imagine not staying connected. I think as an alumnus who really enjoyed my time on campus, it's my responsibility to do my part by having a lifelong bond that helps ensure each new freshman class has a wonderful experience as well.
Volunteering for the College is a great way to rekindle friendships, as well as make new friends. Additionally, many of the volunteer opportunities bring you back to campus once or twice a year, which is always a great experience.
Whether you're looking to get engaged with fellow alumni or connect with students, there is an opportunity for you to get involved today. For more information on volunteer opportunities and to sign up, visit wmalumni.com/volunteer.