Tribe goalie headed for the pros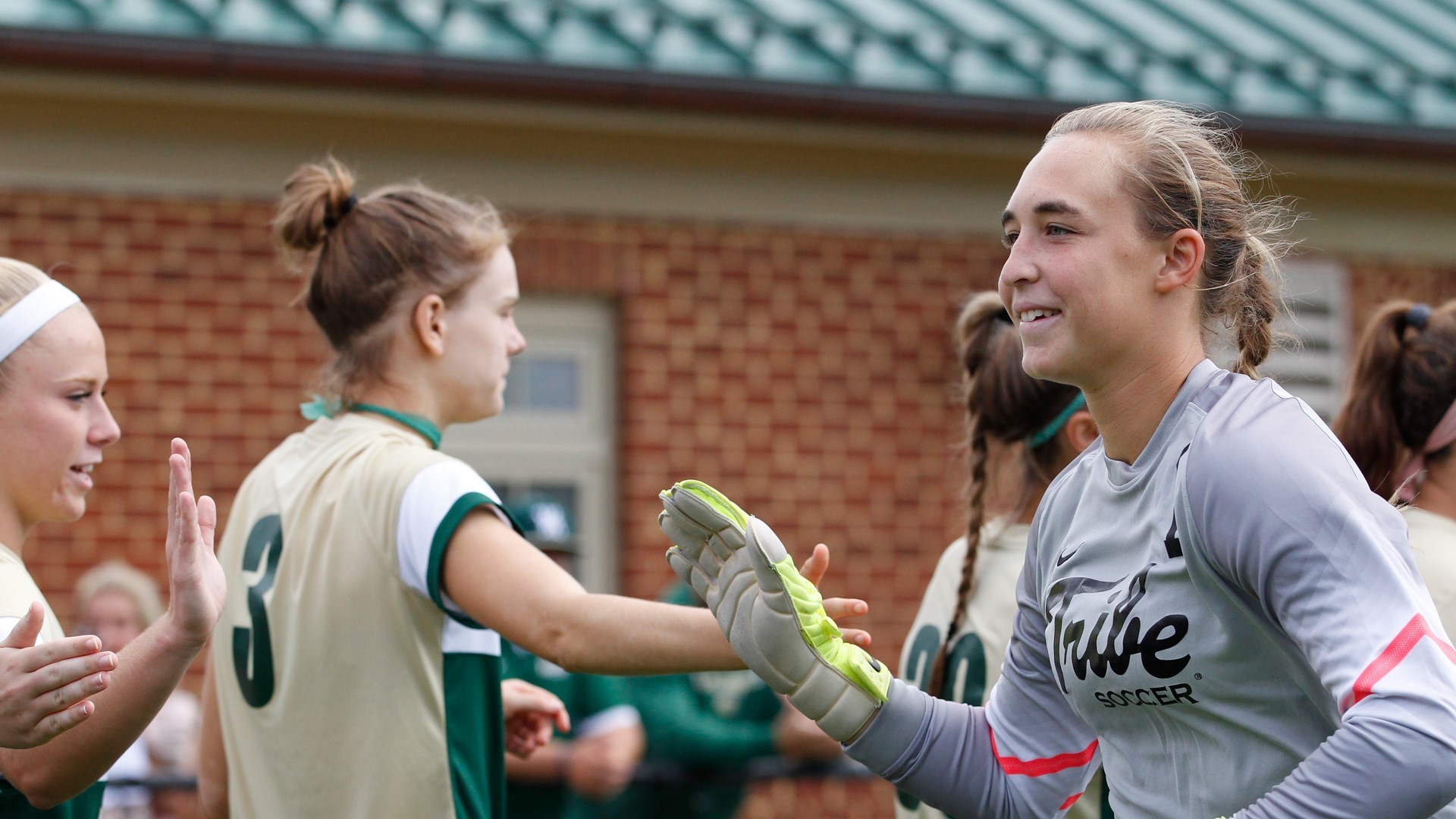 Caroline Casey '16 was named CAA Defensive Player of the Year this past season. Her 11 shutouts in 2015 rank second in single-season school history. Photo courtesy of Tribe Athletics
William & Mary women's soccer standout Caroline Casey '16 was selected 29th overall in the third round by the Sky Blue FC of the National Women's Soccer League (NSWL) draft on Jan. 15.
This past season, Casey had a 0.88 goals-against-average, with 86 saves. Her 11 shutouts this year rank second in single-season school history. She ranks second all-time with 301 career saves, while her 29 shutouts rank her third all-time. She started every game of her Tribe career dating back to her freshman season.
The Chesapeake, Va., native was rewarded for her work on the field this season by being named to the NSCAA All-American first team, first team NSCAA All-Mid-Atlantic Region, All-CAA first team, CAA Defensive Player of the Year, a senior class All-American, VaSID first team, ECAC defensive player of year and ECAC first-team All Star.
Casey becomes the second Tribe player drafted into the NWSL, joining Mallory Shaffer, who was drafted in 2013. She is the eighth Tribe player to be drafted by any American women's soccer league.
Casey talks about her memories with the Tribe and her future in pro soccer.
What was your reaction when you were drafted?
"I was really overwhelmed at first. I was excited, nervous, happy, scared, elated, proud, shocked, and a whole bunch of other emotions. I remember hearing my name called, and then it felt like my stomach had flipped upside down as if I was on a roller coaster. Then as I went to stand up and walk to the stage to shake the commissioner's hand, my legs suddenly felt very weak. After a few seconds I snapped back into it and on the way to the stage I gave my dad a big hug. As I approached the podium to thank my family, friends, coaches and teammates for their support, all the nerves melted away and I only felt pure joy. The joyous feeling remained for the rest of the day and all I could do was smile."
What are you most looking forward to about playing pro soccer?
"I am looking forward to learning from my coaches and veteran teammates. There are many different styles of socc er and goalkeeping so I am excited to have this opportunity to learn and grow as a player. In addition, some of the girls have used their platform as professionals to increase awareness of various social issues, such as sexual assault, mental health and gender empowerment, which I would love to participate in as well."
What is your most memorable game with the Tribe?
"My most memorable game was in the first round of the NCAAs against the University of Central Florida this past season. We were willing to do anything to win, and the energy throughout the team was unreal. Our whole team was on the same page. We did not play the prettiest soccer, but I have never felt more connected with my teammates than I did in those 110 minutes. We ended regulation tied 0-0, played through overtime, and then headed to penalty kicks. There was not a single moment during the game that I felt nervous or worried. I had complete faith in my teammates that they would do their job, and they trusted that I would do mine. Winning on the big stage proved to the doubters that we belonged to be there, and I have never been more proud of my team. It was a game of a lifetime and I will never forget it!"
What will you miss most about playing with the Tribe?
"I think I will miss all of the little things. I will miss karaoke on the bus, van rides, JD aerobics, mud sliding, tailgates with our families, high-fives at training, senior letters and all the other little things I probably never really noticed. Our team really took the phrase "One Tribe One Family" to heart, therefore I will miss the unconditional acceptance of teammates more than anything else. We are each other's family, sisters, bridesmaids, best friends and more. We will always keep in touch, but the togetherness we had in college will never be the same and I will miss that dearly."