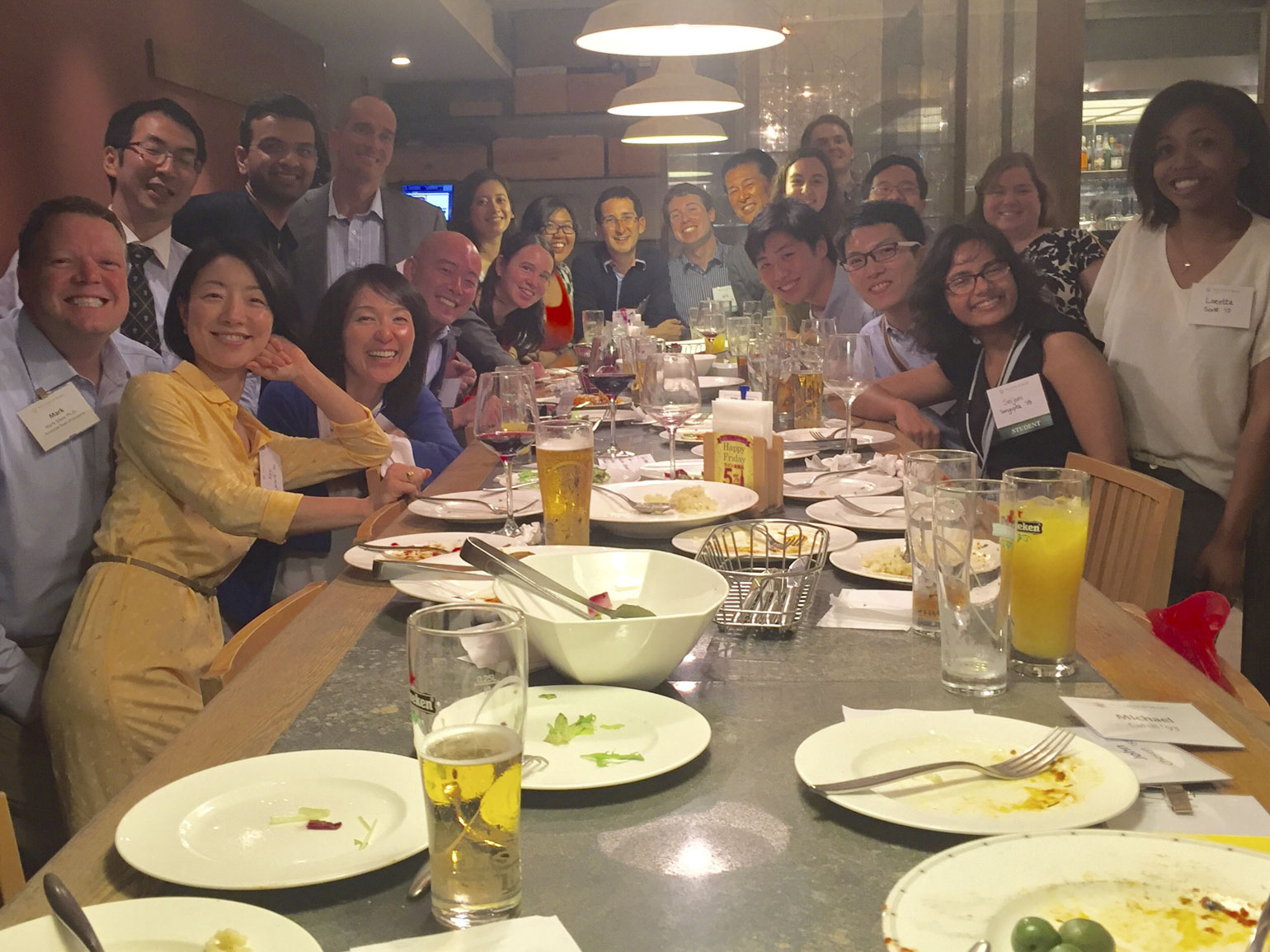 As with children, it is never a good idea to choose favorites, but if I had to choose my favorite #wminasia reception, I would pick our time in Tokyo. With many thanks to Ben Pratt '95 for hosting 25 alumni and current students gathered for an informal evening filled with wine, laughter and networking.
We went around the table and had each attendee introduce themselves. Everyone had an opportunity to better know an awesome group of Tribe members in Tokyo, including the following alumni:
Ben Pratt '95 grew up in Williamsburg (his father and stepmother own Aromas!) and he didn't go very far until he came to Japan. Ben's dream is to build bridges between William & Mary and Japan, and he took a big step by hosting the first W&M alumni event that he has ever attended!
Aki Iwase '94 owns a local theater and recently starred in the 2016 US horror movie "The Forest."
Kay Yokota '96 is a translator who works from home and loves to cook and post photos of her menu creations on Instagram. Kay is also a dancer and was a member of Orchesis at William & Mary.
Loretta Scott '10 is currently studying for her MBA in Tokyo after living for many years back and forth between Japan and New York City.
Samuel Davis '10 started coming to Japan since he was 14. He came back to Japan 5 years ago to open an office for his company, and now owns his first business.
Isshin Teshima '11 is a project manager in the oil and gas industry and despite saying that his job is not exciting, proceeded to give me the most interesting description of what he does.
Julian Oreska '09 is a high school classmate of Isshin's from the Maggie L. Walker Governor's School for Government and International Studies in Richmond and works for Bandai in toy design. Isshin let us know that Julian was sketching Bandai characters for as long as he has known him. Dream job realized!
Akira Hirata MPP '04 is the managing director of an advisory firm for foreign companies who want to enter the Japan market.
Brooke Spelman '94 is in Japan for the second time with the U.S. State Department as a Foreign Service Officer.
Tushar Verma M.B.A. '11 is China/India marketing consultant who met his wife at William & Mary, and they are new parents.
Mitsu Akiyama '84 has enjoyed gathering with alumni in Tokyo over the past two years. He has spent 31 years in the banking industry and currently manages global business development. He encouraged any of the students and alumni attending that if they are looking for job in banking to come to him.
At the end of the evening, the alumni helped us find a taxi, gave them directions and then lined up and bowed to us as we pulled away. It made the night even more special. Tokyo Tribe – we love you!