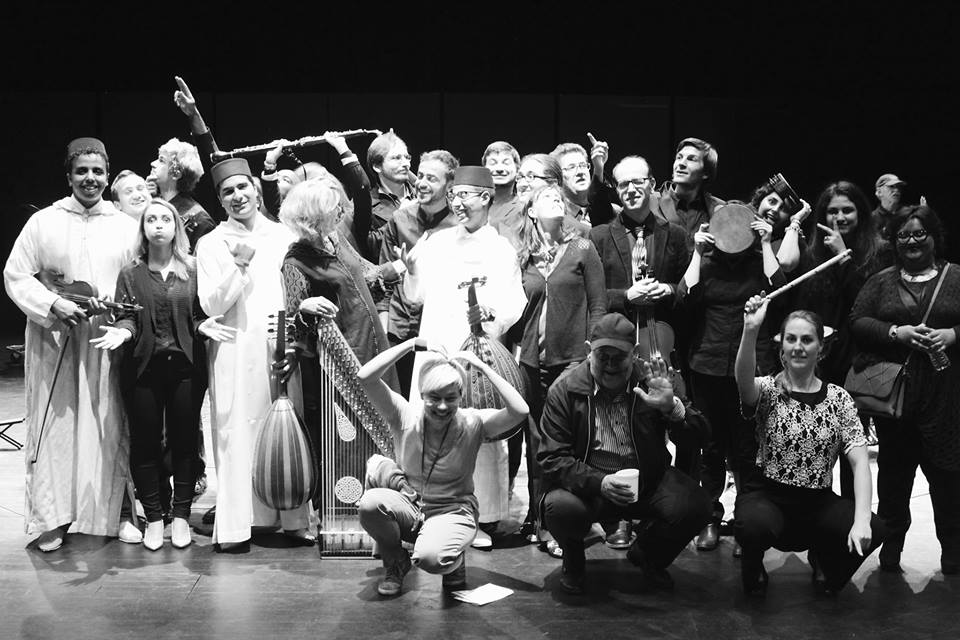 The William & Mary Middle Eastern Music Ensemble with special guests from Morocco pose for a photo on stage after their concert in Charlottesville, VA in March.
Instruments from Taiwan, Turkey, Syria, Egypt and Morocco are suspended on a woven ikat cloth behind Anne Rasmussen's desk inside Ewell Hall. They are all spike lutes — predecessors to the violin. Rasmussen is a professor of music and ethnomusicology and has been with the university since 1993.
Rasmussen is also the director of William & Mary's Middle Eastern Music Ensemble. The group plays traditional music from the Arab world and Middle East region on authentic instruments including the ud (lute), qanun (zither), nay (flute), and daff, riqq, and darabukka (percussion). In January 2014 the group traveled to the Sultanate of Oman to perform and study the music of this unique Gulf nation. Later that year the group toured Morocco to perform with musical colleagues of Professor of Anthropology Jonathan Glasser, a long time participant in the Middle Eastern Music Ensemble.
A trained classical pianist who attended the New England Conservatory Preparatory School, graduate school was where Rasmussen discovered ethnomusicology. It was a discovery that forever shifted the path of her career.
What is ethnomusicology?
In ethnomusicology we use music as a window into culture, people, history, cuisine, languages, music, movement, religion, gender politics, technology, economics — you name it, any kind of music. Ethnomusicologists say, lets look at all music: music for work, music for play, spiritual music, children's music, music that is controversial or censored — lets look at all kinds of musical performance and try to understand it from a social and cultural perspective.
What is an example of how ethnomusicology is applied?
For example, you can study the music of a particular community in the United States, as I have done with my work among Arab Americans, or you can look at the role of women who work as reciters in Islamic Indonesia (which is also a part of my work) or you can take Beyoncé and look at her music and her role in society. What was her training? What characterizes her musical style? What is unique about her approach to performance? How is her performance gendered? What does she do for women? How does she reinforce or challenge gender roles? Where is her agency in the process of production? It's taking a piece of music as a way to get into all these questions about society and culture, that is what the field of ethnomusicology does.
Tell me about the William & Mary Middle Eastern Music Ensemble.
The ensemble is usually comprised of 20-25 students who play music from the Arab world and Middle East region on traditional instruments. Our first performance is always on Family Weekend. The ensemble has been a very successful way to make international studies and global studies visible on campus and among students. With this ensemble we're not just reading about the people and cultures of this part of the world, or writing a paper, or listening to a lecture by some distinguished ambassador. Rather, through singing and playing and working with guest artists, our work is experiential and collaborative. And we have a lot of fun. We also welcome new members. Come check out a rehearsal on Thursday evenings at 7 p.m. in Ewell 207.