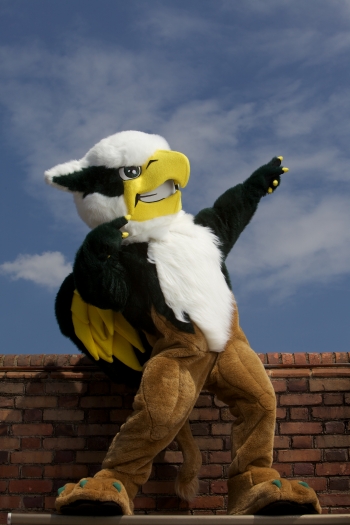 Photos by Stephen Salpukas
Since the Griffin made his debut at William & Mary Hall on April 6, 2010, he has been the official ambassador of Tribe Pride, cheering on our teams, pumping up W&M fans, posing for photos and grooving away on the sidelines. The Griffin talked with The Gale about his parents, his hobbies and where he learned to dance.
Is your mom the lion or is your dad?
My parents are Griffins! I think you may be confused about how this works…
What do you like about William & Mary?
William & Mary is my home. It's a wonderful place with wonderful people. The Tribe Pride is amazing here.
What do you like about being William & Mary's mascot?
High fives. I exist on at least 10 high fives a day. My record is 3,254 in one day. Top that, President Reveley!
What is your favorite song to dance to?
"One Tribe" by the Black Eyed Peas. Watch me groove when it comes on.
Speaking of dancing, where did you learn your sweet, sweet moves?
Queen Mary II. You should have seen her back in the day!
What is your most memorable moment in William & Mary athletics?
I can't even comprehend where to start for an answer. That's like asking someone, "What is your favorite food?" There are far too many excellent options. How about a sampling from just this past year? Tribe cross country, baseball, football, women's tennis and men's swimming all winning CAA Championships! Not too shabby, Tribe.
What is your favorite type of food?
Didn't we go over this already???
What is your favorite spot on campus?
Anywhere that the Tribe Pride is oozing from the hearts and minds of my fellow Tribe members…but the Daily Grind is kind of cool, too.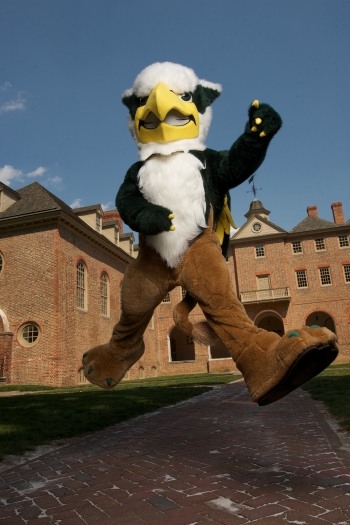 Do you have a best friend? What about a girlfriend?
I hang out quite a bit with the Lake Matoaka Monster. Just sayin'.
Can you fly?
Of course! I save that talent for special occasions though.
What really ruffles your feathers?
When someone posts in the Overheard Facebook page for W&M and starts out with, "This is not overheard, but…."
What do you like to do in your spare time?
I make handmade wooden replicas of the Wren Building.
What do you do over the summer when there aren't any athletics contests?
I try to spread the Tribe Pride and break my high five record. And boogie boarding. I love boogie boarding.
What are you excited about for the upcoming sports year?
There are so many possibilities and challenges ahead for our student athletes. There will be plenty of adrenaline pumping and fist pounding moments we can all be a part of to celebrate our love of the Tribe.