Six Friends Join the Ranks of William & Mary Honorary Alumni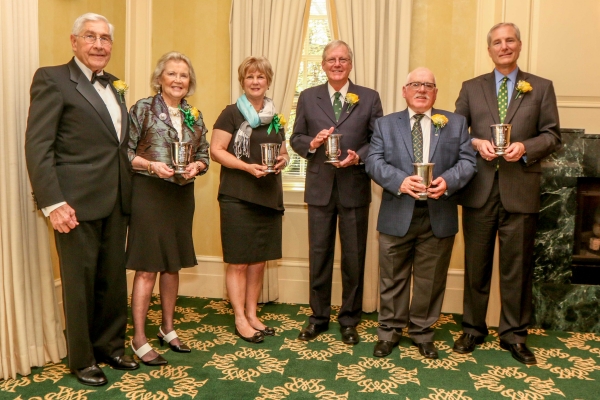 Each year, the William & Mary Alumni Association recognizes a select few friends who have demonstrated a lasting commitment to and genuine affinity for the university, even though they are not graduates. On Friday, May 13, 2016, during a ceremony at the Alumni House, six dedicated individuals were welcomed into the Alumni Association as honorary alumni.
These six friends have a distinguished record of service and support for William & Mary: John Daly, Michael Fox, Robert Glacel, Joe and Sharon Muscarelle, and Deborah Spirn.
John Daly
After leaving his home in England to become an assistant coach for William & Mary's men's soccer team, John has served as the head coach of the women's soccer team for the last 30 years. He has guided William & Mary to an NCAA-record 35 consecutive winning seasons, including 10 CAA titles and 21 NCAA Tournament appearances. He has won five CAA Coach of the Year Awards and seven Regional Coach of the Year Awards, and in 2004, William & Mary named its new stadium in joint honor of John and former men's coach Al Albert. Amongst his peers, John ranks as one of the top coaches in NCAA history. In 2008, he became just the fourth women's soccer coach in NCAA Division I history to win 300 games, all with the same school. Under John's tutelage, 15 W&M players have garnered a total of 32 All-America honors, including two National Players of the Year. He has mentored some of the top women's coaches, including Jill Ellis, coach of the women's national team.
Michael Fox
Michael has been an important part of the William & Mary community for over two decades, aiding three presidents as chief of staff and serving as secretary to the Board of Visitors. Before that "The Fox" was head of government relations, where he built strong relationships with key leaders in Richmond. During his time at William & Mary, Michael has worked behind the scenes on nearly every project of significance that the university has undertaken, including the university's signature events of Opening Convocation, Charter Day and Commencement. Michael is also a key player in the College's relations with the Commonwealth, the city of Williamsburg, Colonial Williamsburg and William & Mary's student government. The presidents he has served claim he can be counted on to solve or manage the most difficult problems with discretion, excellent judgment and the best of manners. With his knowledge of the university and his diplomacy skills, he has made William & Mary a better place.
Robert Glacel
Robert has been close to William & Mary for most of his life. He met and married his wife, Barbara, a member of the Class of 1970, while she was still a student at the university, and he has always been proud that his two daughters also graduated from William & Mary. Robert took the opportunity to serve the College by arranging for W&M students to intern every year at the U.S. Mission to NATO in Brussels, Belgium, where Robert was previously employed. The U.S. Mission to NATO offers a variety of internships each year, many of them filled by graduate students from across the country. William & Mary is unique in that not only did the school have annual reserved placements for its students thanks to Robert, but it was able to consistently send undergraduates to gain these same experiences. Robert also connected students with housing opportunities, and he and Barbara even hosted a number of students themselves. Former interns claim the knowledge they gained during this internship prepared them significantly for their professional careers.
Joe and Sharon Muscarelle
It has become a Muscarelle family tradition to support William & Mary's art museum. Joe Muscarelle's parents, Joseph, Class of 1927, and Margaret were instrumental in establishing the Muscarelle Museum in the 1980s so that it could house exhibits and collections and serve as place for students to immerse themselves in the study of art. Joe and Sharon became engaged with the museum over 10 years ago when they learned about significant cuts in university funding. Since then, they have both been involved in many capacities, from leading and sponsoring functions in honor of the museum, to taking an active role on the board of the museum, to making a commitment of $2.5 million to expand the museum last year. Because of the support of Joe and Sharon, the Muscarelle Museum has managed a major transition, increased attendance, quadrupled membership and increased revenue. The museum has also garnered 1 billion media impressions across print, electronic and social media outlets this past year alone.
Deborah Spirn
Deborah was born within one block of William & Mary and currently lives two blocks from the Wren Building. Her husband Stuart is a member of the Class of 1967, and since their marriage, she has immersed herself in life at William & Mary. Deborah and Stuart are fans at both men's and women's soccer games, and Deborah assists at many 12th Man Club half-time receptions. She has hosted many Homecoming tailgates as well, and volunteers for events during away games. In 2004, Deborah planned a surprise retirement party for men's soccer coach Al Albert, which brought nearly 300 former and current players and their families to Williamsburg for the event. She has also served on the Lord Botetourt Auction Committee in various capacities and helps support the Law School and the Muscarelle Museum. Deborah is seen as a Tribe mom for students far from home. These students come for dinner, do laundry or look to her as a friend to talk to, even opening the door to parents visiting their children at the university. Many of these former students and their families have become lifelong friends.