Shanghai: A tale of two students and alumnae
On Thursday, June 16, after exploring Shanghai with my fellow W&M colleagues, we joined alumni, students and parents for a William & Mary in Shanghai reception hosted by Jun Cho '81, P '11, P '17. Vernon Hurte welcomed the new students and parents, and W&M Professor Mike Tierney '87 provided the Tribe with a look at AidData research.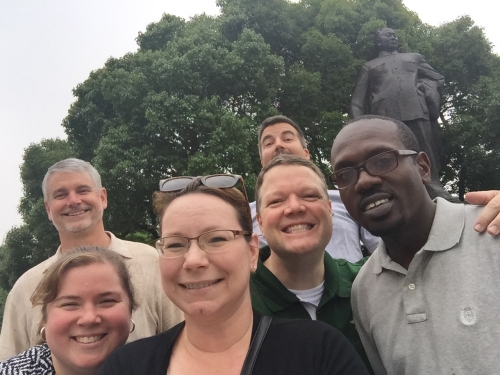 W&M alumni and students in Shanghai spread the word about the event via WeChat, and by the end of the evening, the "W&M" Group had grown by 11 people. Several alumni have raised their hand to work with Alumni Engagement to create engagement opportunities in Shanghai throughout the year.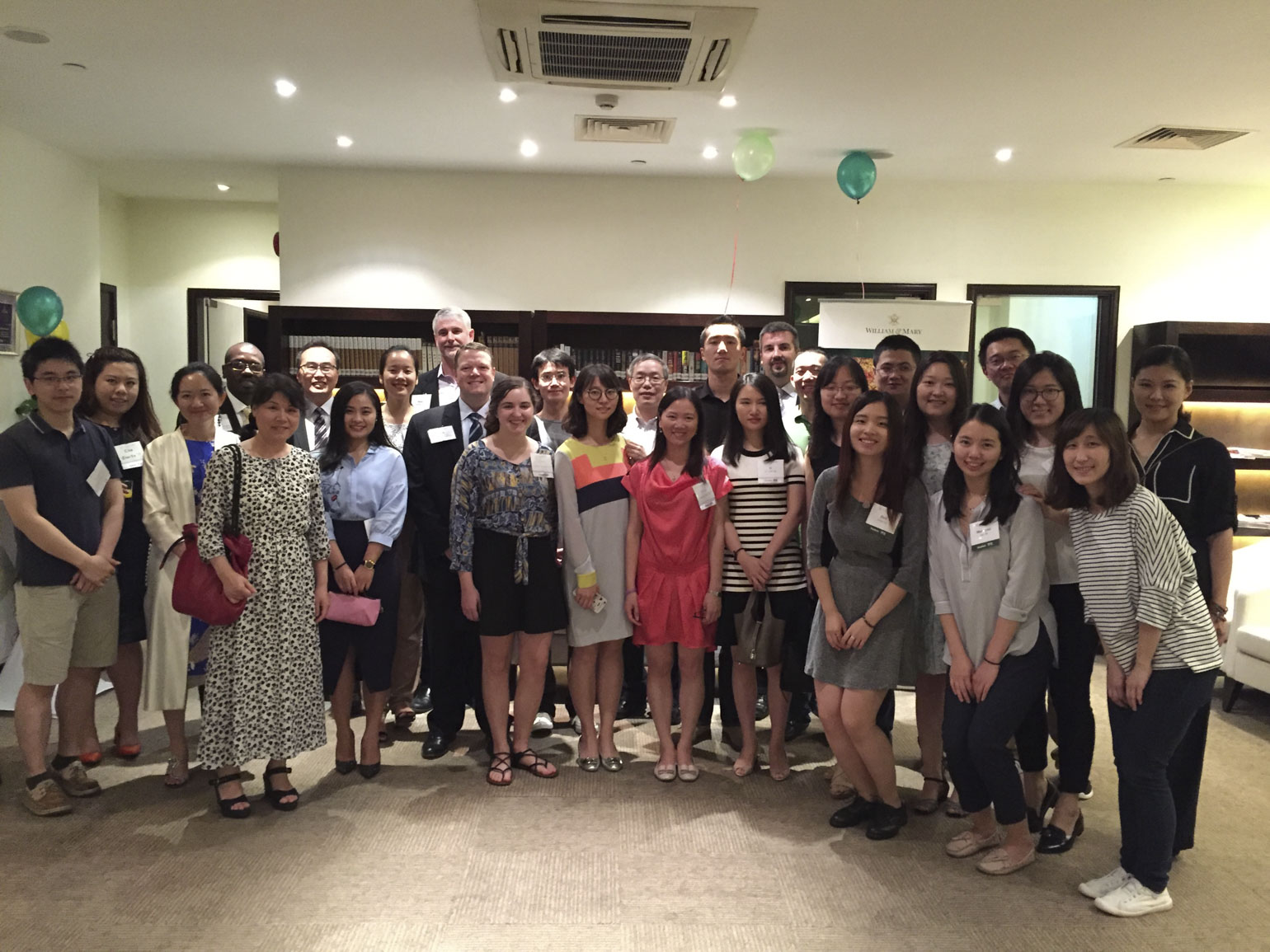 At the event, I was able to connect with some amazing W&M students and alumnae and learn more about their William & Mary experience. Alice He '18 and Lexi Chen '18 both came to W&M to escape the urban setting of Shanghai. They researched schools through U.S. News and World Reports and were impressed with William & Mary's rankings, history and beautiful campus. They both agreed that the size and location of William & Mary allows them to focus on their studies and gives them the freedom to explore activities in a safe environment. He is an economics and French double major, and Chen is majoring in finance. They were both intrigued by Tierney's speech and research, but thought that since they were not studying government, that they could not work for AidData. After speaking with Tierney, they could see how their business majors and language skills would be welcome additions to the AidData project. He and Chen are excited to learn more about the AidData partnership with Fudan University in Shanghai and how they can assist.
He and Chen both hold leadership positions in international student clubs. He is the vice president of the Chinese Student Scholars Association (CSSA) and Chen is the treasurer of the International Cultural Exchange Organization (ICE). They also manage a WeChat Subscription called WMCSSA that provides information to new and prospective students about William & Mary, including fun facts about campus and important information on student transition and travel to the U.S. Through the power of WeChat, they want to "Hark Upon the Gale" in China about William & Mary!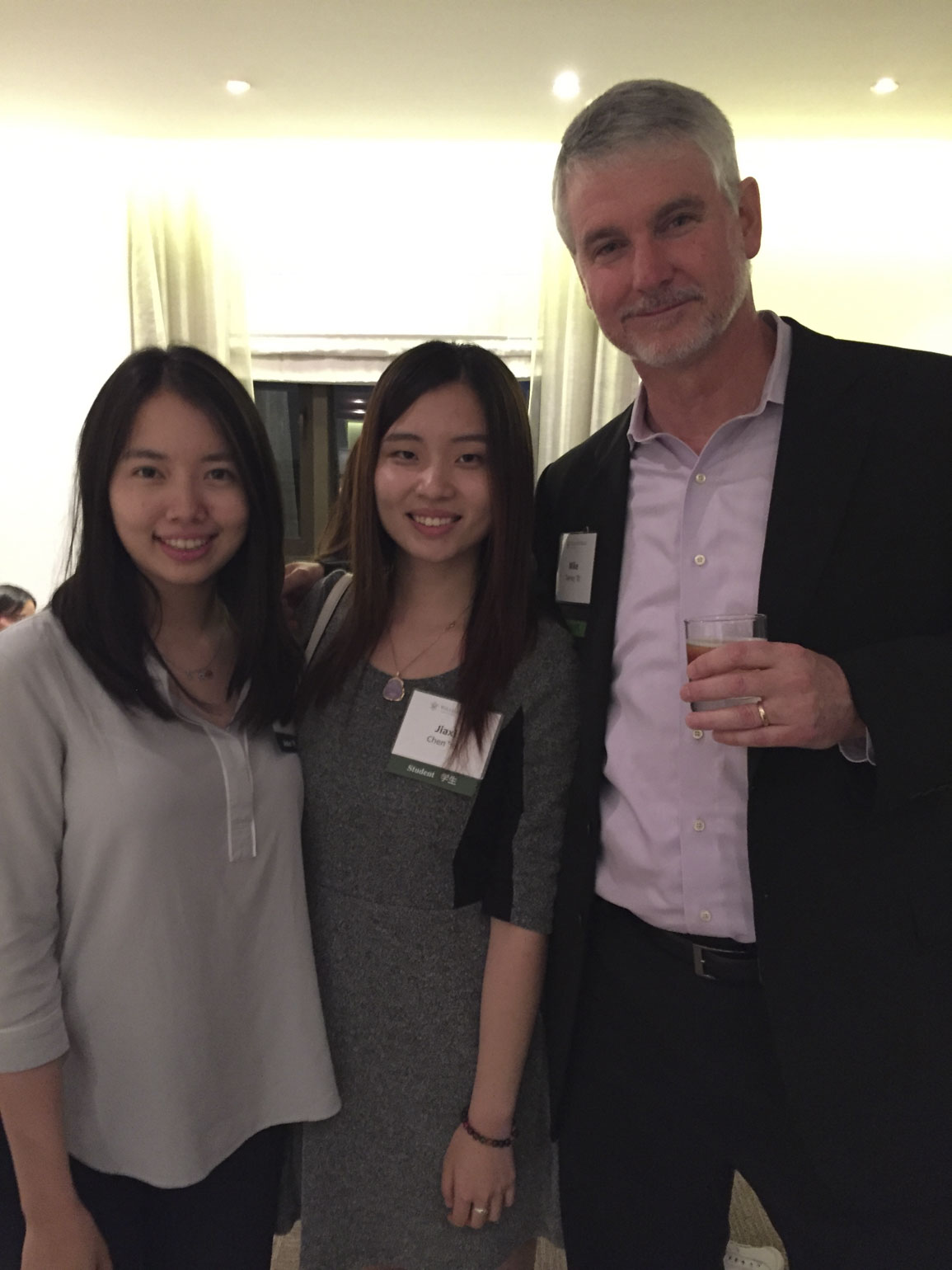 Alice He '18 and Lexi Chen '18 with Mike Tierney '87, government professor and director of the Institute for the Theory and Practice of International Relations.
On Friday, June 18, I had a lovely breakfast with Elsa Xu '11 and Tingting Fang '13. Like He and Chen, Xu and Fang are both from Shanghai and wanted their university experience to be different from urban living. At William & Mary, they found friends, activities and professors who encouraged and empowered them to engage and try new things. Xu followed a more "traditional route" and joined the Phi Mu sorority and enjoyed being a part of a greater community and sisterhood who "let you be who you are and help you be who you are." Fang found a different path and went to William & Mary without ever visiting campus. She also joined the synchronized swimming club and went from not being able to freestyle swim, to participating in national meets her senior year. Fang also took several theater classes that continue to assist in her current role as an entrepreneur.
"I was the only non-English speaking, Asian in a small acting class. Not only did you need to speak English in class, but you needed to speak it in a different way, with accents. That class for me, took me out of my comfort zone and took the challenge to a different level. Those theater classes pushed me. I never thought I could act in front of an audience. I met the most amazing professor ever – Tamara Johnson. She would stay with me for extra sessions. She didn't see me as an international student, she saw me as any other student."
After graduation, Xu and Fang came back to Shanghai and are now following traditional (Xu) and non-traditional (Fang) professional experiences. Both agree that William & Mary shaped their career choices and continues to assist and guide them in their careers. For Xu, when she moved jobs from Nielsen to PWC and shifted from market research and data analysis to strategy, she was surprised to find how her W&M macroeconomics classes helped in her new role. Also within her role at PWC, they find data collection in China to be challenging, so Tierney's presentation on AidData's work was informational and relevant to her work now. For Fang, she recently left a fintech company to jump into co-founding an e-commerce company. She credits William & Mary with giving her the safe space to try new things.
"William & Mary broaden my perspective on a lot of things. It made me feel empowered to do whatever I felt like and to be able to try. The whole environment – the students, the professors, your peers – everyone was so encouraging, it makes you feel like you can do anything you want. I found a big chunk of myself that I never knew about at William & Mary. I found my identity there, 7,000 miles away from Shanghai."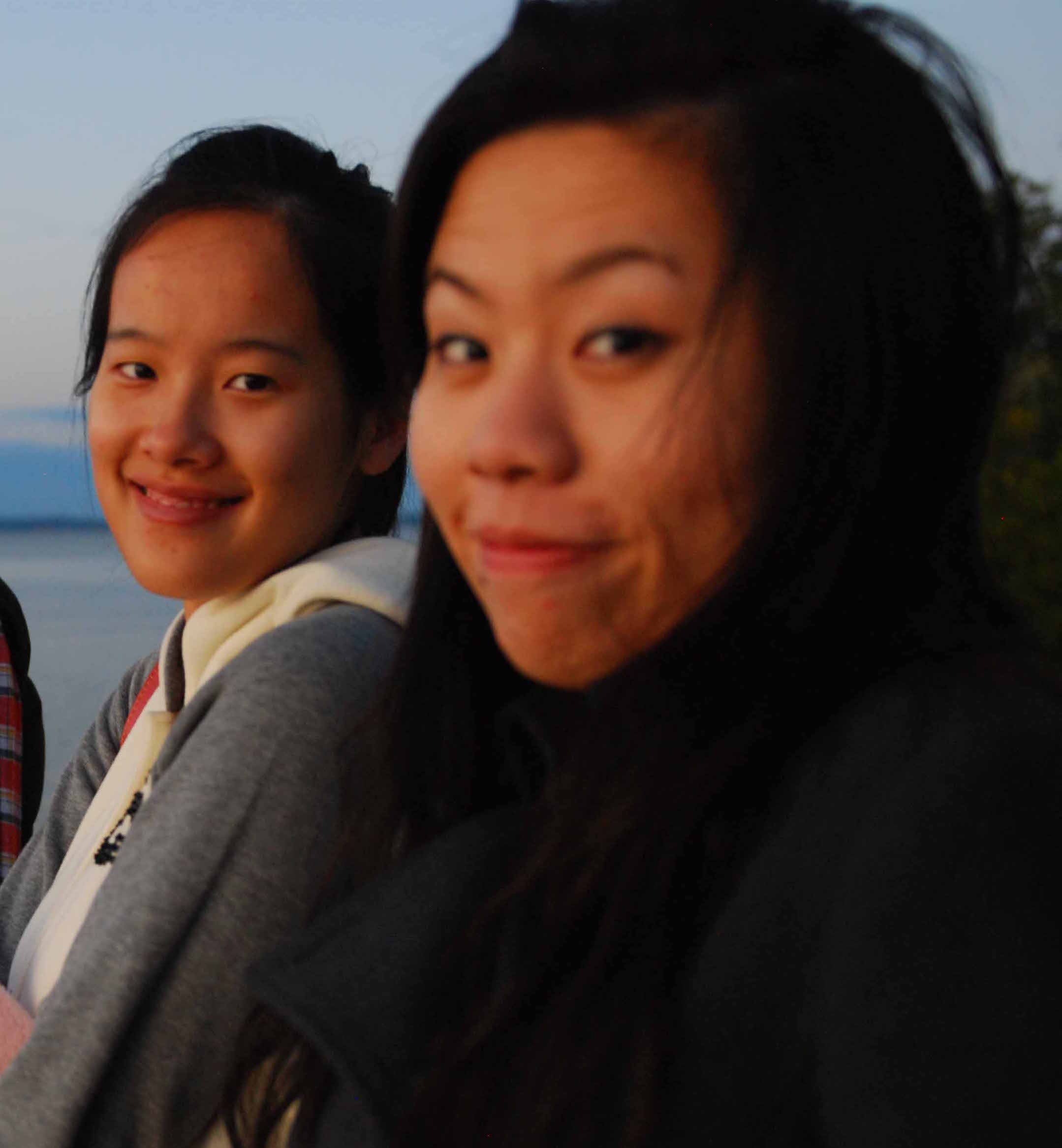 Elsa Xu '11 (right) and Tingting Fang '13 (left) in Jamestown, Va.