Sean McDermott '98 was recently named Buffalo Bills head coach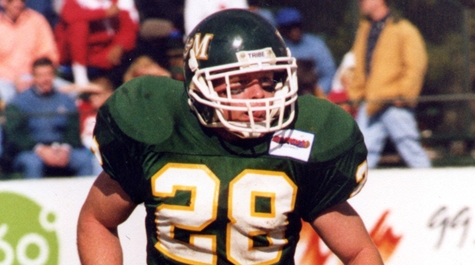 The former William & Mary football standout and team captain has been named the Buffalo Bills head coach.
Photo courtesy of Tribe Athletics
Former William & Mary football standout and team captain Sean McDermott '98 has been named the Buffalo Bills head coach.
The Tribe football program now boasts two alumni as current NFL head coaches, as McDermott joins Pittsburgh Steelers Head Coach Mike Tomlin '95 among the elite group. Both players are former captains and were teammates at W&M during the 1993 and 1994 seasons.
W&M is one of just three schools to have multiple former players currently serving as head coaches in the NFL. The other two schools are Idaho State (Marin Lewis, Bengals; Dirk Koetter; Buccaneers) and Pacific (Hue Jackson, Browns; Pete Carroll, Seahawks).
McDermott recently wrapped up his sixth season as the Carolina Panthers defensive coordinator and has developed the unit into one of the NFL's best during his tenure. Entering the 2016 season, McDermott was the only coordinator in the NFL to field a top-10 defense each of the previous four seasons.
Highlighting his tenure in Carolina was the memorable 2015 season in which the Panthers posted a 15-1 regular season record en route to a Super Bowl 50 appearance. McDermott's defense ranked second in the NFL in yards allowed per play (4.9) and sixth in scoring defense (19.3) and total defense (322.9). Additionally, the 2015 unit led the league in interceptions (24), takeaways (39), points off turnovers (148) and turnover differential (+20) and tied a franchise record with four interception return touchdowns.
His impressive résumé in Carolina also includes being named the Sporting News Coordinator of the Year in 2013.
A fierce competitor, McDermott was a four-year letterwinner for the Tribe who finished his career with 322 tackles in 26 career starts. He graduated from the university in 1998 with a degree in business finance.

After coming to W&M as a walk-on prior to the 1993 season, McDermott quickly proved his value and eventually became a three-year starter for the Tribe at the free safety position. One of the squad's strongest leaders, McDermott was elected as a team captain for his senior year (1997). That season saw him earn both All-Atlantic 10 and All-Eastern College Athletic Conference (ECAC) honors. He also was named to the Atlantic 10's All-Academic squad.

In addition to leading the Panthers' defense for the past six seasons, McDermott's impressive coaching résumé includes a 12-year stint with the Philadelphia Eagles - the final two of which he served as the organization's defensive coordinator. During his successful tenure with the Eagles, he helped contribute to six division titles, five NFC Championship game appearances and a trip to Super Bowl XXXIX.