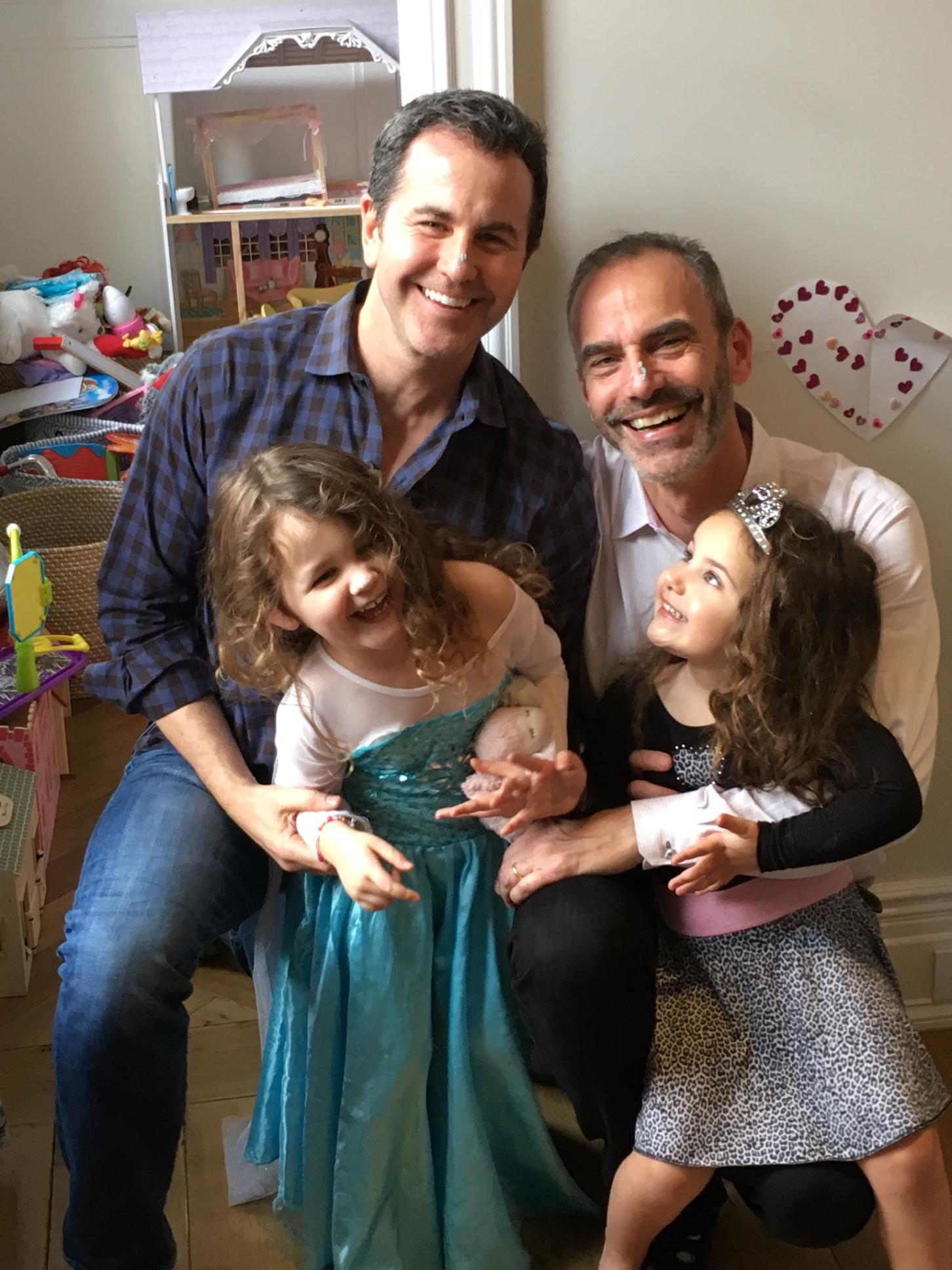 Brian Lewis '91 (left) with his husband, Matt, and their two daughters.
Photo courtesy of Brian Lewis '91
A New York City real estate agent, an audio book voice artist, and Russell Crowe's "A Beautiful Mind" stand-in walk into a room. No, this isn't the start of a bad joke. This is the life of Brian Lewis '91.
You'd be hard pressed to find someone with an experience set as wide and diverse as that of Lewis. His career has spanned multiple industries and taken him from coast to coast and back again. When it comes to performing, he's done it all, but at the end of the day, Lewis' unique career is defined by one underlying theme: an unwavering and steadfast devotion to following his gut.
Lewis is driven by instinct, and he credits his loyalty to intuition for his various successes. It was this same intuition that would send Lewis down the first leg of his long and unique journey - to a small public ivy tucked away in Colonial Williamsburg.
"I first visited William & Mary, like any good southern boy does, with his parents. I believe I was four the first time I remember coming," Lewis said. "I clearly remember standing in what we now call Confusion Corner and looking at the Wren Building and asking my mother what that was. I literally decided in that moment that I would be going to William & Mary. It really burned something into my mind and I never let go of it."
Lewis' four-year-old instincts would prove correct. Years later, in 1986, Lewis applied early decision to the College and was accepted. After arriving to campus as a freshman in 1987, Lewis immediately got involved with the William & Mary Theatre Department, while also working a one-man show at Busch Gardens called "The Enchanted Laboratory" during the summer.
It didn't take Lewis long to realize that he had found his calling in performing, and he committed to pursuing that calling head-on. Midway through his freshman year, Lewis decided that he needed a more intense performance program in order to really refine his skills. After auditioning for The Julliard School in New York and the University of North Carolina School of the Arts, Lewis transferred to the latter for the start of his sophomore year.
But something didn't quite click. After spending a semester in North Carolina, Lewis began to miss the liberal arts mentality he had experienced during his freshman year at William & Mary.
"I was honored to be there and it kicked my butt in all the right ways," Lewis said of North Carolina. "I loved it, but I missed the breadth of intelligence and the breadth of disciplines that the liberal arts environment provided. I missed the well-rounded William & Mary experience."
And so, Lewis once again trusted his instincts and made a bold move that would change the course of his life forever.
"After my first semester at the North Carolina School of the Arts, I came home for Christmas, called anyone who would pick up the phone in the Registrar's Office at William & Mary who was not already gone for winter break, and I begged them to let me come back," Lewis said. "And they did."
Lewis' instincts again proved right. He returned to William & Mary for the spring semester of his sophomore year and would ultimately graduate with a double major in government and theatre. Looking back, Lewis remembers the time he spent with the William & Mary Theatre Department as a defining part of his college career.
"The theatre world was a fraternity and a sorority among itself," Lewis explained. "I called us the island of misfit, artistic souls. Some of the most wonderful people I've met in my entire life were in that building, and a lot of them I am still friends with today."
After graduating from William & Mary in 1991, Lewis packed up his bags and headed to New York City to pursue acting full time. In those early days, he took whatever acting work he could find, from roles in soap operas to plays and commercials, while also working as a bellman at the Ritz Carlton and Four Seasons hotels. During the writer's strike of 1999, however, Lewis found himself out of acting work. Unsatisfied as merely a bellman, Lewis paid a visit to the Actor's Fund, a benevolent support group for actors and performers that supplements the work of unions, with the hope of finding new work.
"They gave me a bubble sheet test and told me I should really try real estate," Lewis said. "And so I did."
Ultimately, what Lewis found in this temporary position was his career. Lewis fell in love with real estate, and worked to bring his own unique flair to the industry. Lewis has been in real estate for almost 17 years, and today is known for his creative and comedic real estate ads, one of which was recently heralded by People Magazine in 2015 as the "…the most inventive video advertisement the real estate world has ever seen." Today, he works as an associate broker for Halstead Property in New York City and was recently named by Inman as one of the top ten most innovative agents in the nation.
"I love it, I really do," Lewis said. " I bring a certain theatricality to property videos, and I try to bring a sense of fun. That's what I did at William & Mary, I do that in my acting work, I do that in my real estate work. Sixteen years later, I'm one of the top producers in my company."
Today, Lewis continues to perform in whichever ways he can. Occasionally he acts and is involved with film - even having served as the stand-in for Russell Crowe in "A Beautiful Mind." As a stand-in, Lewis would first observe Crowe's performance of a scene, and then while Crowe was getting into character through hair and makeup, Lewis would perform the scene while the camera crew set the lights.
"I was his advocate on the set when he wasn't there," Lewis said. "He made me audition for him and learn all the lines. He would have me do scenes while he watched from behind the camera - he wanted to see the shot so he could understand how it was going to be when he was in it."
Aside from his work in film, Lewis is very involved with the New York City theater scene and also works as an audio book voice artist when he has the time, recording most recently, Adam M. Grant's book, Give and Take: A Revolutionary Approach to Success, as well as several novels by Danielle Steel. At the end of his busy days however, his focus lies on his family - his husband and his two young daughters, ages 4 and 3.
"I want to help them see a world that is open-hearted, open-minded and open to possibilities," Lewis said. "I want them to have a rich experience of the world."
Through it all, Lewis has maintained a loyalty and commitment to his alma mater. Not only has he stayed involved with the W&M alumni network, often hosting alumni events in New York City, but whenever Lewis sells a piece of real estate to a graduate of the College, he also donates a cut of his commission back to the College - Lewis' way of giving back to the university he credits for informing the way he views the world.
"I learned how to be consistent, I learned the regiment of working hard," Lewis said. "William & Mary taught me how to learn."