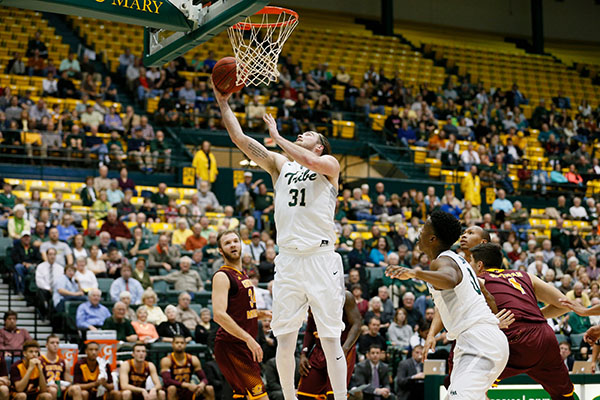 Photo courtesy of Tribe Athletics
Tribe basketball will host its annual Gold Rush Game, sponsored by University Advancement, in conjunction with W&M Charter Day on Saturday, Feb. 6. With an 86-77 win over Northeastern on Thursday, the Tribe moves to an 8-3 conference record and looks to continue their climb in league standings with Saturday's game against Delaware. William & Mary has already defeated the Blue Hens this season with a 94-79 victory back in January.
Tipoff is at 2:30 p.m. and will be televised nationally on the NBC Sports Network. 6,000 free T-shirts will be handed out to fans, courtesy of University Advancement.
Senior forward Sean Sheldon has been a key player for the Tribe this season. Below he talks about school, basketball and his hopes for the rest of the season.
Why did you decide to attend William & Mary?
There are many factors that went into my decision to attend William & Mary, but there is one in particular that ended up being the most important. It was the family aspect. I chose to attend school here because the guys on the team made me feel like I was one of the guys before I even was. At a lot of other schools your teammates will be just that, but here at William & Mary my teammates are some of my best friends.
How did you first get started playing basketball?
My dad used to play pick up basketball at the local community college back home, and he started taking my brother and I with him when we were both very young, around fourth grade. My brother and I used to only play when there wasn't enough guys, but as we got older it would be my brother and I on a team with my dad and two other guys who were lucky enough to join the "dream team."
What has been a memorable game for you during your basketball career?
I have had many memorable games, but the semi-final game last year against Hofstra when Daniel Dixon hit the buzzer beater in double OT is probably the ultimate winner.
What are your hopes for the rest of the season?
I hope to continue to help lead my team to another conference championship game in Baltimore this year, and hopefully make this the year we make history!
You are interested in pursuing a career in primary or secondary education — what made you choose this as a career path?
Growing up I was always focused on pre-med, and thought for the longest time that's what I would end up doing, and I still might since I am getting a B.S. in kinesiology as well as my degree in education, but it was the influence of a particular professor here that made me consider education as a possible career path. This professor has been an amazing influence on my academic career here at the college as well as in my life outside of the classroom. Education will allow me to help change the lives of young people everyday they step into a school similar to the way medicine made me feel.
How do you balance life as an aspiring educator with being a student-athlete at William & Mary?
Being a student-athlete at William & Mary is very difficult given our schools academic rigor, but with understanding professors, it makes the balancing process a lot easier. I have been very fortunate to have professors who not only are understanding of my athletic demands, but are also supporting of me both in the classroom and on the court.
Increasing scholarship support is William & Mary's primary campaign goal. As someone who has been able to receive academic scholarships, how has receiving this financial aid made a difference to you while you were here, and what opportunities have you been able to pursue because of this?
Simply put I would not be here if it weren't for the generous donations that people make not only to our school, but to our basketball program. I have been able to attend our very prestigious institution due to these wonderful gifts from donors, and receiving a degree from the College of William & Mary has been and will continue to be life changing.
How has your experience at William & Mary impacted you as a student/student-athlete?
Being so far from home, William & Mary has really helped to make me grow as a student and athlete as well as a person. Being in the classroom with some of the country's smartest individuals is an extremely humbling process, but one that is not taken for granted as it has helped me to grow as a student and reach new heights that I never thought I could achieve before attending William & Mary. As a student-athlete, William & Mary has helped me to understand that life is a journey, and that with hard work you can achieve great things on that journey, but that success both in the classroom and on the court comes with sacrifices.
What makes you proud to be a part of the William & Mary family?
The sense of community and togetherness within our sports family as well as campus wide is something that makes me extremely proud to be a part of the Tribe family.
For more information on the W&M's For the Bold campaign and powering the Tribe through scholarships, visit FortheBold.wm.edu. For more information on the Charter Day game, visit Tribe Athletics.