New space dedication for the Alan B. Miller Entrepreneurship Center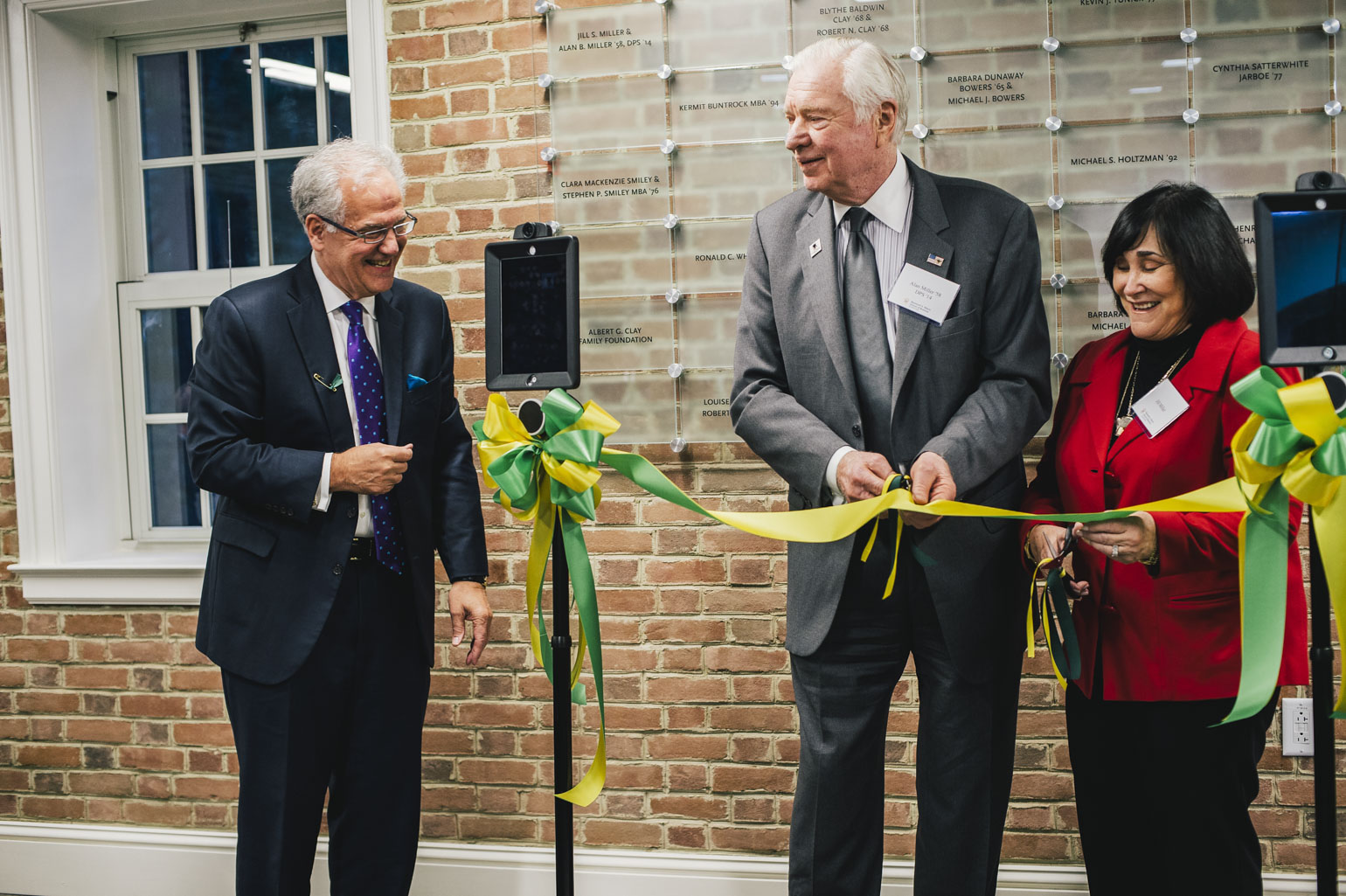 Tucked into the third floor of Alan B. Miller Hall is a new Entrepreneurship Center. The versatile and engaging space is designed to be a hub for dynamic thinking and creative ideas.
"When I first arrived at the College a year ago, I found that entrepreneurial thinking was happening all over campus but it didn't have a home," said Professor Graham Henshaw. "Students are hungry for a space like this to connect with each other and build their ideas."
Thanks to the generous support of Jill and Alan Miller, that space was officially dedicated on Monday, Nov. 14, when dozens gathered to celebrate the new home of the Alan B. Miller Entrepreneurship Center.
New Campus Center for Entrepreneurial Thinking
"William & Mary has been heavily invested in entrepreneurial thinking for hundreds of years," said William & Mary President Taylor Reveley at the dedication. "Previous alumni designed a new form of government for our country and guided that new form of government through struggle to survive. It took bold action, innovative thinking and raw courage, all entrepreneurial virtues we still need today. Our opportunities are vast and so are our challenges."
Business School Dean Larry Pulley also noted the huge wave of interest in entrepreneurship on campus and said that the Center will serve as both a tangible symbol and catalyst for entrepreneurship both on campus and throughout the community. A recent survey of undergraduate students from diverse majors found that 92 percent indicated a strong interest in incorporating entrepreneurship into their program of study.
In his remarks, Pulley thanked Miller for his leadership.
"Alan Miller is a sterling example of living a life of principled achievement," said Pulley. "We thank you very much for getting us here and we are very excited about the future."
Miller said he was honored to have his name tied to such a great school. "If you work hard and are lucky, good things will happen," said Miller. "I'm happy to be involved."
Creating a Dynamic Space
Henshaw, who serves as the Alan B. Miller Entrepreneurship Center's executive director, is excited to see what will happen when like-minded individuals and those with different ideas connect.
"Building a start-up is only the tip of the entrepreneurial iceberg," said Henshaw. "This space is designed to cultivate entrepreneurial thinkers across a wide variety of disciplines and provide a hub for students to make progress on their innovative ideas – startup or otherwise. This space will also serve as a launch pad, because no matter how cool your idea is, it is essential to get out of the building and put your idea in front of real customers to validate your assumptions. This new space will be the epicenter of that kind of activity on campus."
While the Ukrop Innovation and Design Studio on Miller Hall's second floor provides a design-thinking learning environment, the Entrepreneurship Center aims to educate, inspire and support students in developing the skills and mindset of an entrepreneur.
"Our goal is to create a space to put these skills to work. We think of the Center more like a lab or a workshop," said Henshaw.
The Center includes a large common space, a team break-out room, a lounge area, two faculty offices and an individual teleconference room nicknamed the phone booth. The design incorporates many different elements such as corrugated metal, brick and glass walls along with modern and versatile furnishings. A 3D printer, small library and other resources will be among the tools available to students. "We tried to get a lot of different environments in one place," said Henshaw.
"One feature of the Center we're really excited about are the two telepresence robots, state-of-the-art technology designed to give you a physical presence when you can't be there in person. We will use the robots to connect students to the extensive network of entrepreneurial mentors we are building for the Center."
Henshaw continues, "Ultimately it's the people who inhabit this space – the students, faculty and entrepreneurs from the community who are passionate about making their ideas real and changing the world – who are the secret sauce to its success."