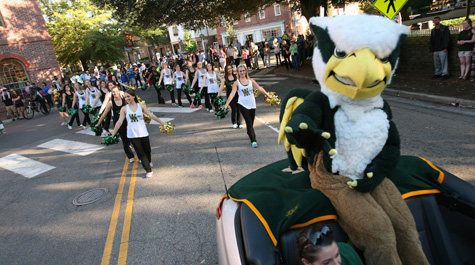 Photo by Stephen Salpukas
Planning to attend William & Mary's Homecoming this October? Be sure to check out the Homecoming Parade on Oct. 14. This year, the William & Mary Alumni Association will be coordinating with William "Bill" Schermerhorn '82 to create an exceptional parade experience for spectators.
Schermerhorn is the perfect person to help coordinate the event, with over three decades of experience in parade operations. As vice president/creative director for the Macy's Parade & Entertainment Group, Schermerhorn brought his vision to the Macy's Thanksgiving Day Parade, the second-oldest Thanksgiving Parade in the nation, and Macy's Fourth of July Fireworks, the country's largest Independence Day pyrotechnic display. Schermerhorn has received four Daytime Emmy nominations for Original Song, winning for "Yes, Virginia (There's a Santa Claus)" in 2011 and "(Won't You) Join Our Parade" in 2012. He has also created material for performers like Julie Andrews, Whoopi Goldberg and Kermit The Frog.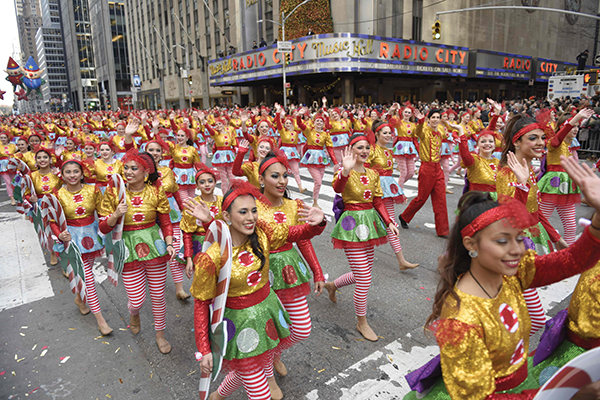 Bill Schermerhorn '82 served as vice president/creative director for the Macy's Parade & Entertainment Group from 2000-16, helping produce Macy's Thanksgiving Day Parade (shown here) and Macy's Fourth of July Fireworks show. Photo Andy Katz/Pacific Press Via Zuma
Schermerhorn retired from his position as creative director at Macy's this past year. But he's not done being creative. "I've got new stories to tell, new songs to write and new playgrounds to play in," he says.
One of those stories has to do with William & Mary. Working with students and the Alumni Association, Schermerhorn seeks to create a unique experience for parade-goers, one that incorporates the talents of campus organizations and alumni groups. "My goal there is to bring the whole William & Mary community together, whether it's the students, the alumni, or the neighbors to show off the spirit and pride of William & Mary," Schermerhorn says.
This year's Homecoming Parade will kickoff at 4:30 p.m. on Oct. 14. The grand marshals will be Michael K. Powell '85 and Jane Powell '85. This year there will be two stops for the parade. At the first stop, on the corner of Richmond and Jamestown Road, the entries will be announced. At the second stop in front of the Alumni House, floats will be judged for awards. For more information, and to see a list of parade watch locations, visit wmhomecoming.com.
"I'm looking forward to being there," says Schermerhorn. "It will be my first Homecoming because before all this, I've always had to get ready for a rather big parade."
Read more about Schermerhorn in the fall 2016 email of the W&M Alumni Magazine.