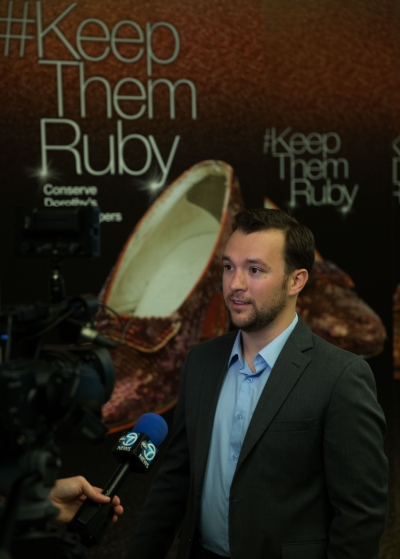 Ryan Lintelman's '09 description of Dorothy Gale, the protagonist of the 1939 film the "Wizard of Oz," fits many college freshmen making calls home to parents every Sunday afternoon.
"Dorothy is a really interesting American character because she is this young woman who is thrown into this world that she didn't ask for. She's interacting with all these people, they become her friends, and on this journey she's able to get back home - to the comforts of home where she can spend time with family, and she has enough to eat, and she has time to rest." Like Dorothy, college freshmen suddenly awaken one day in unfamiliar surroundings and must interact with a myriad of new faces - some of which they eventually befriend. While navigating this new environment, these young adults embark on a journey of self-discovery as they find their place within the academic environment and look ahead to the rest of their lives.
Lintelman, a self-described history nerd, however, appears to have faced his time at William & Mary with courage, intelligence, and an open heart - he'd make Glinda the Good Witch proud. In the beginning of November, Lintelman became the National Museum of American History's entertainment curator. In this role, he manages some of the most beloved items of Americana, from items used in vaudeville shows to props from the recent acclaimed AMC series "Mad Men," to those instantly recognizable size-five ruby slippers that danced Dorothy down the Yellow Brick Road. Much of Lintelman's job consists of actively working on acquiring pieces for the collection. He also plans for the future preservation and exhibition of the items that hold meaning for the American people. This development includes donation ceremonies and other publicity measures to garner interest and funds aiding conservation efforts. Currently, the National Museum of American History is working to preserve Dorothy's ruby slippers.
In order to raise funds to ensure that the slippers remain on display, Lintelman helped launch an online Kickstarter campaign that went live on Oct. 17. (Kickstarter is the world's largest fundraising platform for creative projects launched in 2009 by Yancey Strickler '00.) To #KeepThemRuby, Lintelman appeared on the "Today Show," NBC, CBS, and PBS. William Ivey Long '69, L.H.D. '04, six-time Tony Award winning Broadway costume designer and "Wizard of Oz" fan, designed some of the rewards that will go to donors and appeared in a promotional video for the campaign.
"When you see the slippers up close, or you look at the photos in the conservation lab, you can see the threads really starting to pull away, and how the light and humidity changes have started to turn the sequins darker, how the sequins are starting to flake. You can see that they need some help," Lintelman says.
Within a week of the campaign launch, the team had met their goal. Now Lintelman is working to reach the stretch goal. These funds will benefit the preservation of the Scarecrow's costume, and Lintelman hopes to place that beside the ruby slippers in a new permanent exhibit on American history viewed through popular culture set to open in 2018.
Lintelman has reflected on the success of this ambitious effort to save one of the most popular items at the museum. "I've been thinking a lot about what it is that really gets people, and I can come up with these historical reasons that the film was so important," he says. One of those reasons was the escape from reality that the brightly-colored optimistic film provided to those enduring the Great Depression. "There's also another interesting thing about the 'Wizard of Oz': it was kind of popular when it came out, but it was nothing compared to 'Gone with the Wind,' which came out that same year (1939), and if you'd have asked anybody, they would've said that 'Gone with the Wind' is the thing that's going to last." Not even Scarlett O'Hara's famous green curtain dress, however, recalls fond memories among the American populous, as do the ruby slippers. Lintelman attributes the enduring quality of the film to its appearance as reruns during the holidays as early as 1956 so that a new generation fell in love with the plucky all-American midwesterner and her infamous shoes. The slippers speak to us: flashy icons that had the power to carry Dorothy home remind us of brisk holiday evenings curled up on the couches of our childhood homes, the voices of family members alerting the room that their favorite song is coming up in the next scene. Lintelman, who grew up with several cousins, enjoys these memories, too. "Those families with cross-generational memories coming to the museum to see the Slippers, it's almost like a pilgrimage," he says. "It doesn't hurt that they are sparkly and bright and that they are still so evocative of the movie!"
The history of the ruby slippers transformation from street shoe to treasured gem has endeared them to the curator. "They're really representative of the studio system, which was a unique American invention, this sort of factory-assembly-line way of making movies where everybody specialized. A studio like MGM had an entire prop department, scenery department and costume department. Their most famous costume designer, Gilbert Adrian, designed the shoes, and the costume department just went out and bought some commercially available shoes, dyed them red and sewed sequins to them - it wasn't like these were custom-made. And they weren't supposed to last very long - they just had to get through the movie."
The pair on display at the Museum of National History is one of at least seven made. After production of the movie ended, the shoes remained in MGM's costume department until the 1970s when MGM began to transition from film production to the hospitality industry. MGM's costume designer Kent Warner had orders to pick the best pair of the seven to sell at the company's auction and destroy the rest. Warner executed the first task, but instead of destroying the other pairs, he absconded with them. Lintelman explained that an anonymous donor gave the pair that Warner picked for MGM's auction to the museum and that the other pairs belong to private or museum collections elsewhere. Lintelman knows that Judy Garland wore the Smithsonian's pair of shoes during filming - scuff marks and a layer of felt indicate wear during dancing scenes on the Yellow Brick Road - and recognizes that there's still a lot of work to be done on them. True to William & Mary fashion, the challenge is part of their appeal.
During his time at William & Mary, Lintelman embraced the diversity of opportunities that the American Studies Department offers. He loaded his schedule with history courses ranging from subjects like architectural history and material culture. These classes provided him with hands-on experiences from planting tobacco in Colonial Williamsburg to cleaning pottery shards in Jamestown's archaeology lab.
"All these different ways of looking at the past that weren't just documents and books, but using a variety of materials and ways of thinking to get a better understanding of the past," Lintelman says of classroom experiences that inspired him to pursue a curatorial career. "I think that's something that's really helped me in my career. In order to do the material culture museum work, you really have to be very broad in the way that you look at the past and the way that you interpret it because it's so hard to get a handle on how people felt about something in American history or the way that somebody responded to a movie like the 'Wizard of Oz.' The more methodologies that you can bring to that, the better off you are."
In addition to the stimulating classroom experiences that William & Mary provided, Lintelman values relationships that he cultivated with his undergraduate professors. He speaks especially highly of his advisor, Professor Charles McGovern. "When I tell people about the fact that Professor McGovern would sit with me for an hour and talk to me about what I wanted to do with my life, tell me about his career and talk to me about museums - he basically sold me on what my life would become - people can't believe that! William & Mary offers this opportunity for professors to spend that much time with undergraduates and really help shape their lives." Lintelman clearly paid attention during office hours: he has followed Charles McGovern's career path and now holds his advisor's former position at the Museum of National History.
"This is my dream job, and I'm still kind of shocked that I made it to do exactly what I want to do," Lintelman says. "I'm looking forward to a really long career of doing this because it's really my passion. I dreamed of this when I was at William & Mary."
Throughout his career, Lintelman has enjoyed the support of the William & Mary community. He works with at least two other curators who are alumni of the university, and another works as a development associate. "There's a great reputation for William & Mary here at the Smithsonian," he says.
Just as the ruby slippers carried Dorothy back to her home, William & Mary has carried Lintelman to his professional home. Lintelman hopes to extend the experience that he has enjoyed to current students at the university seeking their academic and professional niches. "I would love to have more interns from W&M. If anybody wants to come work on the national entertainment collection, I would be happy to have them."
Watch the Kickstarter video to learn more about the conservation project.
Don't forget the scarecrow! Watch the video below.