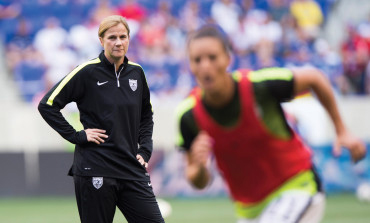 Photo by Brad Smith/ISIphotos.com
Jill Ellis '88 has always defied history. At a time when it was considered unbecoming for women to play soccer, she was out on the pitch, playing in her brother's pick-up games when the team needed an extra player. It paid off. Ellis went on to finish her college career as William & Mary's all-time leading scorer, then went even further, serving as coach for five Division I teams. Last year, as head of the U.S. women's national team, she helped inspire an entire new generation of female athletes when her squad ended America's 16-year wait for women's World Cup glory.
This year, Jill Ellis '88 and the women's Olympic soccer team again have the chance to change the record books, as no women's World Cup champion has ever gone on to win a gold medal in the following Olympics. For the 2016 games in Rio, Ellis has added some young talent to her roster of World Cup champions. They began their journey on Wednesday night, as they blanked New Zealand in their Olympic opener.
The United States faces No. 3 France on Saturday, Aug. 6. Follow Ellis and her team's journey to earn a fourth consecutive Olympic gold medal (and make history) at nbcolympics.com.
Watch a video interview with Jill Ellis.
Read about Jill Ellis in the fall 2015 issue of the W&M Alumni Magazine.