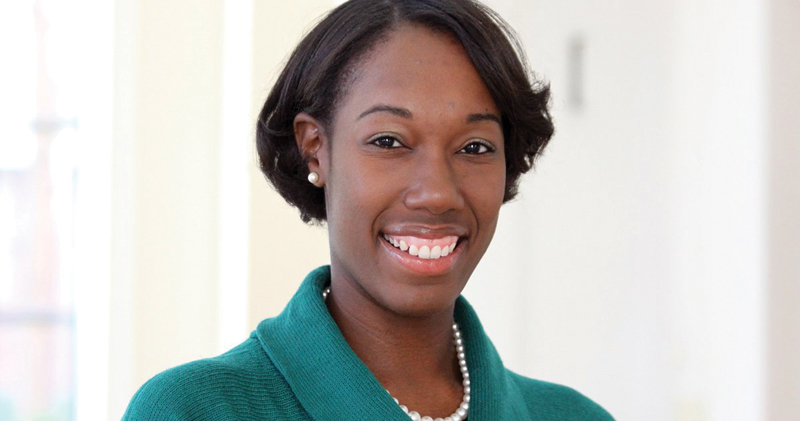 From the courthouse to the jailhouse to the General Assembly, Jeree Harris Thomas '08 is an advocate for children's rights. It's a passion so imbedded in her DNA that she self-designed her undergraduate major while at William & Mary to ensure her future advocacy work.
Thomas, an attorney, was recently named the recipient of the inaugural Youth Justice Emerging Leader Award given by the National Juvenile Justice Network. The award was given to Thomas for her advocacy work on issues related to the school to prison pipeline and reforming Virginia's juvenile justice system.
The characteristics of the award recipient are described as "an advocate for youth justice who embodies passion, boldness and perseverance, and who is committed to raising up the voices, experiences and expertise of system-involved youth and people of color to ensure that those most directly impacted by injustice are at the forefront of the youth justice movement."
"It was a huge surprise, but a really big honor," Thomas said. "To be held in such high regard was really an honor."
Thomas, is a former fellow of NJJN's Youth Justice Leadership Institute. She was one of 10 juvenile justice fellows selected nationwide. Thomas was previously an attorney with the JustChildren program of the Legal Aid Justice Center in Richmond, Va. Thomas began her work at JustChildren in 2011, with a two-year award from the Skadden Fellowship Foundation.
"I worked with kids who experienced educational or mental health issues to make sure they had the services they needed while incarcerated and services they needed when they reentered their community," said Thomas, whose work also entailed drafting legal briefs to show a child's progress in hopes of swaying judges to lighten an imposed sentence.
Thomas is currently the policy director at the Campaign for Youth Justice in Washington, D.C. Her role is to advocate for youth who are tried as adults. She works with state advocates to change laws that push youth into the adult criminal justice system.
"In some states, it's about giving youth an opportunity to have a hearing in front of a judge to determine what is appropriate instead of youth ages 16 or 17 being automatically treated as adults, and in other states it's about keeping youth, some as young as 13 and 14 from being incarcerated in adult facilities," Thomas said.
While at William & Mary, Thomas earned an interdisciplinary degree in social justice and community advocacy.
"My degree at William & Mary focused on the intersection of race, education, gender and poverty and how those things impact people," Thomas said. "I was very happy to be able to create a degree around my interests. That helped me leverage that knowledge when I went to law school."
Thomas also said her involvement with the university's Sharpe Community Scholars Program shaped her career path and influenced her focus on child advocacy work.
"I decided to do a self-designed major in social justice and community advocacy as a result of the Sharpe Program," Thomas said. "As a result of my major and a real commitment to service-learning, the College created a "Community Studies" minor program."
Thomas doesn't know what the future holds for her professionally, but is committed to being a lifelong learner.
"I honestly thought my last job was my ultimate career goal, and it was incredibly fulfilling work," Thomas said. "But I realize now that I have to leave myself open to learn about new opportunities and to continue to push myself to grow professionally and do as much good as I can."