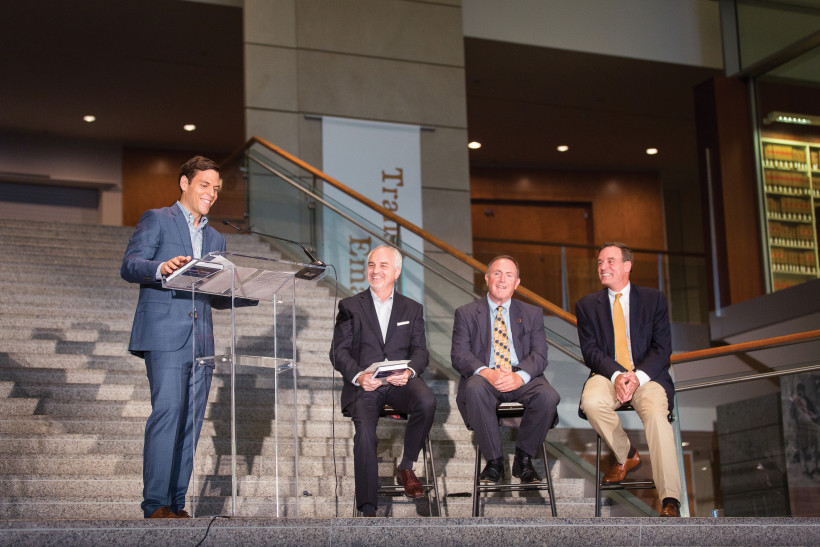 Will Payne '01 (left) is the founder of Bull Moose Strategies and serves on the university's Annual Giving Board and the Board of Visitors. His new book on Sen. Mark Warner (far right) was released last August.
Photo courtesy of Will Payne '01
Will Payne '01 is an entrepreneur, political operative, W&M Board of Visitors member and now a successful book author.
He is also a die-hard Def Leppard, Foreigner and '80s glam rock fan, and credits his music choices for influencing his work on his new book.
Payne is a guy who everybody likes. He walks into a room and everyone notices. He has charm and class and epitomizes what every W&M graduate has in common: leadership.
But it is the leadership of a certain U.S. senator that Payne wants to talk about. In his new book, Mark Warner the Dealmaker (www.markwarnerbook.com), Payne details how the conservative Democrat rose through the political ranks and became a well-regarded statesman who cares more about his state and country than his own party.
In writing the book, Payne provides his readers with a "VH1 Behind the Music" story, if you will, about the highly successful businessman-turned-governor and now senator. He said that it was important to provide an honest account of Mark Warner's LL.D. '02 time in the governor's mansion to show how his upbringing and business career helped shape the kind of candidate he would become. Payne argues that Warner was the kind of leader Virginia needed most at a critical time in its history.
"Mark Warner brought people together during his time as governor and continues to do so today," Payne says. "He is known for tackling issues his colleagues either don't understand or don't have the political courage to resolve. His story will create a sense of optimism for those who do not believe in the system."
Payne's book couldn't have come at a better time. Anyone watching the nightly news or scouring their Twitter feed can see how the country is growing more and more divided. Public discourse on hot-button topics such as national security, health care and immigration is often tense and highly contentious.
Most Americans would agree that finding common ground is not very popular in politics today.
But in Payne's view, finding common ground is a trademark of Mark Warner's leadership in government. "This is a story about what is possible in politics rather than what is impossible because of the political gridlock in our country," says Payne. This is evident in Warner's work helping veterans, investing in K-12 education and tackling our nation's debt by bringing both sides to the table to find sensible solutions.
The book makes clear that Payne and Warner both share the desire to make a lasting impact by looking beyond party lines.
Payne had previously worked as a staffer for a Republican member of Virginia's General Assembly before he decided to work for Warner's 2008 campaign for the U.S. Senate. It was during this time when he really got a taste for building bipartisan coalitions — something he continues to do today as the founder and principal of his firm Bull Moose Strategies.
Payne emphasized the importance of bipartisanship. "Everyone can benefit when people work together to find a solution, no matter the situation," he says.
It is hard to imagine how Payne found the time to write a book when he has his hand dipped in so many other activities, including volunteering as the chairman of the booster club for William & Mary's club ice hockey team, and serving on the university's Annual Giving Board and the Board of Visitors (BOV). Governor Terry McAuliffe D.P.S. '14 appointed Payne to the BOV in 2014.
When Payne thinks of where he'd like to see William & Mary in the next 10 years, he says that it is critically important for the university to have the resources to do what it does best: produce leaders, whether it is in business, public service, science or the arts. Payne adds, "I am confident this will continue to happen, in spite of dwindling state dollars. There is no doubt that the For the Bold campaign is going to transform the university."
Raising funds for good causes is always on the top of Payne's mind. In fact, he will be donating 51 percent of all sales and royalties from Mark Warner the Dealmaker to William & Mary and designating it to the Integrated Science Center as part of the Cabell Challenge. The goal of the challenge is to raise $1.5 million to enhance the university's research capabilities by updating equipment for neuroscience, molecular biology and environmental studies.
There is a personal reason why Payne supports research at William & Mary: one of his closest mentors was diagnosed with a neurological disease. He has become a big advocate for research in this area as a result.
By the end of Payne's book, it's clear that he has many lessons to share about working in politics. These were a few of his favorites:
• Communicate efficiently. Listen more than you speak.
• Be fiercely loyal to your friends. If you are fortunate to make good ones, hold onto them tight. I'd do anything for my friends.
• Work hard. Prove that you deserve your job.
• Everyone is replaceable.
• Your reputation is everything. Keep your word.
• Respect and understand the views of others.
• Be patient but be ready to seize opportunities.
• Don't burn bridges.
Inspired by Warner's example, Payne understands better than ever the importance of putting people ahead of partisanship.
"Politics is all about relationships," he says. "If you don't have them and don't maintain them, then you're not going to get anything done."
Read this story in the spring 2016 issue of the W&M Alumni Magazine.