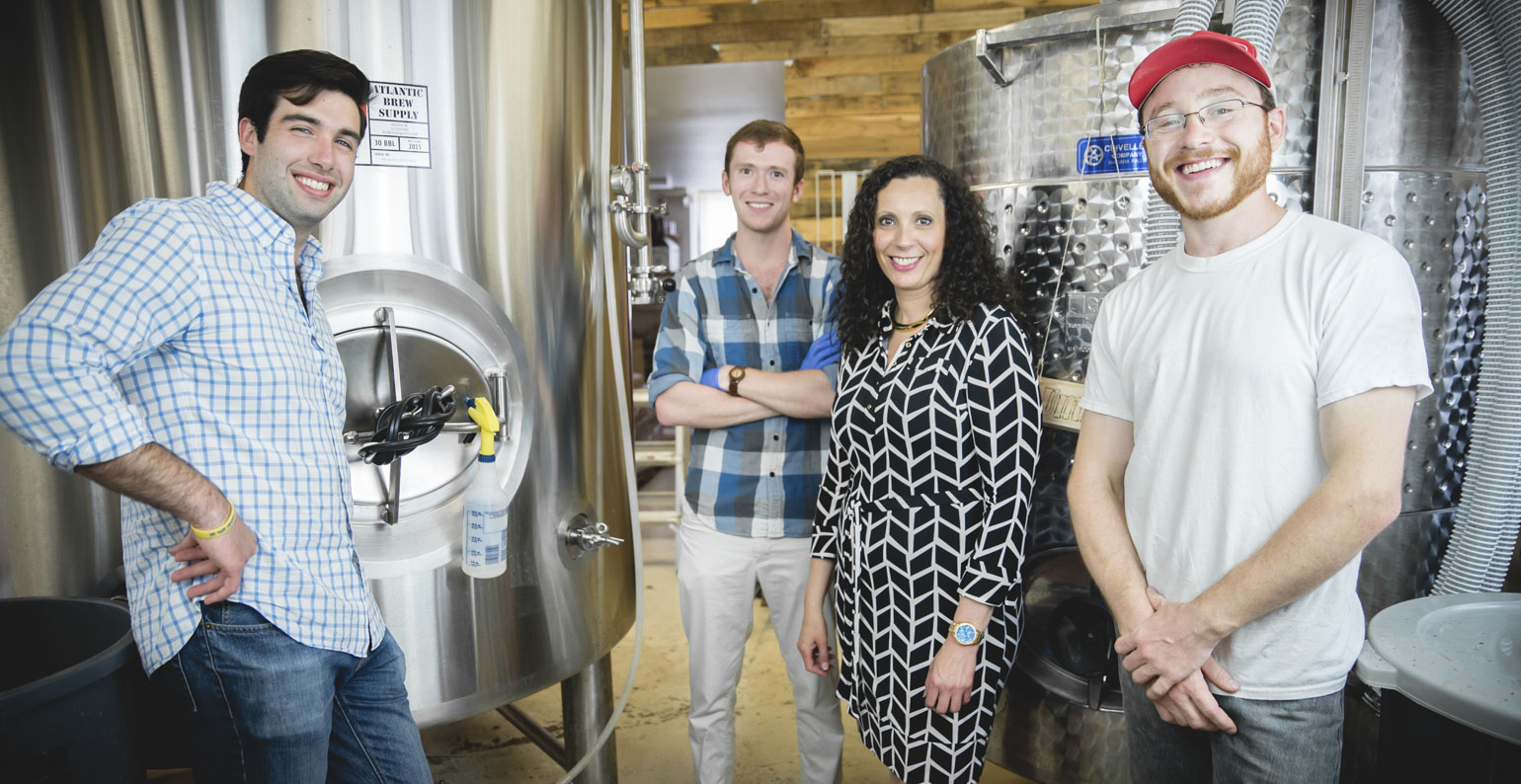 Terry Darcy '14 (second from left) is the co-founder of Confluence Coffee in Richmond, Va. The company experiments with different brewing methods, flavor profiles and coffee roasts.
Photos courtesy of Confluence Coffee
Imagine the refreshing crack and hiss of opening an ice-cold can and emptying its contents, pouring a perfectly froth-topped beverage into your favorite glass. This is the newest way to experience your morning cup of joe, although it may sound like the makings of a craft beer tasting. For many, coffee is a staple of the daily routine. This is especially true for Terry Darcy '14, co-founder of Confluence Coffee in Richmond, Va. The alliterative enterprise is a coalition in craft coffee brewing that combines convenience with creativity. Confluence is all about converging ideas and flavors to concoct great coffee, for people who love it as much as the company's creators do.
"I transferred to William & Mary my sophomore year, and I'm pretty sure my meal plans ended up consisting exclusively of Aromas and the Grind," Darcy jokes.
But developing a discerning palette for caffeinated goodness was merely a hobby for Darcy during his time as an undergrad. He studied neuroscience at the College, resulting in many hours spent in laboratories. Turns out a background in science experimenting and research techniques is the perfect platform for procuring the role of a full-time coffee brewer. Darcy is the go-to guy for developing brewing methods and predicting the possibilities of blending unique flavors.
Confluence draws inspiration from other beverages crafted with exceptional care, wines and beers. The company's signature drink is a canned, cold brewed coffee, made with beans from Blanchard's Coffee out of Richmond, steeped for 24 hours and aged in oak barrels. Darcy and his co-founder, Mike Woitach, were anxious to try oak aging tactics inspired by their personal ventures in home brewing beer.
"We felt inspired by both the coffee and beer worlds," Darcy says. "We were interested in flavor mixing, so oak infusion came to us because of how many of our own favorite beverages were brewed using similar tastes and aromas."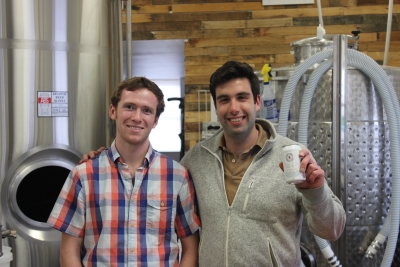 The Confluence co-founders have surely found their niche, by capitalizing on the demand for ready to drink coffee in a world that's busier than ever. Their coffee's convenience is confluent with its palatable qualities. The original oak aged blend, a mouthwatering mocha, and a seasonal, summery blend steeped with organic orange peel make up Confluence's trifecta of tastes that are currently on the market. With products already in over 100 stores such as Whole Foods, Confluence has spread throughout Virginia and into Delaware, New Jersey, Ohio and Pennsylvania. Between 40-50 locations sell Confluence Coffee in the Washington D.C., area alone.
Darcy credits his academic training with helping to develop the scientific and real world skills that have made his business an early success.
"The level of precision I learned in labs has proved incredibly valuable when working with the FDA and state regulators, maintaining records and standards, and developing formulas for our recipes," Darcy says.
William & Mary's holistic approach to learning has encouraged Darcy's resourcefulness and motivation to seek out knowledge or, in this case, the efficiency and ambition to expand Confluence Coffee's reach. The company has recently collaborated with local Virginia breweries like the Virginia Beer Company in Williamsburg, and has plans for eventual nationwide distribution (including cold cans being sold at the Daily Grind).
If you haven't already, grab a can of Confluence and drink up. Cold brew is here to stay.