Bright lights, big apple Part IV
So far, our journey around New York City has taken us to Rockefeller Center, where Beth Comstock '82 serves as vice chair of General Electric; to Brooklyn, where Yancey Strickler '00 is CEO of Kickstarter; and to NYU Langone Medical Center, where Laura Balcer '87 serves as a neuro-opthamologist.
Next we visit Ken Himmel '68 at Hudson Yards, the site of the largest private real estate development in the history of the United States.
This story appeared in the summer 2016 issue of the W&M Alumni Magazine.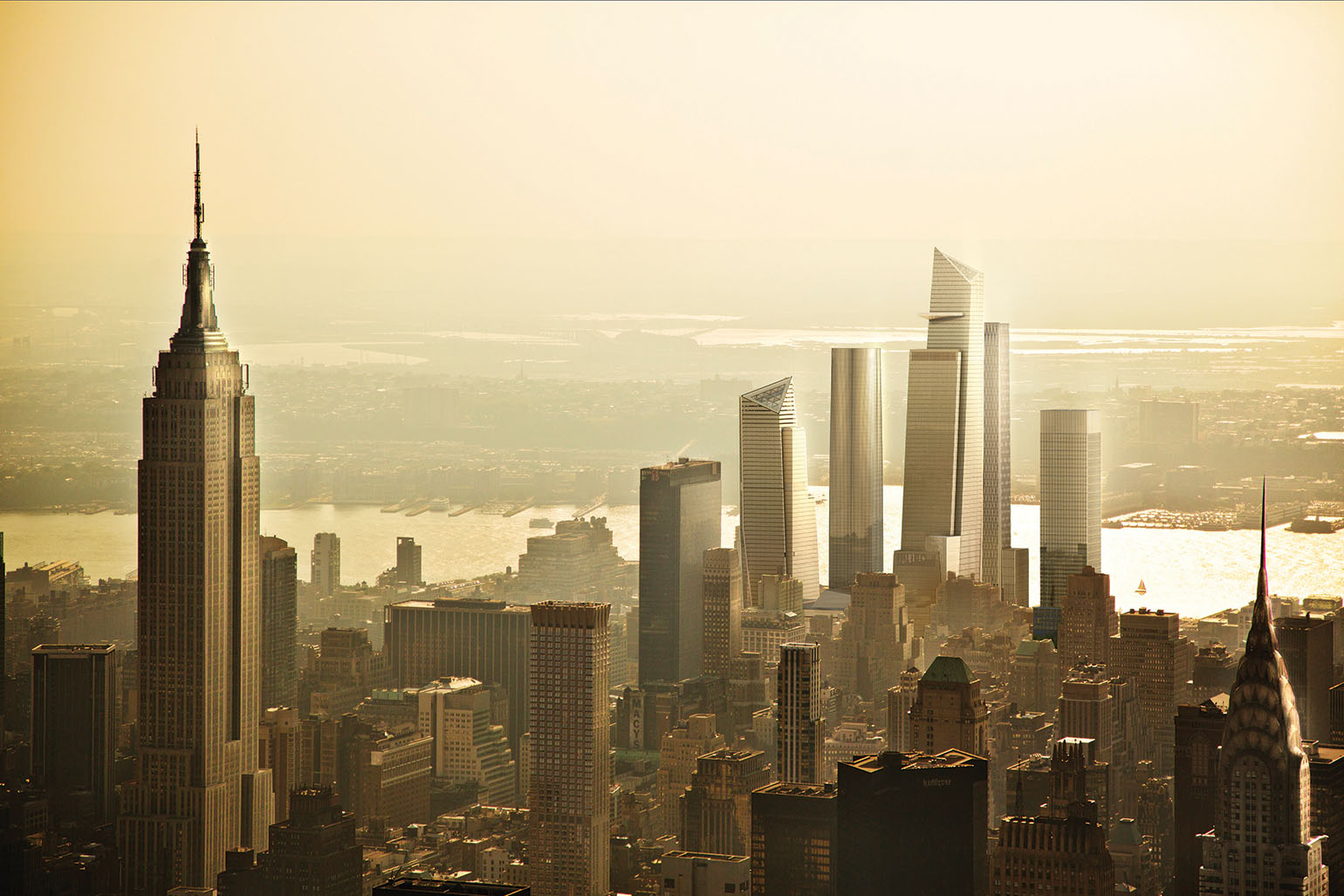 The Manhatten skyline, looking west, past the Empire State Building, across Midtown. This photo illustration shows how the Hudson Yards project may finally look, when construction is complete.
Photo courtesy of Related
We make the hike back to the 7 to check out the new subway stop that has been built for Hudson Yards on the Far West Side. Billed as "the largest private real estate development in the history of the United States," Hudson Yards is the site of a 17-million-square-foot mixed-use development with a one-million-square-foot retail center that is headed by Ken Himmel '68, CEO of Related Urban. Himmel is no stranger to large-scale projects within the city. The Time Warner Center, which kisses the hem of Central Park at Columbus Circle, is another one of his team's better-known developments, along with marquee national locales such as CityPlace in West Palm Beach, Water Tower Place in Chicago, and Pacific Place in Seattle. His broad real estate empire stretches into Abu Dhabi, and his many restaurants include Grill 23 & Bar, one of Boston's most highly regarded eateries.
Himmel began his love affair with the hospitality industry while working for the Salem Country Club as a sophomore in high school. By the time he arrived at William & Mary, the New England native had shifted his focus to premed studies. "I discovered that my personality didn't lend itself very well to spending all day in a laboratory," Himmel laughs. "I think my wife would say that my bedside manner wasn't up to the task." Despite Himmel's objections, the chief executive and hospitality guru comes off as chiefly hospitable, proud of his broad liberal arts education. "The diversity of the program was phenomenal," he says. "It provided the sort of broad education that unfortunately a lot of kids don't get today. In Williamsburg, you really do hunker down and study."
Himmel, who eventually got his degree in psychology before going to Cornell for hospitality, got his big break when he was named the managing director of development of the Ritz-Carlton Hotel at Water Tower Place in Chicago. "I made sure I was given an opportunity to work on that project," he says, "which was sort of the pacesetter of my career because it was mixed-use, contained vertical retail and was well-located on Michigan Avenue. This was 1975, before anyone knew what 'mixed use' meant. I was just 29 years old, but no one was afraid to give young people enormous amounts of authority and responsibility then. There was certainly a lesson to be learned and it has guided our culture at Related and how we grow young talent."
It is said that the devil is in the details, but one wonders if Ken Himmel arrived there first. A prime example: One of his employees flies from San Diego to Fresno every Sunday to handpick the cattle that will be served at Grill 23 & Bar. "The ability to lead and drive a business comes from the respect of the people below you and your knowledge of the business you're driving, and that really comes from digging into the granular details," Himmel says. "If I showed you the Hudson Yards retail plans, there are literally a thousand pages that represent that project today. I didn't draw every one of those pages, but I can tell you I have focused on every detail in those drawings."
A lot of that attention to detail goes into training and building the right team. "One of the things to recognize here is the teamwork and the collaborative effort that is required on both the technical and creative sides of the business," he says. "The greatest challenge we have in the digital age is how to create destinations and experiences that will draw you out of your home. Fewer and fewer people are making the decision to leave their homes and go to a physical shopping destination. And that's why when we put these projects together in these incredible locations in our great cities, we spend so much time on programming and merchandising and finding unique venues and platforms that draw you into the project. I could make this sort of overarching statement about projects, both here and around the world, but it starts with the right people. The results are extraordinary if you get the right team."