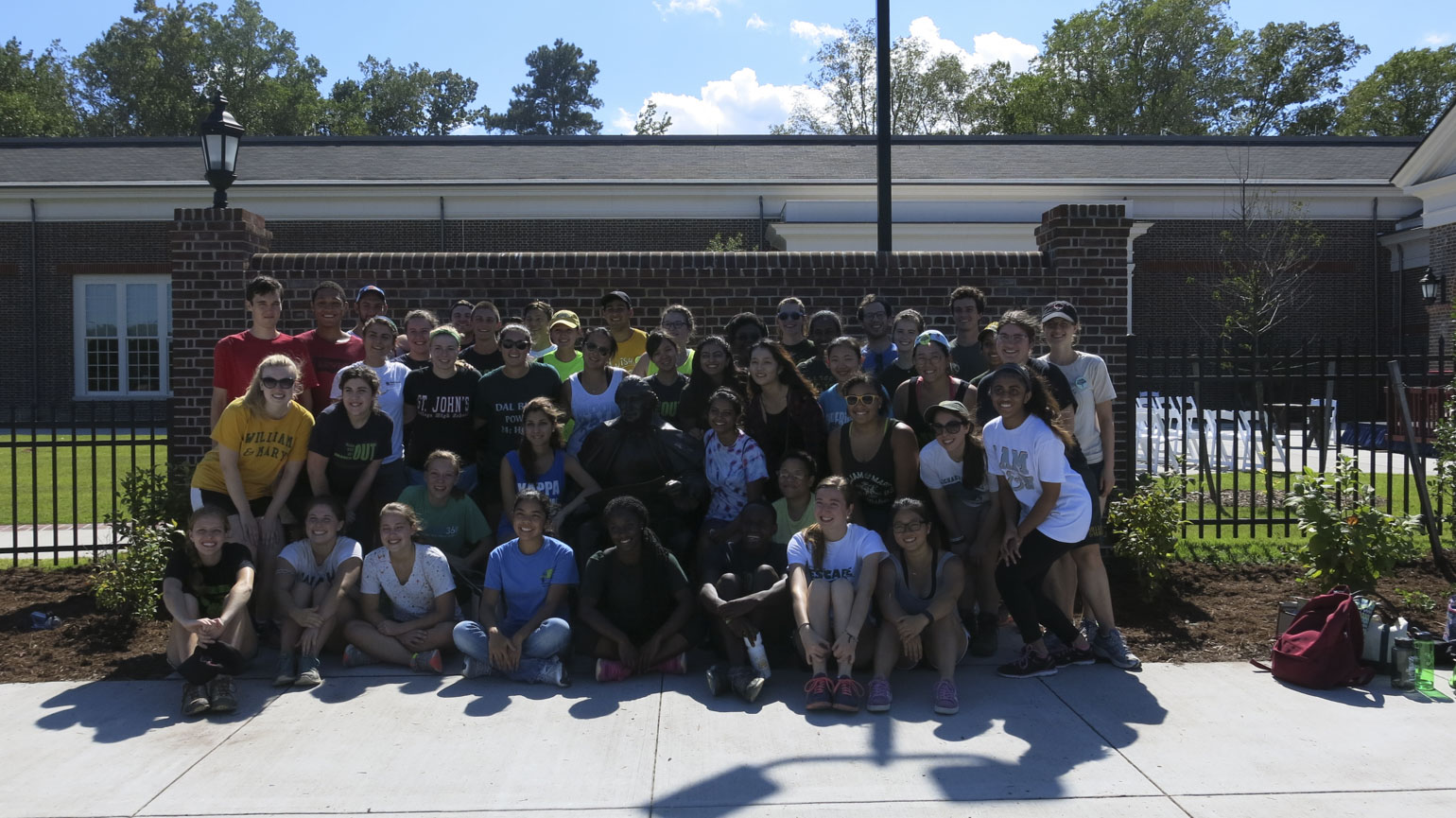 This year, 254 William & Mary students participated in a Branch Out alternative break.
Sammy Smeaton's '16 Spring Break service trip to Nicaragua has changed the course of her life. After graduating, she plans to move to the country to serve others.
Smeaton is one of 254 William & Mary students who participated in a Branch Out alternative break this year. It was Smeaton's third time traveling to Nicaragua through the program. Branch Out, a program that allows students to do service trips domestically and internationally, is one of William & Mary's most unique opportunities for scholars.
Branch Out typically covers between 10 and 40 percent of the cost of the trip for students needing financial assistance. This year alone, 74 students were able to participate in the program because of William & Mary's For the Bold campaign.
If it weren't for the generous support of donors like Melissa Dozier Friedery '78 and John Friedery '78, Branch Out wouldn't be able to support so many talented and compassionate students wanting to drive positive change in the U.S. and around the world.
The Friederys, of Lafayette, Colo., established an endowment for the Branch Out program that will ensure generations of students will be able to engage in these life-changing experiences.
"Private support is huge for us because these experiences are so meaningful and make such an impact on student learning and their development as active citizens, but these experiences cost money," said Melody Porter, director of the Office of Community Engagement, the office that runs Branch Out. "Private funding is what fills the gap that may otherwise keep some students from participating."
Since 2002, Branch Out has fostered community-driven service and social justice projects. Students travel in small groups and partner with host organizations. There are 25 trips a year, ranging from a weekend to 15 to 18 days during winter and summer breaks.
"Our community partners tell us that we get things done that they would have never been able to get done," Porter said. "It benefits students, but also communities throughout the world."
Students travel near and far to serve. Trips have ranged from Lynchburg to Kenya. In Lynchburg, students worked on an urban farm to provide healthy food for residents. While most of the service trips focus on education or healthcare, Porter said one trip addressed human trafficking while another focused on homelessness among LBGTQ youth. Students will travel to Ghana this summer to build a school and help develop a sex education curriculum with local teachers.
"The program structure helps participants prioritize working with and understanding a community as a lifelong endeavor," said Andrew Stelljes, assistant vice president for student affairs, student engagement and leadership. "Participants learn about the complexities of an issue of social concern. Students develop leadership skills that increase their capacity to make positive change."
While in Nicaragua, Smeaton and other students built a house for a family in need.
"When we sleep 10 people in cots and mosquito nets in one room, using buckets to shower and latrines to go to the bathroom, doing 6-8 hours of manual labor every day, that is when it hits us, and we can truly start to empathize, to understand, and to see with our own eyes why we are doing what we are doing," Smeaton said. "This trip is, without any doubt in my mind, the best thing I have done in my four years at William & Mary."
Julianne Mosher '17 also spent her spring break in Nicaragua teaching English.
"The longer I remained in Jinotega, and away from what I knew, the more awareness and insight I gained," Mosher said. "Awareness is a good word for it. Absorbed in the moment, internalizing my experience, I felt more aware than ever. This is an enriching feeling."
Students like Smeaton and Mosher are just a few who have benefited from the campaign gifts of donors. Private funding is essential for the university to provide unparalleled opportunities for students to put their leadership skills and knowledge to work at home and abroad, helping to forge change that makes a difference in the lives of others.