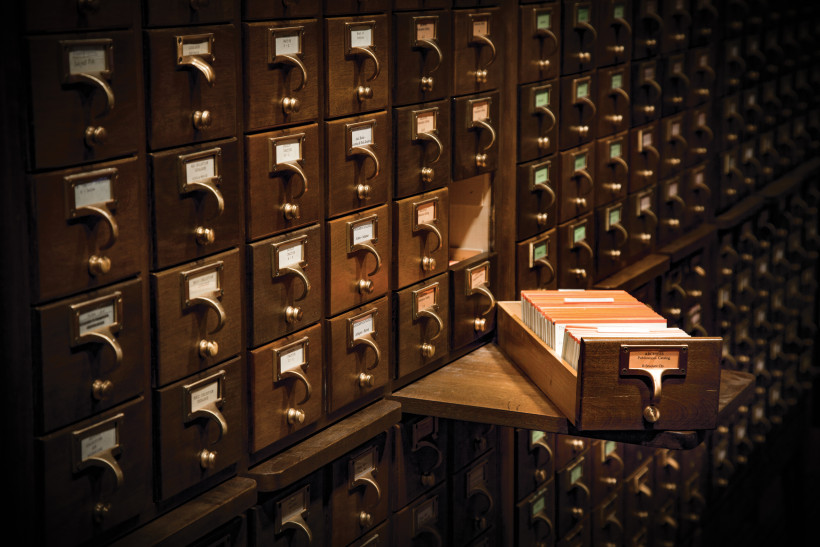 Photo by Eric Lusher
In the 1700s, when William & Mary's library was housed in the Wren Building, students had to pay 10 shillings a year to use it and could borrow one book at a time between the hours of 9 and 10 a.m. on Mondays and Fridays. Over two centuries later, things are drastically different.
You might say it all started with Earl Gregg Swem. William & Mary's librarian from 1920-1944, Swem made the College's library (housed in Tucker Hall during Swem's time), more accessible by offering classes on library use and, in a practice almost unheard of at the time, opening the stacks to students and the public. Under his leadership, the library's collection grew from 45,000 books and manuscripts to more than 640,000, and his collecting efforts formed the basis of what would become the Special Collections Research Center. Swem died at 94 in 1965, a year before the completion of the library that carries his name.
Since its opening 50 years ago, Earl Gregg Swem Library has carried on its namesake's legacy by remaining central to the academic and social experience at William & Mary.
With over 800,000 visitors last year, the College community relies on Swem as a place to be productive, to collaborate and to connect with both peers and resources. Among those resources are 1,909,968 books, 15,084 films and videos, the second-largest collection of books about dogs in the United States and a first edition of The Book of Mormon. Swem continues to attract students and faculty to its unique spaces, including high-tech classrooms, multimedia production studios and study areas. In 2015, the library was ranked 17th in the nation in Princeton Review's list of the best college libraries, a ranking based on student surveys. It was the highest-rated academic library in the state of Virginia.
Looking ahead at the next 50 years, Swem Library sets its sights on creating student assistantships, digitizing its unique and one-of-a-kind materials to make them accessible to scholars worldwide, and continuing to invest in library spaces. In the meantime, we take a look at some of the items housed inside that define what Swem is all about — from unique items and new technology to partnerships across campus.
Read more in the spring 2016 issue of the W&M Alumni Magazine.