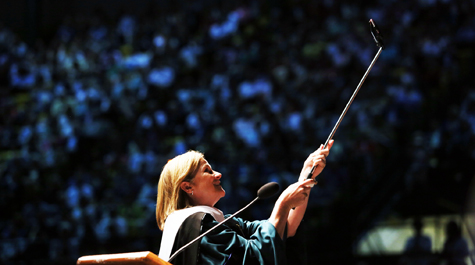 Jill Ellis '88 takes a selfie with the Class of 2016 during the university's Commencement ceremony on Saturday in William & Mary Hall.
Photo by Stephen Salpukas
At William & Mary's 2016 Commencement ceremony last Saturday, Jill Ellis '88 addressed approximately 10,000 people in William & Mary Hall and charged the university's graduating students to "be bold," whether they knew what was coming next for them or not. Over 2,000 W&M graduates received their degrees this past weekend.
Read more about the 2016 Commencement ceremony.
Take a look at videos from Commencement below:
Jill Ellis' '88 keynote speech