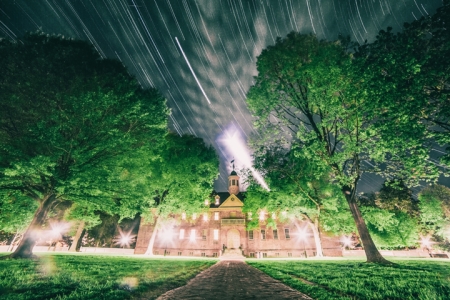 Less than nine months after the public launch of For the Bold: The Campaign for William & Mary, the university continues to break old records and set new ones. William & Mary not only raised an unprecedented $143.1 million in a single fiscal year (FY), it also solidified its status as the No. 1 nationally ranked public university in the U.S. for undergraduate alumni participation — 28.7 percent, or 18,258 alumni, gave back to William & Mary in FY16.
"The William & Mary community is rallying behind For the Bold with enormous enthusiasm and powerful effect," said William & Mary President Taylor Reveley. "This is crucially important to W&M's excellence in the 21st century. Philanthropic support for our operating budget has now overtaken state support. It is increasingly and flatly central to our future. Alumni, parents, faculty, staff, students and friends have joined the campaign in ever growing numbers. This is marvelous!"
Since the leadership phase of the For the Bold campaign — which began in July 2011 — the university has raised nearly $578 million. This represents almost 60 percent of the $1 billion total that William & Mary plans to raise by 2020.
For four consecutive years the university has raised more than $100 million — all during the For the Bold campaign. Previous to this campaign, there was only one other year when William & Mary surpassed $100 million. In FY16, the university increased total dollars raised by more than a third — $105.8 million was raised last year, which at the time was a record-breaking year of fundraising.
Scholarships, the highest fundraising priority in the campaign, were greatly bolstered this year with the help of 5,318 generous donors. More than $68 million was raised for scholarships alone in FY16.
"For the Bold unites us together toward a singular cause — building a diverse community of great minds and creating extraordinary opportunities for them to lead compassionately and innovatively in their communities and the world," said Sue Hanna Gerdelman '76, campaign chair. "The biggest takeaway from this news is that these fundraising milestones are not just numbers; rather, they represent an extraordinary investment in people who are the lifeblood of the university."
The percentage of William & Mary undergraduate alumni giving back to their alma mater has risen to levels rarely seen by top-ranked public universities and many private institutions in the U.S., added Gerdelman. In just a year, the university increased undergraduate alumni participation by nearly two percent, from 27.1 last year to 28.7 — this can be attributed, in large part, to the success of the university's annual giving day, One Tribe One Day (OTOD). To that end, a significant portion of graduate and professional alumni participated on OTOD and are a vital part of the more than 42,000 donors who supported the university throughout the fiscal year.
Additionally, William & Mary's donor retention rate continues to rival the average among the very best private institutions, with 71 percent of alumni donors giving in FY16.
All of this points to the fact that year after year, William & Mary continues to buck national fundraising trends — where most higher education institutions are seeing declining numbers — on many fronts, said Matthew T. Lambert '99, vice president of university advancement.
"The 40 percent alumni participation goal in the campaign is perhaps the most audacious goal we've set for ourselves. When we achieve this, it will put us in the same league as the top three nationally ranked universities in the U.S. that all have one thing in common — an enormously loyal donor base," added Lambert. "I cannot stress enough that alumni participation matters because it impacts the value of a William & Mary degree — and therefore the marketability of alumni in the workforce — and ensures that the university has the necessary resources to offer a high-caliber and transformational education for all time coming."
Gifts of all sizes — including gifts of $250 and below — make a tremendous difference in strengthening programs and research efforts across campus, said Lambert. In FY16, for example, gifts of $250 and below added up to $2.4 million.
A critical component to achieving 40 percent alumni participation is William & Mary's class ambassadors program, which is considered by many to be a national model for annual peer-to-peer engagement. Alumni representatives from the Class of 1959 to the Class of 2016 currently participate in this program. According to Lambert, the growth of the program as well as overall participation and giving by ambassadors is enormously impressive. In fact, 829 class ambassadors engaged with 7,300 classmates in FY16 alone — a significant increase over last year.
Importantly, the cornerstone of a strong and sustainable William & Mary network all around the world — and a key objective in the class ambassadors program — is robust alumni engagement, stressed Lambert. In FY16, the Alumni Association significantly bolstered its efforts creating world-class engagement opportunities, including offering signature programs, alumni career and networking services, outreach to students and young alumni and top-notch alumni communications. The university has also made great strides in its outreach to women. This year, the university held nearly 400 events in approximately 45 cities around the world, and celebrated the inaugural William & Mary Weekend in Washington, D.C., with more than 1,300 alumni and friends.
"The university is stepping up efforts to ensure that alumni not only strengthen ties with their alma mater but also with one another," said Gerdelman. "This is a critical part of the campaign and it sets the stage for alumni and students alike to have access to more opportunities that foster personal and professional growth and enrichment. Simply put, robust engagement helps build bridges to lifelong friendships and connections that lead to a more prosperous and fulfilling future for so many lives."
For more information about how gifts of all sizes are making an impact on students, faculty and other areas on and off campus, please visit the For the Bold website.