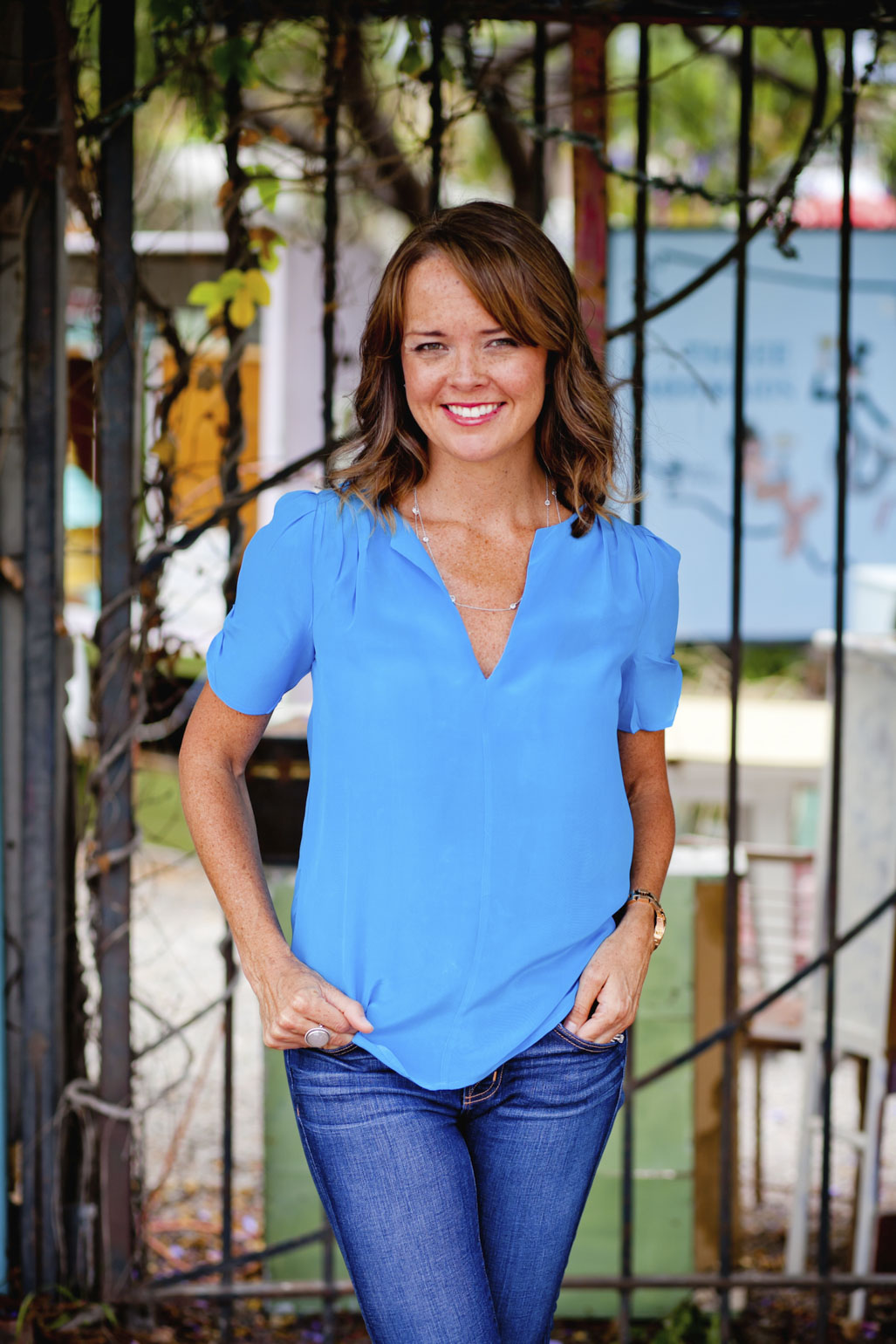 Michelle Gable '96 is the New York Times best-selling author of A Paris Apartment. In February, she released her second novel, I'll See You in Paris.
Photo courtesy of Michelle Gable '96
Writers tell stories. It's in the job description. They spend their days creating life on the page - friendships, relationships, and entire worlds sprouting from their pens. But what about the story behind the stories? What about the writer?
Michelle Gable '96 is the New York Times best-selling author of A Paris Apartment. She recently released her second novel, I'll See You in Paris, and has just signed a contract with her publisher to release a book every year for the next three years. Right now, it's a great time to be Michelle Gable.
But Gable's story began long before she was launching book tours or garnering press for her novels. It began with a small book titled Someday You'll Write that Gable's parents gave her when she was in the fourth grade - a book with an oddly prophetic title considering Gable's career today. It was after reading Someday You'll Write that Gable realized she was hooked. At the age of 10, Gable had caught the writing bug.
"From then on I would just write all the time," Gable said. "My childhood friends say that for play dates I would invite them over and make them write stories."
Fast-forward 12 years and Gable is about to graduate from William & Mary where she majored in accounting - the last thing one might expect from an ambitious young writer.
"I also really liked numbers and finance and I knew that I wasn't going to do the starving artist thing," Gable said. "I had to make a living somehow - I wasn't going to be supported by my parents once I graduated college. Plus I knew that writing was something I could do on the side."
So far, Gable's plan seems to have worked. Today, she continues to spend her 9-5 in the 'practical' world as the head of Investor Relations at Ellie Mae, a software company specializing in mortgage processing services. Finance may seem an unlikely choice for a writer, but Gable insists that her two careers actually complement one another.
"People look at me and get a little confused - they see finance and they think it's so different [from writing], but it's really not," Gable said. "First of all, numbers tell a story, too, just like writing - it's just different. And you do need structure in your writing; you can't just throw words down on a page. It has to make sense."
While pursuing her career in finance, Gable continued to write in her free time. However, it wasn't until her 31st birthday that Gable decided she was finally going to make a concerted effort to get something published. Nine years and several unsold manuscripts later, Gable's novel, A Paris Apartment, was released. Gable had at last fulfilled her childhood dream. She was finally a published author.
Her debut novel, which focuses on a recently discovered apartment in Paris that had stood locked and unoccupied for over 70 years, was a huge success, earning a spot on the New York Times best-seller list - an accomplishment for any author, let alone a first-time novelist.
And from there, Gable kept on writing. Her latest book, I'll See You in Paris, was just released in February and follows the story of several fictional and one eccentric real-life duchess.
Gable found inspiration for I'll See You In Paris, which she wrote by hand while watching her daughter's softball games during the summer of 2014, in the research that she conducted for her first novel, A Paris Apartment.
"A Paris Apartment features, pretty prominently, this portrait by Giovanni Boldini. He painted all the famous and storied women and men of the era," Gable said. "And so I went back and researched every single person that he painted just to get some context and stumbled across Gladys Deacon, the Duchess of Marlborough, and she was so fascinating that I knew she had to make her way into a future book."
And that is exactly what happened, with Gladys Deacon serving as the central, focal point of Gable's second novel. Deacon, who later became Gladys Spencer-Churchill, was an American socialite who wreaked havoc among European nobility during the Gilded Age, the later part of the 19th century. Ultimately, she became the mistress of Charles Spencer-Churchill, ninth Duke of Marlborough, and the two later married in 1921.
"She was the most beautiful, tempestuous, but also intelligent woman of her day - that was widely regarded to be her reputation," Gable said. "As she said herself, she slept with every prime minister in Europe and most kings. She was very independent. She was also a firecracker and would do the funniest things like bring a gun to the dinner table to keep her husband in line. I knew she had to be featured in a novel."
I'll See You in Paris weaves together the story of Deacon with the stories of two other more modern women, all of whom are connected by a mysterious book.
For Gable, the publishing process for I'll See You in Paris brought her full-circle and reconnected her to her alma mater in a way she did not see coming: her editor, Laurie Chittenden '93, who was also a William & Mary graduate.
"It was great," Gable said of working with another member of the Tribe. "Obviously I know she is incredibly smart since she went to William & Mary. She has a good way of looking at things. We're definitely on the same page."
Looking ahead, the future is bright for Gable, who is currently in the middle of a promotional tour for her novels. She has also signed a contract with Macmillan Publishers to release a book every year through 2019. She is also in the process of writing her third book, which will focus on the elaborate family homes in Nantucket that are facing destruction at the hand of coastal erosion. So far, all of Gable's books are historical fiction, with inspiration taken from real life events. Gable actually accredits William & Mary for getting her hooked on the stories of the past.
"I grew up in San Diego and I never liked history," Gable said. "I thought history was boring - I thought 'who cares?' But being at William & Mary, where there is all this history and tradition, really gave me a reference and now I write in historical fiction. It seems funny to me because I just did not care for it at all as a teenager."
At the end of the day, whether it be historical fiction or something new, Gable just wants to keep writing.
"I just want each book to be better than the last," Gable said. "I just want to keep writing. I want to keep having books come out and keep building on my audience and getting out and meeting the readers. I just want to keep writing a better and better book."