Back in June, Senior Director of Alumni Engagement Kelly S. Holdcraft and a few W&M colleagues traveled across Asia to participate in incoming student receptions, meet with alumni and industry leaders, and bring Tribe Pride to cities across the continent. Holdcraft posted about her time in Asia on The Gale at the beginning of July. Here is a recap of the memorable trip.
Hong Kong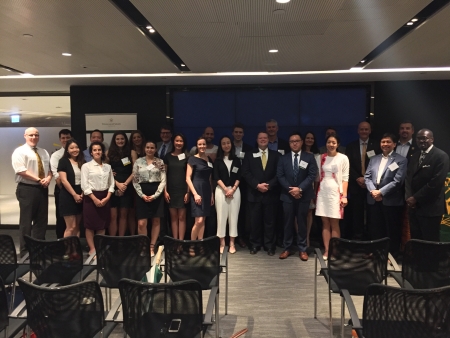 The first stop is Hong Kong, with its deep bustling harbor, dense landscape of skyscrapers and thick summer humidity. On Monday, June 13, Jim Hunter '85, P '19 hosted alumni, and current and incoming students and parents at a reception in his EY offices. Jim warmly welcomed guests and provided a view into how important William & Mary is and has been to him and his family.
"My whole outlook on my academic focus really changed and developed while I was at William & Mary and was incredibly impactful on me. Since leaving the 'Burg in 1985 . . . I have always maintained a connection with William & Mary. It was partly because of the experience that I had, but it is also in large part because I want to see William & Mary become all that it can be. Being able to explain the history of the school to people here in Asia really makes me proud of how important William & Mary has been in American history and in global academic standards. I am also very proud that my son (Ian Hunter '19) now goes to William & Mary."
Shanghai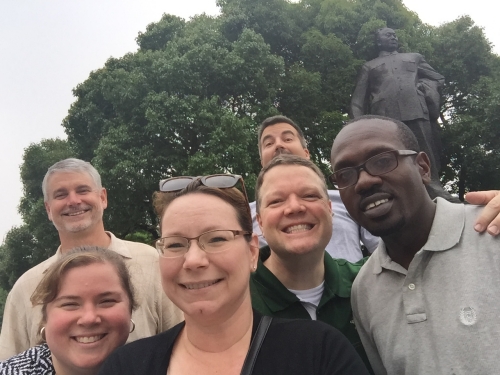 In Shanghau, W&M Professor Mike Tierney '87 provided the Tribe with a look at AidData research. At the event, I was able to connect with some amazing W&M students and alumnae and learn more about their William & Mary experience. Alice He '18 and Lexi Chen '18 both came to W&M to escape the urban setting of Shanghai. They researched schools through U.S. News and World Reports and were impressed with William & Mary's rankings, history and beautiful campus. They both agreed that the size and location of William & Mary allows them to focus on their studies and gives them the freedom to explore activities in a safe environment. He is an economics and French double major, and Chen is majoring in finance. They were both intrigued by Tierney's speech and research, but thought that since they were not studying government, that they could not work for AidData. After speaking with Tierney, they could see how their business majors and language skills would be welcome additions to the AidData project. He and Chen are excited to learn more about the AidData partnership with Fudan University in Shanghai and how they can assist.
Beijing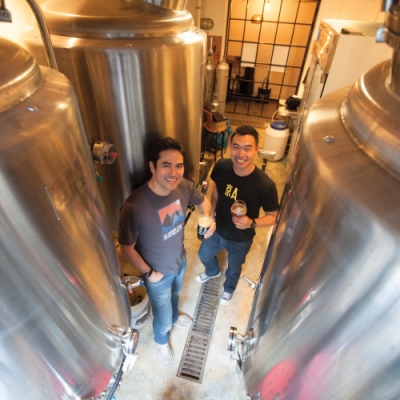 China Daily Cover Story featuring Jing A Brewery's co-founder Alex Acker '00 greeted us when we opened our hotel room doors the morning of our June 18 William & Mary in Beijing reception. Coincidence or fate?!
William & Mary alumni and current students welcomed incoming students and their families to the Tribe at the Beijing reception. "Oooooos" and "Aaaaaas" rose from the crowd of impressed new students as alumni with positions at Microsoft, Pfizer, large multinational law firms and banks, and prestigious graduate schools each introduced themselves by providing their program and grad year, and current employment.
Seoul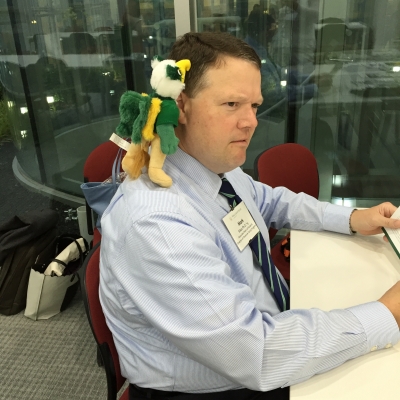 Our second summer trip to Seoul to gather alumni, current students, and new students and their families was a great success. Many thanks to S.K. Lim '81 for hosting this year's event. Every student who attended last year as a new student came back this year to welcome incoming students from Korea to the Tribe.
It was especially wonderful to meet Kwang Min Ahn who will start his M.B.A. at William & Mary in the fall. Kwang Min and his wife are excited to move to the U.S., but are having some difficulty deciding where to move based on what Middle School their 12-year old son should attend. Mark Sikes Ph.D. '15 and I both have 12 year-olds so we were able to give Kwang Min the pros and cons of Berkley Middle School versus Hornsby Middle School. At the end of the evening, we gave Kwang Min a plush Griffin doll to give to his son.
Tokyo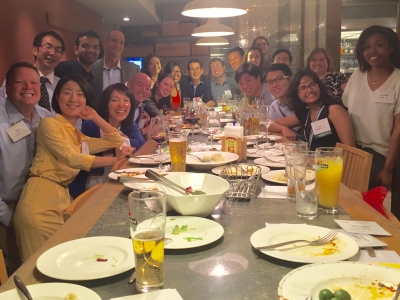 As with children, it is never a good idea to choose favorites, but if I had to choose my favorite #wminasia reception, I would pick our time in Tokyo. With many thanks to Ben Pratt '95 for hosting 25 alumni and current students gathered for an informal evening filled with wine, laughter and networking.
We went around the table and had each attendee introduce themselves. Everyone had an opportunity to better know an awesome group of Tribe members in Tokyo.