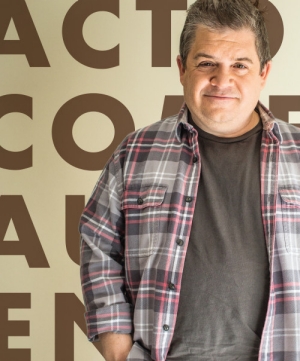 Photo by Timothy Archibald
Last night, William & Mary alumnus Patton Oswalt '91 won his first Emmy, Best Writing for a Variety Special, for the Netflix special "Patton Oswalt: Talking for Clapping."
When Oswalt took the stage, he claimed he was truly surprised by the win and did not prepare a speech. He thanked his fellow nominees and the peers that inspired him, before dedicating the Emmy to his late wife, Michelle McNamara, who passed away earlier this year.
"I want to share this with two people," Oswalt said at the end of his acceptance speech. "One of them is my daughter, Alice, waiting at home. The other one is waiting somewhere else - I hope."
McNamara, a true-crime writer, died in April, the night before "Talking for Clapping" premiered. She was 46.
Oswalt's special beat out HBO's "Amy Schumer: Live at the Apollo," Netflix's "John Mulaney: The Comeback Kid," HBO's "Tig Notaro: Boyish Girl Interrupted," and Hulu's "Triumph's Election Special 2016."
Taped on the stage in San Francisco, "Talking for Clapping" covers topics ranging from Oswalt's worst stand-up set to political correctness to a horrible birthday clown.
Read more about Oswalt in the spring 2016 issue of the W&M Alumni Magazine.