An Evening at the Embassy
Last week, the William & Mary D.C. Metro Alumni Chapter held their annual Evening at the Embassy at the Embassy of France.
Before the main event on Thursday, alumni gathered on Wednesday for "William & Mary and France 101," where two professors of French and Francophone Studies presented their current research and examples of research completed by students on campus and abroad. Many former students of the professors attended the lectures.
Professor Magali Compan explored the recent work of street artists KidKreol and Boogie, whose creative endeavors with visual texts constitute re-articulation of memory and identity in the French Reunion Island. Professor Maryse Fauvel discussed museums as sites of memory and oblivion through the study of two museums, the Quai Branly Museum and the only museum of immigration in Europe.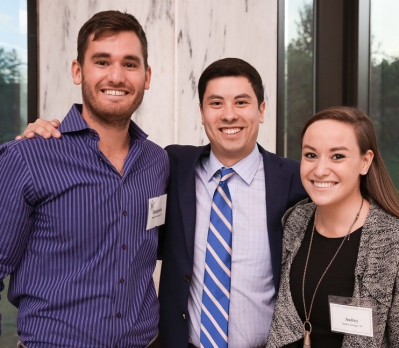 Thursday night's event featured Kate Conley, William & Mary's dean of the faculty of the Arts & Sciences, professor of French and Francophone Studies and a promoter of French culture within the United States. Before coming to William & Mary in July 2012, Conley worked at Dartmouth College for 20 years as a member of the French faculty in the Department of French & Italian. She has published three books and two co-edited volumes (in French) on the surrealist movement, with a focus on women, poetry, art and collections. Over 230 alumni gathered at the Embassy of France to hear Conley speak about how her studies in French helped her career and how it has contributed to her work as an academic administrator.
"My studies encouraged my 'narrative imagination' and trained me to encourage the ability in others to think creatively, find the big picture and found arguments on solid critical analysis," Conley said in her speech. "Literary, historical and artistic evidence lie at the root of all the arguments scholars make to advance knowledge in my field. As a professor, I taught students how to write analytical papers of their own, built on arguments based on their own critical insights into the texts, art, history and culture we studied together. As a dean, I work with faculty on their insights into the best way to teach a liberal arts curriculum for the 21st century."
Visit here to see photos from the event.