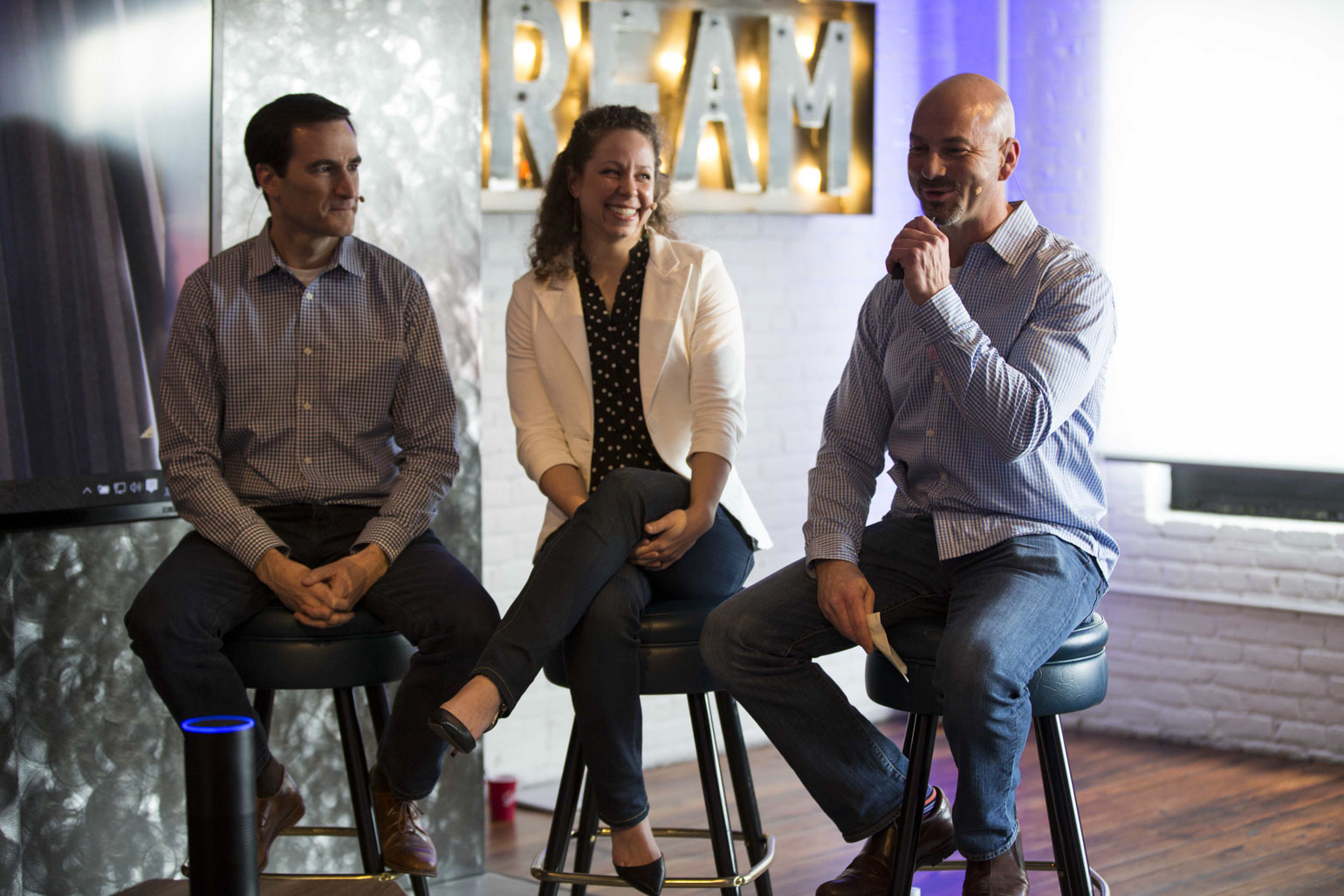 Ken Dodelin '95 (left), Scott Totman '93 (right) with Stephanie Hay (middle). The group launched the new Capital One skill for Alexa at SXSW in Austin, Texas in March. Totman is performing a demo with Alexa.
Tribe alumni at Capital One made headlines this spring for announcing an innovative first in digital banking.
W&M alumni Scott Totman '93, Ken Dodelin '95, Shelley Solheim '99 and Lauren Fox '09 were part of a team at Capital One that developed and launched the new Capital One skill for Amazon's Alexa-enabled devices. The launch attracted widespread national media attention, as Capital One became the first company to provide customers with the ability to interact with their financial information through Alexa-enabled devices such as Amazon Echo, Amazon Tap, Echo Dot and Fire TV.
The new skill enables Capital One customers to stay on top of their credit card account by checking their balance, reviewing recent transactions or making payments, as well as get real-time access to checking and savings account information to understand their available funds — all hands free.
Q. What are the new capabilities for Capital One customers on Amazon Alexa-enabled devices like Echo and how do people use it?
A. Ken Dodelin, Vice President of Digital Product Management, Capital One: Over the past year, Amazon and its partners have introduced a variety of "skills" that allow its increasingly mainstream audience to do everything from order a pizza to call an Uber — and our skill provides a similarly convenient hands-free voice experience.
The setup for the new Capital One skill is easy: Simply search for and enable the Capital One skill in the Alexa smartphone app, enter your Capital One username and password, and begin asking Alexa questions like:
· "Alexa, ask Capital One for my Quicksilver Card balance."
· "Alexa, ask Capital One for recent transactions on my checking account"
· "Alexa, ask Capital One when is my credit card payment due?"
· "Alexa, ask Capital One to pay my credit card bill."
For Capital One, this is all about creating straightforward, intuitive experiences, products and tools that make it easier for our customers to manage their money, wherever they are.
Q. What was the involvement of William & Mary alumni on the project?
A. Dodelin: This was a collaborative effort between our digital product development, design and engineering teams, and W&M was well represented throughout. I led the product development team's efforts, while Scott Totman, vice president of digital products engineering at Capital One, led the technology efforts behind this initiative. Lauren Fox, digital risk manager, focused on compliance and security related processes, and Shelley Solheim, director, communications, headed up the communications team that launched the new skill.
Q. How did you approach this new and emerging technology?
A. Scott Totman, Vice President of Digital Products, Engineering, Capital One: We were excited about the possibility of utilizing voice-activated technology to create a new, convenient experience for our customers. It's all about helping our customers manage their money, wherever they are, and integrating banking into people's everyday lives.
This was really built in two phases. Initially, a few developers just started experimenting with Amazon Echos. Then, last summer, we combined efforts by putting everyone in a room and scoping a single feature: fetching a customer's credit card balance. In doing so, we learned a lot about the platform and the level of effort required to produce a full public offering. Phase two kicked off in October, which entailed defining and building the initial set of skill capabilities, which were based on customer interviews and empathy based user research. Less than six months later, we formally launched the Capital One Skill at SXSW in Austin, Texas.
We also spent a lot of time trying to get the conversation "right." This is a new medium for customers and for us, so we had to learn not only what questions customers were going to ask, but how they were going to ask them.
Do you want to feel a connection with Alexa, or do you just want her to state the facts? Do you prefer a sense of humor and personality in your interactions? Finances, after all, are not always a humorous topic for people, so we needed to have a deep understanding of our customers' appetite for playfulness. For example, one of the most common customer questions is, "Can you make my payment go away?" That is a clear invitation to inject humor and provide a witty response.
Q. What did you need to consider from a security and risk perspective?
A. Lauren Fox, Digital Risk Manager: We spent a lot of time working toward the right balance between convenience and security, allowing customers to interact with our skill easily while satisfying the extremely high security standards of both Capital One and Amazon. This was also one of the first projects where we piloted some human-centered design practices to facilitate risk management. By embedding ourselves with the product team throughout the development process, we were able to catch and mitigate risks on an ongoing basis to ensure we were launching the strongest product to our customers.
We placed a major emphasis on security, and with the new skill we protect account access in three ways:
· When a customer enables the Capital One skill on their Alexa app, we perform local security checks, and then ask them to sign in using their Capital One username and password, both of which are encrypted and not shared.
· If customers want an extra layer of security, they can create a four-digit "Personal Key" that Alexa will ask them to say before providing account access
· We specifically chose to design our first release to be more informational than transactional. Therefore, customers hear balances and recent transactions, versus more intensive activities like transferring funds to external accounts. We may explore this space in the future, but for now, we're starting with more informational commands.