Alexandra Masaquel '17 brings the aloha spirit to Tribe basketball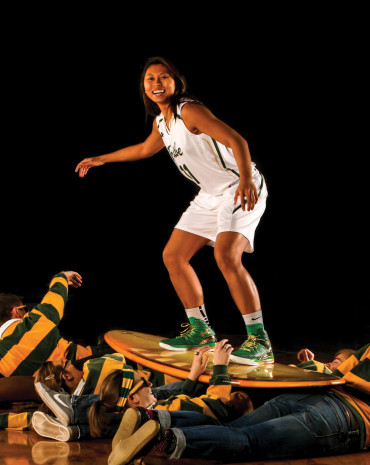 Alexandra Masaquel '17 enters Friday's home contest against UNCW averaging 11.8 point per game and 7.9 rebounds. Photo by Skip Rowland '83
The William & Mary women's basketball team returns home on Friday, Jan. 22 to face CAA opponent University of North Carolina-Wilmington, and is looking to snap a three-game losing streak. The Tribe is 11-5, with a 2-3 record in CAA play. They face a Seahawks team that is 5-11 overall and 1-4 in the league.
Junior Alexandra Masaquel continues to play a big role for the Tribe this season. The forward won her first CAA weekly award recently, earning Player of the Week honors for the week of Jan. 4. In a win over two-time defending conference champion James Madison, she recorded her fourth double-double of the season scoring 14 points, a season-high 15 rebounds, two assists, one block and a season-high five steals.
In the winter 2016 issue of the W&M Alumni Magazine, Masaquel talks naps, life in Hawaii and her hopes for the season. Read the story here, then head out to Kaplan Arena on Friday to see Masaquel and the rest of the Tribe take on the Seahawks. Can't make it? Visit tribeathletics.com to follow the game online.