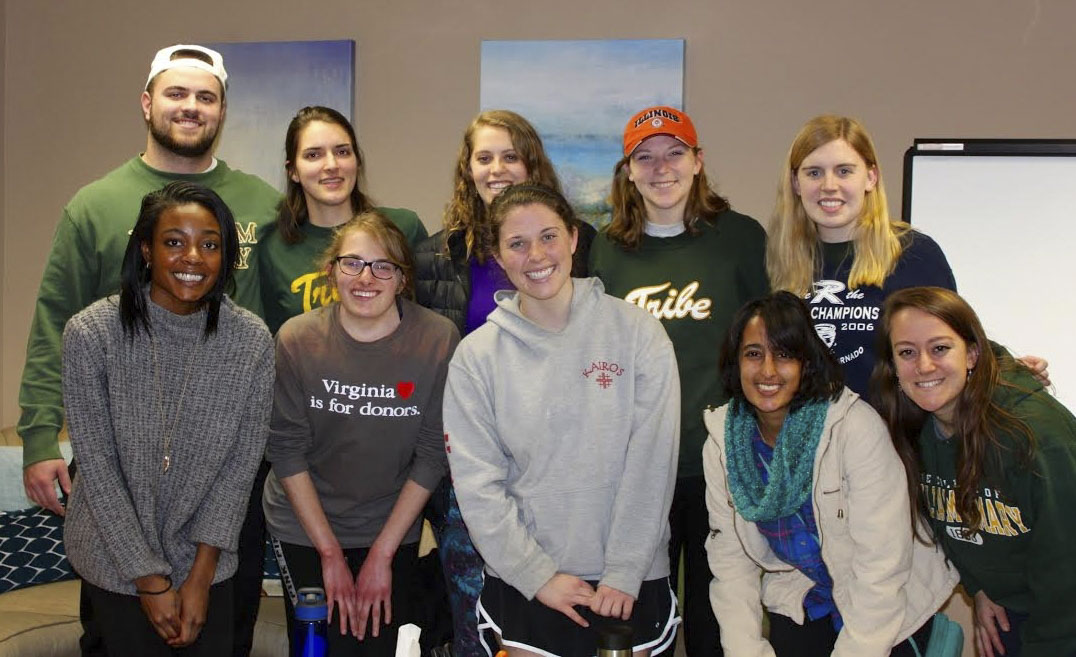 A group of students participated in a day of service to honor the legacy of Martin Luther King Jr. Photo courtesy of the Office of Community Engagement
"Life's most persistent and urgent question is, 'What are you doing for others?'" –Martin Luther King Jr.
The William & Mary community honored the legacy of Martin Luther King Jr. this past week with service opportunities for students. The MLK programs offered through the Office of Community Engagement (OCE) give students a chance to conduct issue-focused service in small groups. This year, through OCE's Branch Out Alternative Breaks, students participated in three service trips over Martin Luther King Jr. weekend, one focusing on refugee resettlement (Newport News), one on the needs of the critically ill (Richmond) and one on the William & Mary Lemon Project (Williamsburg).
On Jan. 19, students also participated in a day of learning and service in the Williamsburg area. The students split into groups that each addressed a local social-justice issue, including hunger, access to housing, healthy families and youth empowerment.
Below, two students talk about their experiences participating in OCE's day of service on Jan. 19.
Sara Franklin-Gillette '19, psychology major
I am in Aim 4, a program with the OCE. I got an email through this program about the MLK Day of Service, and thought that volunteering in recognition of Martin Luther King Jr. would be a meaningful way of recognizing MLK Day.
I participated in the homelessness project. In the morning, we went to Habitat ReStore, an affiliate program of Habitat for Humanity. ReStore takes furniture donations, fixes them up and sells them for a cheap price; all the profits fund Habitat for Humanity. At ReStore, the William & Mary students helped with a variety of tasks. I helped measure and sort doors and bed frames. In the afternoon, we went to the Blayton Building, which is public housing for people who are either elderly or have disabilities. While there, we cleaned all the public areas of the building.
The most rewarding part of my experience was when multiple residents of the Blayton Building came out of their apartments to thank us. I often have trouble understanding the impact of my service when I am not working directly with people, so being thanked for my service helped me understand the impact we made. It helped me understand that not only was the service meaningful, but also the fact that we chose to do the service. The residents I talked to were grateful that the building was getting cleaned, but they were more grateful that college students took the time to do it.
Hallie Westlund '16, government major, with self-designed human rights and social justice major
I have been very involved with all the OCE programs in my four years at W&M and I find them very fulfilling. I decided to participate in the MLK Day program because it is important to me to connect with and understand my community any chance I get, and the OCE provides a great opportunity to do so. Additionally, it's important to me to honor Martin Luther King's legacy by engaging in my community and working towards social justice.
I participated in the women and healthy family program. We went to Avalon, which is a shelter for victims of domestic and sexual violence. While at Avalon, we learned about the programs they provide and helped them clean up and organize their holiday donations. In the afternoon we went to Child Development Resources (CDR), which provides free developmental screenings, parenting classes, and family therapy to families in the historic triangle. At the CDR we helped them with cleaning and filing.
The most rewarding aspect for me is gaining a greater understanding of the Williamsburg community, and getting to learn about the organizations and people who provide such important services to the community. It is also rewarding to know that spending even a day at these organizations can help them continue to function and provide these valuable services. I had never heard of CDR, and so I was happily surprised to know about the free services they provide. It is also always eye opening to see what the needs are in the community because much of the time I am stuck in the campus bubble. I am also always surprised by the other W&M student volunteers and how passionate they are about making positive change.