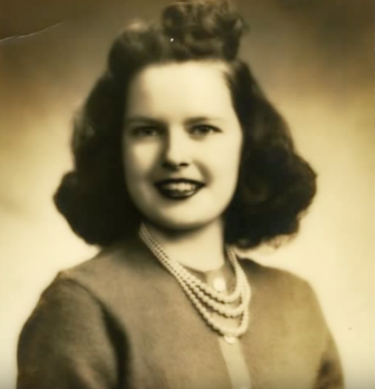 After Ruth Weimer Tillar '45 wrapped up her college interview at William & Mary, Dean J. Wilfred Lambert '27, L.H.D. '81 turned to Tillar's father and said, "Well, I can't tell you today if your daughter's accepted. But I'll call you Monday morning."
As Tillar and her father left campus, he asked her if she was ready to go visit Duke.
"Nope," she replied. "I want to go home and wait for that phone call."
Tillar's love and loyalty for William & Mary began during that first visit and has not waned. As the William & Mary faithful arrive in Williamsburg this weekend to celebrate Homecoming 2016, there are few, if any, that have the attendance record that Tillar does: she's been to them all, ever since she entered William & Mary as a freshman in 1941.
Originally from Pittsburgh, Tillar knew she wanted to go to a Virginia college. "I just fell in love with William & Mary during my interview and could scarcely wait until orientation week," she said.
The Class of 1945 was the largest that had ever entered the university at that time, with 550 students. When Tillar arrived on campus, she lived with Dean Lambert and his wife, Anne Nenzel Lambert '35, because the university had accepted too many students for the dorms and many had to be assigned to faculty housing.
Tillar says the first few months of her freshman year were fun and carefree. She and her friends went to pep rallies and football games, dances at Blow Gym on Saturday nights and Sunday tea dances at the Inn.
But the attack on Pearl Harbor on Dec. 7, 1941 changed the lives of William & Mary students. "Our boys were leaving every day to go into the service, and we were going to the train station to wave good-bye to them," Tillar said.
Co-eds, including Tillar, formed a group called the WAMs, or War Activity Members. In addition to climbing into the tower at the Methodist Church to spot aircraft, they sold war bond stamps. Their sales pitch? "Please buy our war bond stamps and lick the other side."
As a student, Tillar was also an editor at The Flat Hat, a member of the Kappa Alpha Theta sorority and participated in the German and French clubs. She met her future husband, Thomas Cato Tillar, when her William & Mary roommate set them up on a blind date.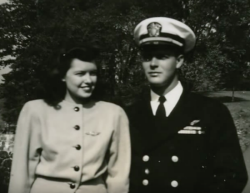 With the majority of the student body off at war, Tillar graduated with just 125 of the original 550 students in her class. After graduation, she taught at Blacksburg High School and later at Emporia High School after giving birth to her two children, Tom and Elizabeth.
Tillar says William & Mary prepared her for an active life in her community, and she has participated in volunteer work in all the areas she's lived. And of course, she continues to be active in the William & Mary community. In the past, Tillar has visited W&M classes to talk to students about World War II. She volunteers as a class reporter for the William & Mary Alumni Magazine and has served as a reunion chair four times. She won the Alumni Service Award in 2003 and the Olde Guarde Distinguished Service Award in 2007. Tillar is a member of the Robert Boyle Society, the Fourth Century Club and the President's Council, and a former chair of the Olde Guarde. She was awarded the Alumni Medallion, the William & Mary Alumni Association's highest honor, in 2012. Her most memorable Homecoming moment was riding in the 2012 Homecoming Parade as a recipient of that award.
Tillar will travel from her home in Emporia to Williamsburg this weekend to take part in her 76th Homecoming, showing that the William & Mary experience can last a lifetime.
"Since 1941, William & Mary has been an important part of my life and equally so as an alumna," said Tillar. "I enjoy seeing college friends, being a part of important events and keeping up to date on the College."