William & Mary launches campaign to raise $1 billion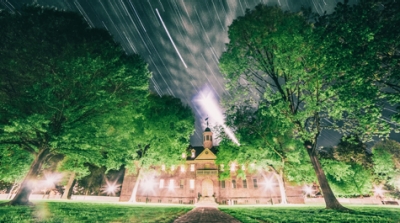 For the Bold: William & Mary is the smallest public university in the nation to ever embark on a campaign of this magnitude. Photo by Daniel Rosenberg '17
Fundraising effort begins public phase with $50-million gift
Against the backdrop of its iconic Wren Building, William & Mary on Thursday night publicly launched a $1-billion campaign, the most ambitious fundraising effort in the university's 323-year history. William & Mary is now the smallest public university in the nation to ever embark on a campaign of this magnitude.
The initiative, titled For the Bold: The Campaign for William & Mary, was rolled out with the announcement of a $50-million anonymous campaign commitment — the largest ever received by William & Mary. The commitment increases the total raised to date to more than $532 million, which not only pushes the campaign past the halfway mark, but also exceeds the entire amount raised during the university's last campaign, which ended in 2007.
"Here in the beloved precincts of the Sunken Garden so close to the heart of the historic campus, it is easy to remember the astonishingly rich history of the university and the mighty deeds its people have done over the centuries," said President Taylor Reveley during the ceremony launching the campaign. "Here we can also delight in the enormous accomplishments of William & Mary in our time, and we can anticipate what is yet to come as alma mater realizes her enormous potential for the future. This campaign is a vital step toward that future."
In addition to raising $1 billion, the campaign calls for alumni to strengthen lifelong ties with one another and the university and sets an ambitious goal to increase undergraduate alumni giving participation to 40 percent. Achieving the 40 percent mark will place William & Mary among the top four national universities for alumni participation.
For the Bold is a people-centric fundraising initiative, with scholarships topping the priority list across all schools and programs. The university seeks to raise $350 million for scholarships to ensure that students of exceptional ability have the means to attend no matter what their financial means.
"As a William & Mary scholarship recipient myself, I am proud of the fact that scholarships are front and center in this campaign," said Chancellor Robert Gates '65, L.H.D '98, whose own campaign gift is focused on scholarships for international studies. "I cannot think of anything more compelling than knowing for all time that we are going to change the trajectory of so many lives."
The $50-million campaign gift announced Thursday primarily funds the campaign's top priority — scholarships — to attract talented students to both the William & Mary Law School and Raymond A. Mason School of Business. It also supports athletics, a series that will bring law and business leaders to campus, and an annual award to recognize exceptional faculty in the business and law schools.
"We are enormously grateful for this gift and thankful the donors chose to emphasize scholarships for students of great ability and potential," said Reveley.
Funds raised through the campaign will also enable the university to continue offering a distinct education centered on: teaching and coaching excellence; engaged learning, collaboration and innovation; leadership development; international study and research; and, outreach initiatives to promote civic leadership and service, all hallmarks of the educational experience at William & Mary.
It will also provide much needed resources to fund alumni programming and career services, state-of-the-art science equipment and enhancements to facilities across campus, among other priority areas.
"Our strength as an institution depends greatly on access to resources that enable the university to provide a first-rate liberal arts education and a campus community where scholars can excel in the classroom, on the field and in any professional environment," said Sue Gerdelman '76, chair of the campaign and Secretary of the W&M Board of Visitors. "For the Bold will allow William & Mary to continue to lead, to inspire and to influence positive change in our world. I look forward to sharing more about how others can strengthen William & Mary through this campaign."
This fundraising initiative has been in the leadership phase since July 1, 2011. During that time, the university has received more than 80 gifts and commitments worth $1 million or more. That success has helped fuel three record years in a row for total commitments to the university and alumni participation.
With increased emphasis on building a culture of alumni engagement and philanthropy, William & Mary has experienced an outpouring of support from donors–giving at all levels–for programs and initiatives across campus. At a time when many universities in the nation are seeing downward trends in alumni participation and retention, William & Mary has seen an increase. In fiscal year 2011, the percentage of alumni giving to the university was 23.6 percent. By fiscal year 2015, that rate rose to 27.1 percent, which ranks W&M first among top public universities for undergraduate alumni giving percentage.
Vice President for University Advancement Matthew T. Lambert '99 said, "Private support is the engine that will provide our institution with the necessary funds to build a stronger future–now, and for generations to come. Giving at all levels will be critical as William & Mary continues building a culture of engagement and philanthropy and elevates its place among the world's elite universities."
Lambert added, "We have made remarkable progress and gifts like the one we just announced will have a tremendous impact on students and faculty well into the future. I am confident the entire Tribe will unite and join us in this important cause. Simply put, our strength as an academic institution rests squarely on our ability to build a strong and sustainable financial model."
For the Bold, which is the fourth campaign in W&M's modern history, aims to nearly double the amount the previous campaign, The Campaign for William & Mary, which raised more than $517 million between 2000 and 2007. Other campaigns include the Campaign for the 4thCentury, which raised $153 million in the 1990s, and theCampaign for the College, which raised over $20 million in the 1970s. Historically, fundraising campaigns have been an important bridge to financial sustainability in light of diminishing public support for higher education. Currently, the state supports approximately 12 percent of William & Mary's total operating budget.
The campaign's framework rests on three pillars—Where Great Minds Meet, Making the Remarkable and Passion for Impact—that serve as a guiding force for all of the university's fundraising efforts. The pillars were developed to focus on areas that are in greatest need of private support.
Through the support of the campaign and successful execution of fundraising goals under each pillar, Lambert continued, "William & Mary can continue to flourish and build on its tradition of attracting the greatest minds that have a long and bold track record of making the remarkable and a passion for impact. The university's leadership in this area underpins our success on many fronts."
In fact, William & Mary is currently ranked first among all public universities in the percentage of students who go on to earn Ph.D.s and ranked No. 1 in the U.S. for fostering careers in service, according to the National Science Foundation and a 2013 Aspen Institute report, respectively. William & Mary is also the top-ranked public university for undergraduate teaching, according to a 2015 U.S. News and World Report listing and has the lowest student-faculty ratio among top-tier public universities in the U.S. In September, W&M was the only university from Virginia included in the Princeton Review's new book featuring 50 "Colleges That Create Futures."
Thursday evening's public launch of the campaign brought together more than 600 members of the William & Mary community, including alumni, faculty, students, parents, staff and friends of the university. Following the event in the Sunken Garden, the evening culminated with a candlelight ceremony and a large gathering of students, led by the choir, singing the alma mater in front of an illuminated Wren Building.
In his closing remarks, Reveley said, "We are gathered here because we dare to think a William & Mary education — the kind of education that inspired people of high promise and ambition in centuries past — now matters in our time to a better Commonwealth, a better country and indeed a better world. We gather here united in purpose — to build upon William & Mary's historic greatness, a William & Mary of even greater modern preeminence."
More information about the campaign can be found on the newly launched website FortheBold.wm.edu.