W&M's Camp Launch receives $250,000 grant
Camp Launch, a summer camp for gifted middle-school students from low-income backgrounds that is operated by the Center for Gifted Education (CFGE) at William & Mary's School of Education, has been awarded a $250,000 grant from the Jack Kent Cooke Foundation.
The Jack Kent Cooke Foundation is a private, independent foundation dedicated to advancing the education of promising students who have financial need. A two-week residential program, Camp Launch offers campers science, technology, engineering and mathematics (STEM) classes as well as writing and personal development courses.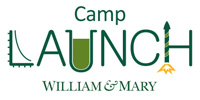 "Camp Launch and our staff from the Center for Gifted Education transform students by exposing them to new learning opportunities and presenting them with new future possibilities to explore and consider," said Spencer Niles, dean of the School of Education. "Put simply, Camp Launch helps students see what they can be."
The camp started in 2012, with the support of a three-year grant from the Jack Kent Cooke Foundation and significant in-kind contributions from William & Mary. The new award brings the foundation's total investment in the camp to more than $1 million.
"We are squandering the talents of millions of students who would pursue successful and influential careers in STEM fields if only they had educational opportunities that prepared them early on," said Harold O. Levy, executive director of the Jack Kent Cooke Foundation. "The Cooke Foundation is tackling this monumental waste by supporting organizations and programs that will put low-income middle and high school students on the path to studying STEM in college and beyond."
Seventh- and eighth-grade students from 13 school districts in Eastern and Central Virginia are eligible to participate in Camp Launch. Students are selected to participate through their local school districts. The camp is staffed by CFGE professionals. William & Mary graduate students serve as head counselors and selected residence life counselors are WMSURE scholars – William & Mary undergraduates who have overcome adversity in their own backgrounds.
The 2015 Camp Launch session is scheduled for July 19-Aug. 1.
Related Links