W&M goes four-for-four in prestigious Goldwater Scholars awards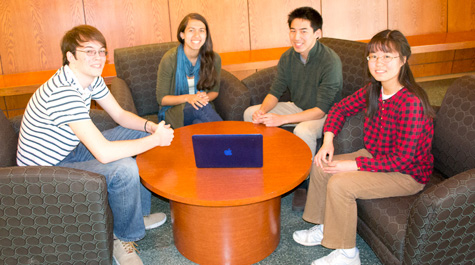 Crop of Scholars: William & Mary's 2015 Goldwater Scholars are (from left) Andrew Halleran, Morgan Sehdev, John P. Marken and Christine W. Gao. Photo by Joseph McClain
William & Mary has logged an unusual "clean sweep" in a prestigious national scholarship program, with all four of the university's nominees winning Goldwater Scholarships.
William & Mary's four new Goldwater Scholars are Christine W. Gao '17, Andrew D. Halleran '16, John P. Marken '17 and Morgan Sehdev '17. They join a class of 260 U.S. undergraduates selected on the basis of academic merit from a field of 1,206 mathematics, science and engineering students who were nominated for Goldwater Scholarships by the faculties at their colleges and universities.
No school can receive more than four Goldwater Scholarships in a single year, as the foundation limits the number of nominations to four from a single school.
William & Mary is one of ten schools to post a four-for-four showing this year. Lucy S. Decher, executive administrator at the Barry Goldwater Scholarship Foundation, noted that other schools with four Goldwater Scholars this year include Clemson, Stanford and Massachusetts Institute of Technology. But, she said, William & Mary students won more 2015 Goldwater Scholarships than any other college or university in the Commonwealth.
"It's fairly unusual for a school to have four Goldwater Scholars," Decher said. "William & Mary is the only school in Virginia who had four. University of Richmond had two. UVA had two and Tech had three this year. That was it in the state; there were only four schools in the entire state of Virginia who had scholars this year."
The scholarships go to sophomores and juniors. The one- and two-year scholarships will cover the cost of tuition, fees, books and room and board up to a maximum of $7,500 per year. The nomination guidelines indicate that Goldwater Scholars should display a strong commitment to a research career in math, the natural sciences or engineering and should demonstrate potential for future contributions to his or her chosen STEM field.
"It's telling that William & Mary is one of just a few universities in the country— and the only one in Virginia—to have four Goldwater Scholars this year," said William & Mary President Taylor Reveley. "When it comes to undergraduate awards for math and science majors, it doesn't get more prestigious than a Goldwater. This is excellent news, and we're very proud of Morgan, Christine, Andrew and John."
William & Mary's 2015 Goldwater Scholars all know one another and have worked together. Gao, Marken and Sehdev were in the same section of a first-year biology Honors Lab; Halleran was the teaching assistant.
Goldwater Foundation records indicate that William & Mary last had four Goldwater Scholars in 1993. Since 1989, when the scholarships were first awarded, the university has had at least one Goldwater Scholar each year, with the exception of 2011.
Historically, the nation's Goldwater Scholars have demonstrated an impressive career track record. Recent Goldwater Scholars have been awarded 86 Rhodes Scholarships, 123 Marshall Awards, 123 Churchill Scholarships and numerous other distinguished fellowships such as National Science Foundation Graduate Fellowships.
The Goldwater Foundation is a federally endowed agency established on Nov. 14, 1986. The scholarship program honoring Sen. Barry Goldwater was designed to foster and encourage outstanding students to pursue careers in mathematics, the natural sciences and engineering. Since its first award in 1989, the foundation has bestowed 7,428 scholarships worth approximately $48 million.
William & Mary's 2015 Goldwater Scholars
Christine Gao '17, is from Richmond. A Monroe Scholar, she is majoring in biology, and intends to pursue an M.D./Ph.D. in cancer biology and immunology, focusing on research at the molecular level. Her interests also draw her to academia where she can mentor students at a university.
Andrew D. Halleran '16, from Williamsburg, is majoring in biomathematics. His plans after graduation are to obtain a Ph.D. in molecular biology. He has been the beneficiary of considerable support from the Howard Hughes Medical Institute (HHMI) and is the co-founder of William & Mary's synthetic biology team, iGEM. A Monroe Scholar, Halleran plans to conduct research on gene network regulation and become a professor at a university.
John P. Marken '17, from Virginia Beach, is majoring in applied mathematics and minoring in computational biology. Marken wants to seek a Ph.D. in applied mathematics after graduating from William & Mary, where he is a 1693 Scholar. His long-term plans are to conduct research in mathematical biology while teaching at a university.
Morgan Sehdev '17 from Haddonfield, New Jersey, is a 1693 Scholar double majoring in biology and Hispanic studies, and currently working in the lab of Chancellor Professor of Biology Margaret Saha. After graduating from William & Mary, she hopes to earn an M.D./Ph.D. in clinical genetics and genetic and development biology. Sehdev is interested in conducting biomedical research at an institute or university.
Related Links