W&M alumna leaves Swem Library largest gift in its history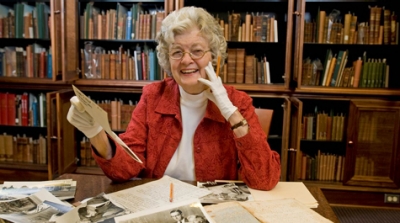 Frances Lightfoot Robb '48: She served as the first president of the Williamsburg Historic Records Association, whose papers are housed in Swem's Special Collections Research Center. As a volunteer in Special Collections, she archived the Bruton Parish Church papers and the St. George Tucker Family collection. Photo courtesy of W&M Libraries
William & Mary's Swem Library has received a nearly $2 million commitment from the late Frances Lightfoot Robb '48 – the largest single gift in its history – to meet the most pressing needs of the library.
The commitment established the Robert Gilchrist Robb, Jr. Endowment and the Frances Randolph Howard Endowment, which supports the acquisition, processing and preservation of manuscripts at Swem. The endowments were named after her brother, Robert, and mother, Frances. It also established the Garrett-Robb-Guy Professorship in Chemistry.
"Frances loved Williamsburg and was passionate about preserving its history. She was an enthusiastic volunteer, and thanks to her work, many important materials documenting Williamsburg history have been preserved for future generations," said Dean of University Libraries Carrie Cooper. "She was a very thoughtful woman – as you can see with her gift. She was looking ahead and planning for the library's future. With her gift, we will be able to continue her valuable work at the library."
Frances Lightfoot Robb, a longtime volunteer at Swem's Special Collections Research Center, passed away on April 4, 2013, at the age of 84. She was an active member of the Williamsburg community with strong ties to William & Mary. Her father, Robert Gilchrist Robb, graduated from William & Mary in 1895 and later served as a professor of chemistry at the university.
She served as the first president of the Williamsburg Historic Records Association, whose papers are housed in Swem's Special Collections Research Center. As a volunteer in Special Collections, she archived the Bruton Parish Church papers and the St. George Tucker Family collection.
Over the years, she donated several gifts to Swem, including a letter written by Thomas Jefferson; an oil painting by Thomas Sully (1783-1872), one of 19th-century America's most prolific artists; and her family's papers.
"Frances' sustained devotion to her hometown and her alma mater is the epitome of alumni engagement and philanthropy," said Matthew T. Lambert '99, vice president for university advancement. "The university will benefit from her generosity for many years to come."
In honor of Frances Lightfoot Robb's memory, Swem Library has named the manuscripts and rare book librarian position after her, a position that is occupied by her close friend Susan Riggs.
"Frances' wonderful personality was coupled with a keen intellect. She kept up with everything – local and national. She loved her family, Williamsburg, William & Mary, and especially Swem Library. I was honored to have known her," said Riggs.