Defining a bright future for Tribe Athletics
A working group led by William & Mary Director of Athletics Terry Driscoll released a report today outlining a roadmap of success for Tribe Athletics.
The report, which is available on the Tribe Athletics website, is not about keeping up with the major conferences, Driscoll said. It's about being strategic with limited resources, mapping a vision for the future and affirming William & Mary's identity as a university that does athletics right – a place where athletes can be exceptional students while at the same time be part of a championship experience, he said.
"Tribe Athletics has held firm to the core values of William & Mary," Driscoll said. "Our athletes excel in the classroom and in competition, and we have much of which to be proud. Yet, we also know there are opportunities to do even more, to be even better, and to further enhance our student-athletes' experience. William & Mary ranks among the nation's elite academic institutions. Tribe Athletics should aspire to the same level of excellence."
"We are at a unique juncture in the department's history and the time has come to define a vision for the future and move confidently towards it."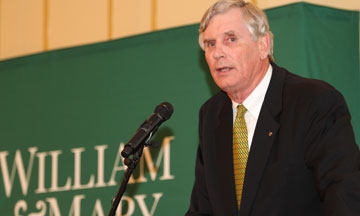 William & Mary Athletic Director Terry Driscoll
The Committee on Competitive Excellence, which includes staff, alumni, and faculty representatives, was charged last year by President Taylor Reveley to examine what it would take for Tribe Athletics to achieve and sustain a level of greater success in the university's conference, the Colonial Athletic Association (CAA). The report also outlines how athletic success can enhance a school's national recognition. The report, titled "A Championship Experience for Every Student-Athlete and Every Fan," details funding needs for scholarships, operating expenses and facility improvements as well as enhancements to streamline current policies and practices, including improving the game day experience for fans.
Essential to meeting these needs, in whole or part, is a significant increase in private philanthropy for Tribe Athletics. The report does not recommend an increase in the percentage of athletics costs covered by student fees – in fact, it projects that the percentage will decline as the overall budget increases through private donations. To accomplish what is outlined in the report, private giving must be the driver.
"An appraisal was needed of what it would take to provide our program with resources consistent with those of other programs in the Colonial Athletic Association, as well as resources conducive to a higher level of competitive excellence than we now enjoy," President Reveley said. "The committee has worked very hard. Its report speaks to these issues, boldly. Already donors to W&M athletics have been far more generous than those of any other CAA school. To do what's sketched in the report will require an even more serious commitment from alumni and alumnae who believe strongly in the value and potential of Tribe athletics."
Reveley added the report's recommendations are worth a close look.
"With the requisite philanthropic support of those in the William & Mary family who most appreciate the value of intercollegiate athletics, the results can be sweet indeed," he said.
An exciting time for Tribe Athletics
The report, released just three weeks after the conclusion of one of the most successful seasons in Tribe men's basketball history and in the middle of "March Madness," notes the significant impact a trip to the NCAA tournament can have on an institution's overall brand. The recommendations by the committee, however, extend far beyond just basketball and provide a blueprint for greater competitive success across the board for W&M's varsity teams.
"Any unit at the College should be thinking long-term. That's an important function," said Robert Archibald, Chancellor Professor of Economics at William & Mary and a member of the Committee. "This was a really excellent long-term look at the needs of the Athletic Department."
According to the report, an additional $8.1 million in private gifts needs to be raised through the Athletic Department's Annual Fund to support increases in scholarships for student-athletes, salaries for coaches and staff and other operating needs. Private giving would also have to fund up to $125 million in facility needs, such as a new multisport indoor practice facility, the renovation or replacement of William & Mary Hall and a swimming facility, according to the report. The report notes that many Tribe sports already provide a championship experience and have facilities that provide a championship experience for fans – William & Mary has won by far more Colonial Athletic Association (CAA) championships since the conference's inception in 1985 than any other school – but several fall short of the goal of competitive success and facilities.
"For those sports, bridging the gap will require transformative investments," reads the executive summary of the report. "These resources must come from private philanthropy, and the pursuit of these gifts must not detract from other William & Mary advancement efforts."
An integrated set of actions
The committee began its work last summer and evaluated a number of aspects of Tribe Athletics, including facilities, finance, human resources, admissions and financial aid, marketing and media, and fan experience.
"Creating a championship experience in every sport, or sustaining the championship experience for sports already competing at that level, is not solely a matter of spending more money," the report states. "An integrated set of actions is required to boost Tribe Athletics' competitiveness."
The report highlights four transformational investments:
Endowment for Scholarships. Due to a lack of resources, William & Mary currently provides roughly 85 percent of the scholarships allowed by the NCAA based on the sports sponsored by Tribe Athletics. Endowment revenue covers 25 percent of costs of providing those scholarships and the remainder comes from the department's operating budget. The committee estimates it would cost an additional $192 million in private funds to fully endow all scholarships, and about $1.3 million is required to endow the total costs of one scholarship.
Multisport Practice Facility. The report notes the critical importance of a new practice venue for men's and women's basketball as well as volleyball. Currently, William & Mary Hall is the only game and practice venue for three teams. At the height of their seasons, the report notes, the basketball teams have difficulty scheduling adequate practice time. A multisport facility next to William & Mary Hall was identified in the recently adopted Campus Master Plan and planning has begun for the facility, estimated to cost between $20-25 million. The report notes, "It's important to understand that the planning underway is only a first step. Even more critical is raising funds to bring this facility to fruition."
William & Mary Hall 2.0. The report recommends the university begin planning for the next incarnation of William & Mary Hall, which opened in 1971. That could mean a completely new flagship indoor arena on campus or it could be a comprehensive renovation of the existing facility. The committee took trips to venues such as the new John Paul Jones Arena at the University of Virginia and the recently renovated Robins Center at the University of Richmond. A timeline was not given, but the report noted the impact to the entire campus and region. Estimated costs would be $60-75 million for new construction and $22-28 million for renovation.
Swimming Facility. While William & Mary is home to men's and women's programs that regularly contend for CAA championships, Tribe Athletics has no swimming facility, the teams have no locker rooms and swimmers are forced to practice in the campus recreation pool. Due to the lack of a facility, William & Mary has no diving team and must forfeit diving points during tournaments. Despite that limitation, the teams continue to excel and the men's swimming team just won the 2015 CAA championship meet. The report estimates a new facility would cost $15-20 million.
Operational necessities
The report highlights three key operational necessities:
Financial resources. The report calls for significant increases in financial resources for athletic scholarships, salaries for coaches and staff, and other operating needs. As noted above, limited resources means the Tribe cannot offer the full complement of scholarships allowed by the NCAA. The report also calls for increases in the operating budget, which includes expenses for recruiting, team travel, equipment, and game operations. To close the funding gap beyond projected typical increases, Driscoll said an additional $8.1 million in annual private funds would need to be raised.
Updated Admissions Practices. Driscoll said the committee had one guiding principle when it came to admission policies – William & Mary should not alter its current admission standards for Tribe Athletics. The report recommends some improvements to streamline current practices and policies. This includes an improved referral process, increased capability to respond more quickly with evaluations of athletic recruits, and allowing for January admission for athletes.
Improved Fan Experience. The committee also explored a number of ways to improve the overall fan experience. This includes an improved game day experience, including new campus traditions like a possible "Sunken Garden Tailgate" for football games and the recent "Gold Rush" promotional event that attracted the second-largest crowd of the season for the men's basketball team. Also on the list is developing enhanced video streaming capabilities, improving merchandising to capture the recent success of the university's new visual identity rollout and, according to the report, "be ready" for Tribe Athletics' success to provide a galvanizing event to tell the William & Mary story to a national audience.